Thousands of expats move to Amsterdam to work for international companies or organizations yearly. I lived and worked in Amsterdam for many years and know Amsterdam very well. I also asked dozens of relatives and friends still living in Amsterdam which neighborhoods in Amsterdam would be the best 11 neighborhoods for expats to live.
If you are still unsure if you want to move to The Netherlands, you may be interested in reading 11 pros and cons of living in The Netherlands first.
The 11 best neighborhoods for expats in Amsterdam are shown in the table below.
| | | |
| --- | --- | --- |
| nr | Neighborhood | Best for |
| 1 | Jordaan | Young Professionals |
| 2 | Oud-West | Young Professionals & Families |
| 3 | Museumkwartier | Families |
| 4 | Apollobuurt | Families |
| 5 | Rivierenbuurt | Young Professionals & Families |
| 6 | De Pijp | Young Professionals |
| 7 | Weesperbuurt en Plantage | Families |
| 8 | Watergraafsmeer | Families |
| 9 | Indische buurt | Young Professionals |
| 10 | Oostelijk Havengebied | Young Professionals & Families |
| 11 | Amsterdam-Noord | Families |
There are more than 100 neighborhoods in Amsterdam, making it hard for people moving to Amsterdam to choose which area in Amsterdam would be best for them to live in.
However, deciding where to live in Amsterdam is not that puzzling if you read this article and start to understand Amsterdam better. You will soon feel at home in Amsterdam if you find the right neighborhood for you to live in. The Netherlands is one of the wealthiest countries in the world, and Amsterdam is a beautiful place to live.
Read on to find out what you should look for and avoid while house hunting in Amsterdam.
Where To Live In Amsterdam?
Deciding where to live in Amsterdam is not puzzling if you know Amsterdam a little bit better. However, as a first step, you need to know where to find specific amenities in Amsterdam before you can decide where to live in Amsterdam.
Consider the following six factors to decide where to live in Amsterdam when you start house hunting as an expat in Amsterdam.
Do you have children and want them to attend an international school?

Suppose you have children and want them to attend an international school. If so, I suggest living near an international school because of the heavy traffic in and around Amsterdam. Life for you and your children will be much easier if they hop on a bike and ride a short distance to their (international) school. Most international schools in Amsterdam are in the southern part of Amsterdam and the municipalities south of Amsterdam (see map below). If you are single or a young couple without children, many other neighborhoods have lots of hot spots where life is enjoyed to the fullest.
Do you need easy access to the highways around Amsterdam?

Amsterdam locals divide the world into inside and outside the ring. The ring is the local term for the A10 highway around Amsterdam. Living outside the ring does not seem feasible for them, but that is an entirely different matter. However, easy access to the A10 highway is important in selecting a neighborhood in Amsterdam because traffic in Amsterdam can be horrendous. Therefore, if you need easy access to the A1 or A2, you better choose a setting in the southeast of Amsterdam to make your commute as easy as possible.
Check out the waiting list for parking permits in this neighborhood.

You require a parking permit to park your car on the street in Amsterdam. Be aware that the waiting list for parking permits for newcomers is between 2-13 months. The length of the waiting list varies significantly between neighborhoods. You can check out Amsterdam's current waiting lists for parking permits here.
Think about distances in Amsterdam in terms of biking distances.

Amsterdam is the ultimate biking city because it is very flat, and cars are not convenient because there is not enough parking space in many parts of Amsterdam. Therefore, the bike will become your most used transportation inside Amsterdam because it is much more convenient than a car. For example, don't expect many parking spots near supermarkets in Amsterdam. You may want to get used to grocery shopping by bike or at-home delivery.
How close is your neighborhood to Schiphol Airport?

You may also consider living in Amstelveen in the neighborhood of the international school. However, Amstelveen is very close to Schiphol Airport, and you will have planes passing over your head at low altitudes every other minute. It is very personal how you experience these planes closely over your head. I advise driving to Amstelveen and sitting in a park for an hour to appreciate if you can deal with the noise.
Consider living outside Amsterdam.

Consider living outside Amsterdam with your family in the neighborhood of an international school and commuting to your work in Amsterdam by public transportation. I commuted for years from The Hague to WTC Amsterdam, which took me 33 minutes by high-speed train. There are many more international schools around The Hague (see below), and commutes in The Netherlands by public transportation are undoubtedly doable.
Are Houses In Amsterdam Expensive?
At the end of Q2-2022, the average house price in the Netherlands was € 448.000, with an increase of 10,6% in the last 12 months. The housing mania in The Netherlands is cooling down a little even though houses are sold on average in 33 days. Furthermore, 80% of all houses are sold 5-10% above the asking price. The housing market in The Netherlands is still very much overheated, and more cooling down is required.
A 2021 study showed that average house prices in Amsterdam are much higher than in other Dutch cities, which is still the case in 2022. The most expensive neighborhood in Amsterdam is the Appollobuurt, and the cheapest is the Bijlmer.
| Dutch City | Average house prices in the cheapest and most expensive neighborhoods |
| --- | --- |
| Amsterdam | € 260.000 – € 1.125.000 |
| The Hague | € 205.000 – € 865.000 |
| Rotterdam | € 195.000 – € 470.000 |
| Utrecht | € 335.000 – € 570.000 |
| Eindhoven | € 270.000 – € 445.000 |
On average, houses in the Apollobuurt in the south of Amsterdam cost € 1,125 mln, but they are much more spacious than in the canal district. Moreover, the Appollobuurt is close to many international schools, making it an attractive neighborhood among expat families.
None of the better neighborhoods are cheap. Even a suburb like IJburg is still relatively expensive, and house prices in Amsterdam-Noord are still increasing. So living in Amsterdam will come at a price, and you will have to pay for quality housing in a good neighborhood of Amsterdam.
| | | |
| --- | --- | --- |
| nr | Neighborhood | Expensive? |
| 1 | Jordaan | ++ |
| 2 | Oud-West | ++ |
| 3 | Museumkwartier | +++ |
| 4 | Apollobuurt | +++ |
| 5 | Rivierenbuurt | ++ |
| 6 | De Pijp | ++ |
| 7 | Weesperbuurt en Plantage | +++ |
| 8 | Watergraafsmeer | ++ |
| 9 | Indische buurt | ++ |
| 10 | Oostelijk Havengebied | +++ |
| 11 | Amsterdam-Noord | ++ |
What Is The Best Way To House Hunt in Amsterdam?
The best website in The Netherlands to look for housing is Funda. I strongly advise you to use this website to orientate yourself to the Dutch housing market.
Check out the Funda link below, which provides an overview on a map of all houses for sale in and around Amsterdam.
Check out this Funda link if you want a rental property in and around Amsterdam.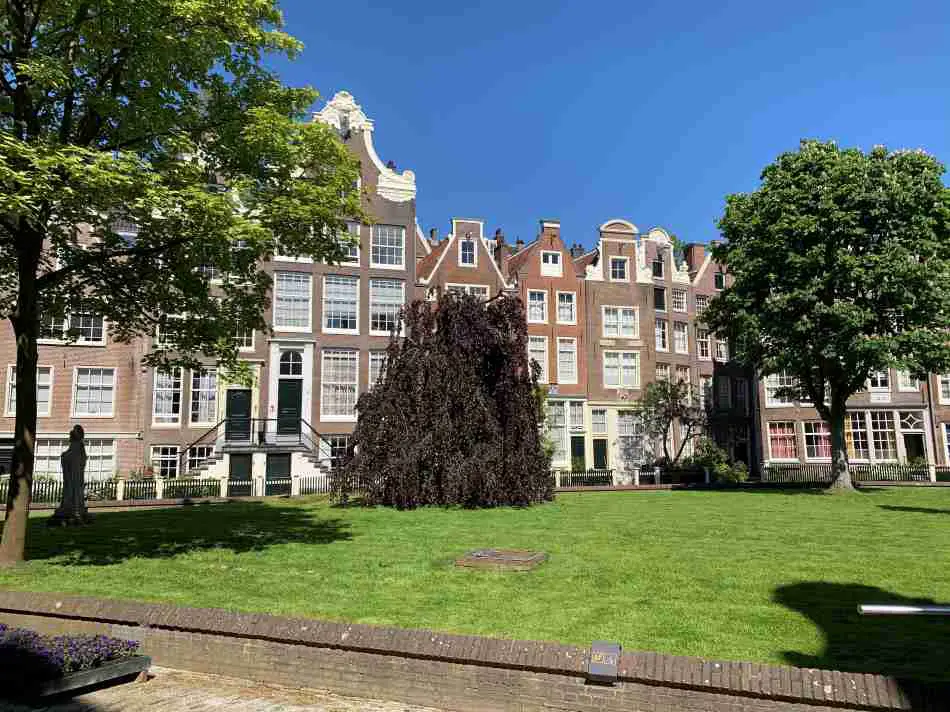 Map Of 11 Best Neighborhoods In Amsterdam
What Are The 11 Best Neighborhoods Of Amsterdam?
Consider one of the 11 neighborhoods below if you are looking for a good neighborhood in Amsterdam.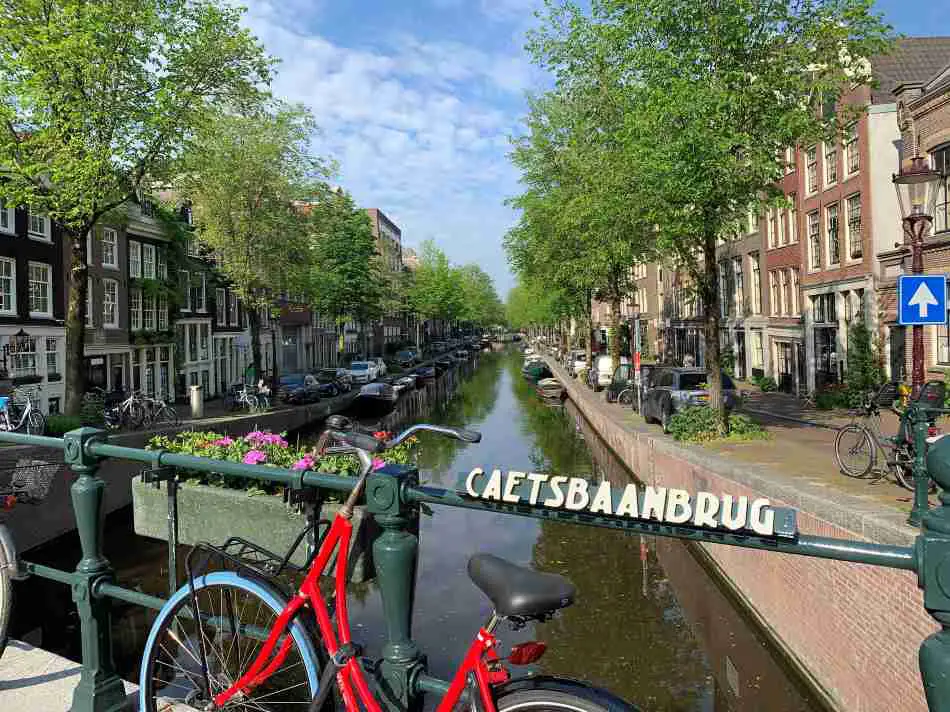 1. Jordaan
The Jordaan is the most famous neighborhood of Amsterdam and is regarded as quintessential Amsterdam. Nowadays, the Jordaan is alive with restaurants, bars, plenty of shops, and weekly street markets. Its location next to the center is also a significant advantage. On the other hand, you must realize that the Jordaan is also as inner-city as it gets in Amsterdam, with its cramped apartments in a kaleidoscope of narrow streets with hardly any trees. It may be romantic to some, but it also feels claustrophobic. The few canals in the Jordaan are wider and lined with trees. Parking can be a nightmare in the Jordaan, and reaching the highways and international schools from here isn't easy.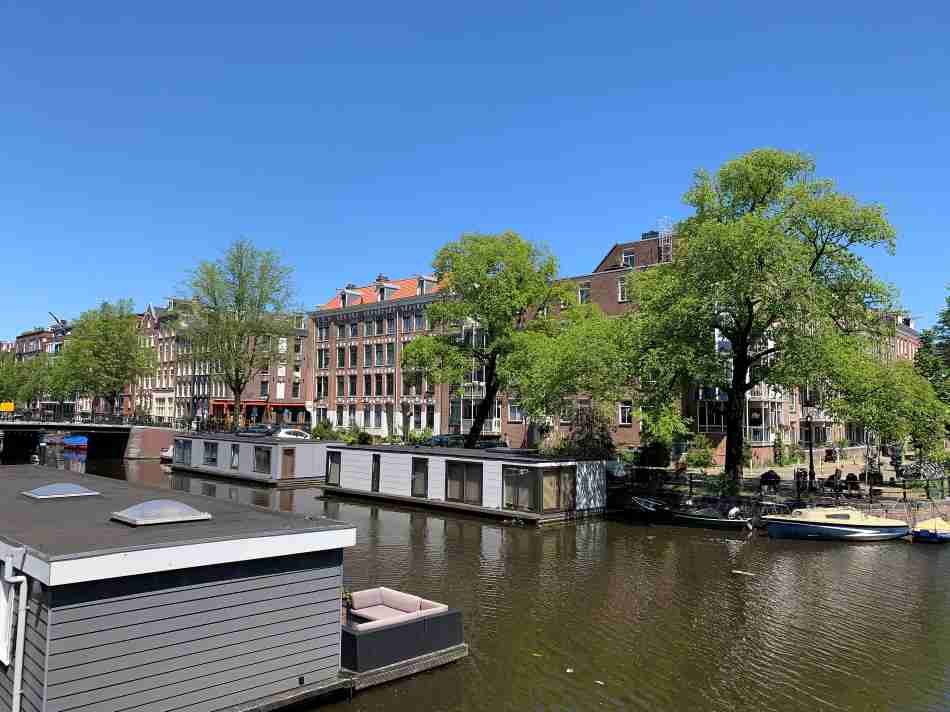 2. Oud-West
Oud-West is one of the neighborhoods surrounding the canal district that have been renovated and improved tremendously over the last 10-20 years. The new indoor food market halls in the heart of Oud-West, with bars, restaurants, culture, art, fashion, and a cinema, are an excellent example of such a boost to Oud-West. Its location between the highway and the center is a good compromise, and the international schools in the south of Amsterdam are a bike ride of 15 minutes away. Oud-West is one of the better family neighborhoods of Amsterdam to live in, much better for families than the Jordaan.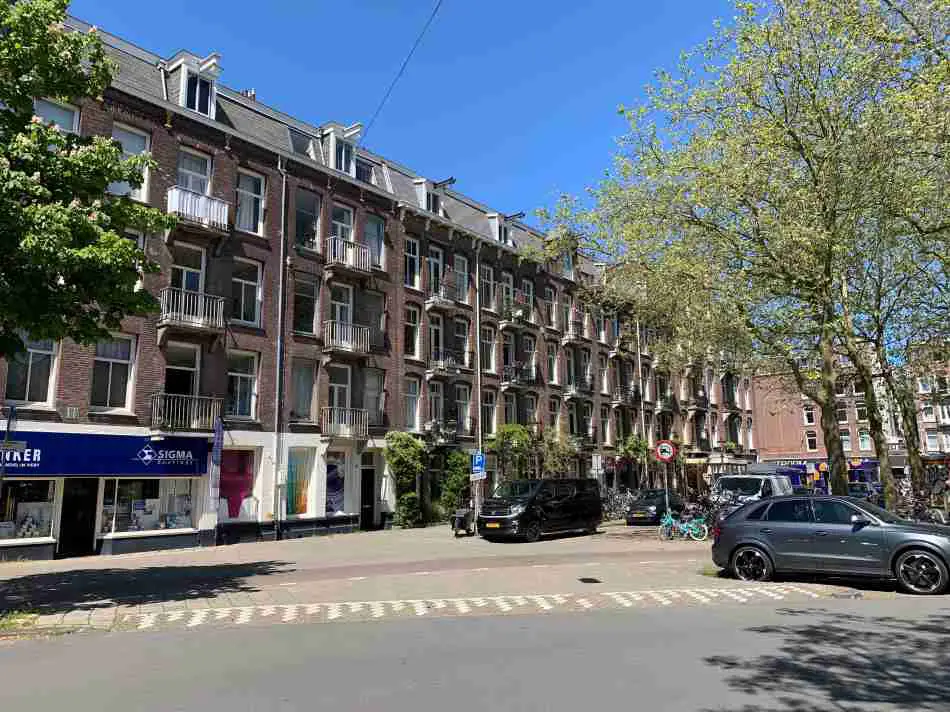 3. De Pijp
De Pijp is another well-known vibrant neighborhood in Amsterdam with its famous Albert Cuyp street market. Houses in the old part of de Pijp (above the Sarphatipark) are smaller than in the new part of de Pijp, below the Sarphatipark. De Pijp has become extremely popular among expats because its location and charm are fantastic. It is probably one of the most lively neighborhoods of Amsterdam, with shops and bars on every corner, but it is also attracting overwhelming floods of tourists. Parking is next to impossible, and highways are challenging to reach. However, a metro station is situated in the middle of de Pijp with high-speed connections to two large railway stations. The new part of de Pijp attracts significantly fewer tourists and is the best part of this neighborhood.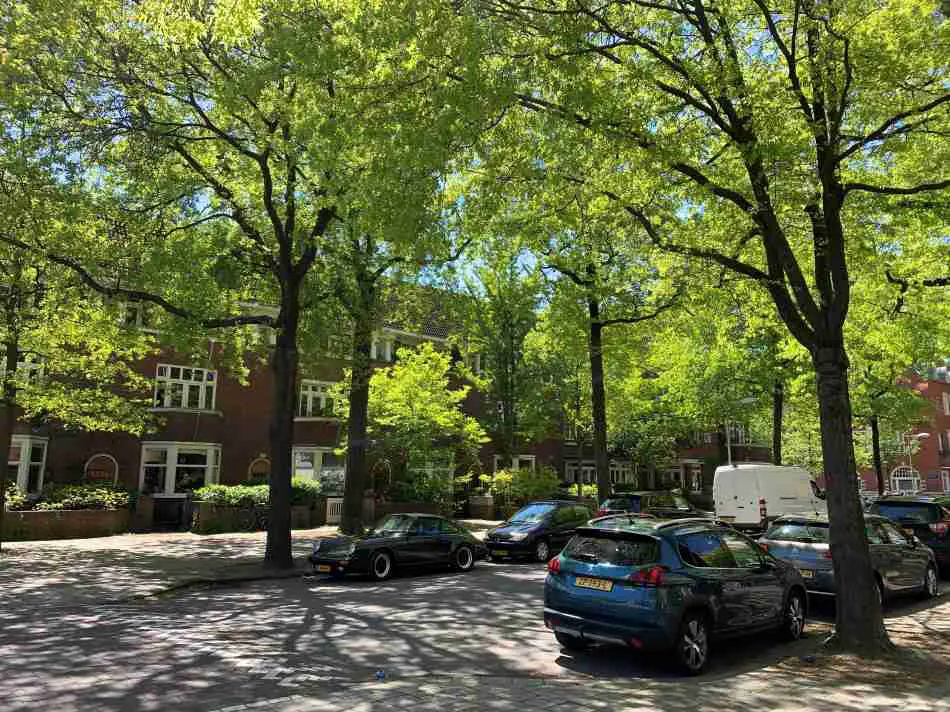 4. Apollobuurt
The Apollobuurt is an affluent neighborhood, one of the most beautiful neighborhoods in Amsterdam, and very popular among expat families. Houses in the Apollobuurt are spacious, and the location is excellent, within spitting distance of the center of Amsterdam and still with easy access to the A10 highway. It is a lovely green neighborhood at one of the best possible locations in Amsterdam. Most of the international schools are within biking distance. On average, housing prices in the Apollobuurt are € 1.125 in Q2 of 2021 mln, but prices up to € 5-6 mln are no exception.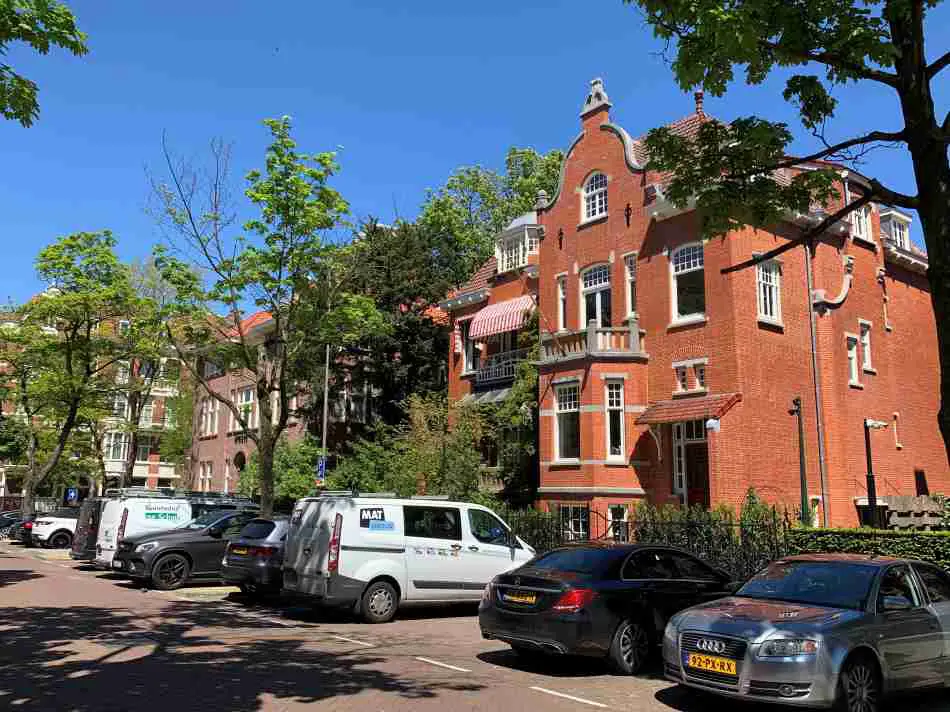 5. Museumkwartier
Museumkwartier is another desirable up-market neighborhood, just north of the Apollobuurt but still on the good side of the Vondelpark. The houses in Museum Kwartier vary from mansions with an eclectic style to buildings with Art Nouveau elements and more modern buildings. Apartments in Museumkwartier are usually spacious and well-built.
Houses and apartments in Museumkwartier are among the most expensive in Amsterdam. The rich and famous love shopping in the P.C. Hooftstraat, and this is one of the best places in Amsterdam to spot a celebrity. However, you must cope with the floods of tourists in this area who do not always behave as expected. You may also want to consider the adjacent Willemspark, which is farther away from the museums and tourists.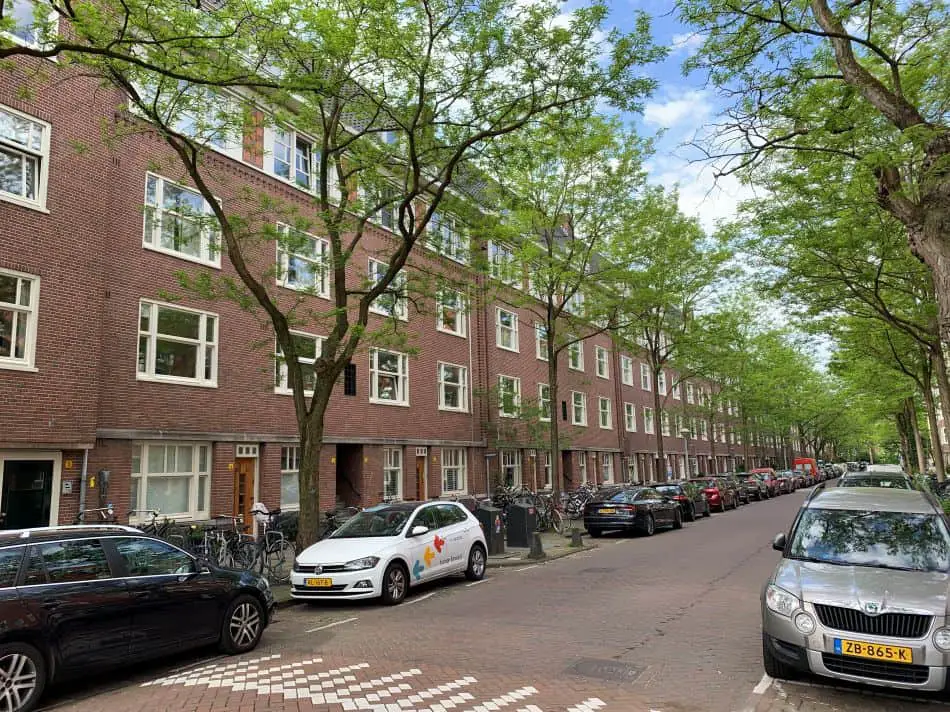 6. Rivierenbuurt
I lived in Rivierenbuurt myself and found Rivierenbuurt a reasonable compromise of living in Amsterdam on a limited budget. The most significant advantage of living in the Rivierenbuurt is the easy access to highways A2 and A10, which is very handy if you want to live in Amsterdam but work elsewhere.
In addition, the tram to the center of Amsterdam takes only 15 minutes. The Rivierenbuurt was designed and built by one of the most famous Dutch architects, Berlage, about 100 years ago. Over the last few decades, large-scale renovations have taken place in this neighborhood in the original architecture style, a beautiful decorative red-brick masonry with round organic forms. Anne Frank used to live in de Rivierenbuurt before the Second World War.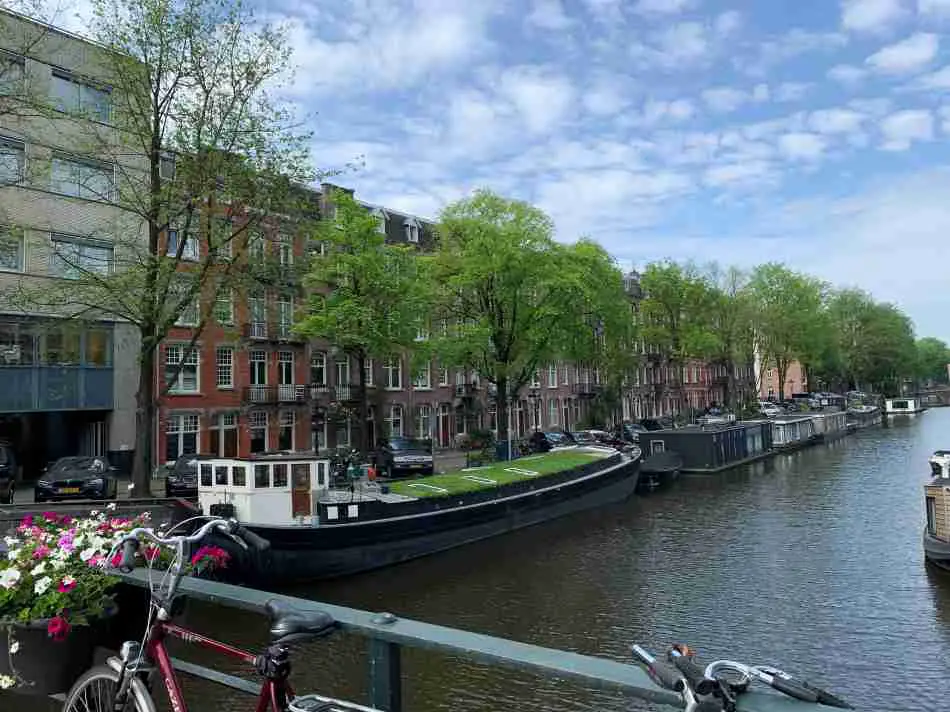 7. Weesperbuurt en Plantage
The Weesperbuurt en Plantage is a pleasant upscale neighborhood with many cultural amenities, like the Royal Theatre Carré and the zoo of Amsterdam, Artis. Houses in this neighborhood are large and chic, and you have to be prepared to pay up.
However, you will live in a lovely neighborhood in the center of Amsterdam and between the canals. Public transportation is excellent, but reaching the highway will be a hassle. Nevertheless, the Weesperbuurt and Plantage are among the best neighborhoods in Amsterdam to live in and enjoy this wonderful city.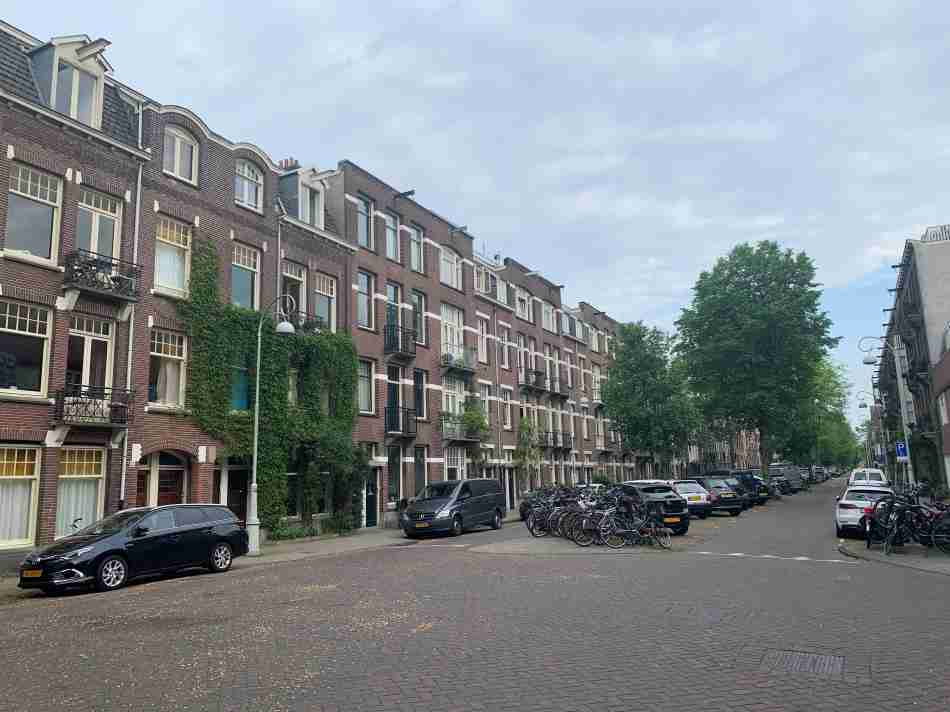 8. Watergraafsmeer
Watergraafsmeer is a quiet, safe, and green neighborhood, primarily built after the second world war and significantly renovated in the last few decades. What has remained is the green and spacious character of Watergraafsmeer, making it an attractive and affordable family neighborhood.
You have easy highway access and are still within a bicycle ride to Amsterdam's center. Watergraafsmeer is an excellent example of a neighborhood on the outskirts of Amsterdam becoming increasingly popular because of the exorbitant house prices in the center of Amsterdam.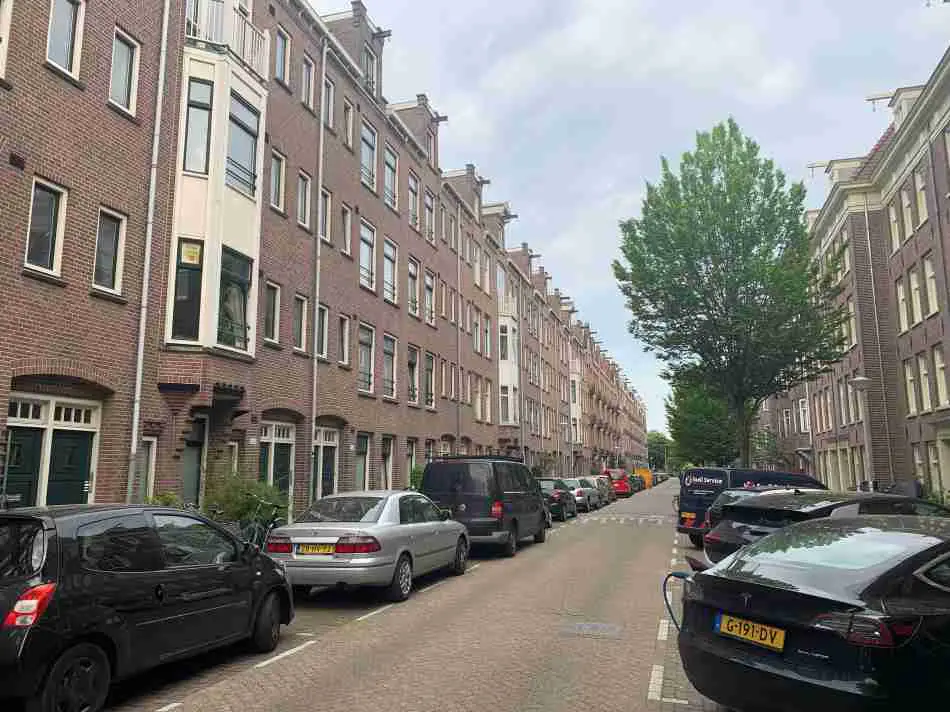 9. Indische Buurt
De Indische buurt is not a neighborhood for families but can be attractive for young expats. This ethnically diverse neighborhood is a good reflection of Amsterdam and the diverse society that we have become.
Over the last few decades, a lot of renovation has taken place in the Indische buurt, and the quality of the neighborhood increased significantly. Most of the housing in the Indische buurt is three or four stories, often with a shop at street level. House prices in the Indische buurt are reasonable compared to the rest of Amsterdam.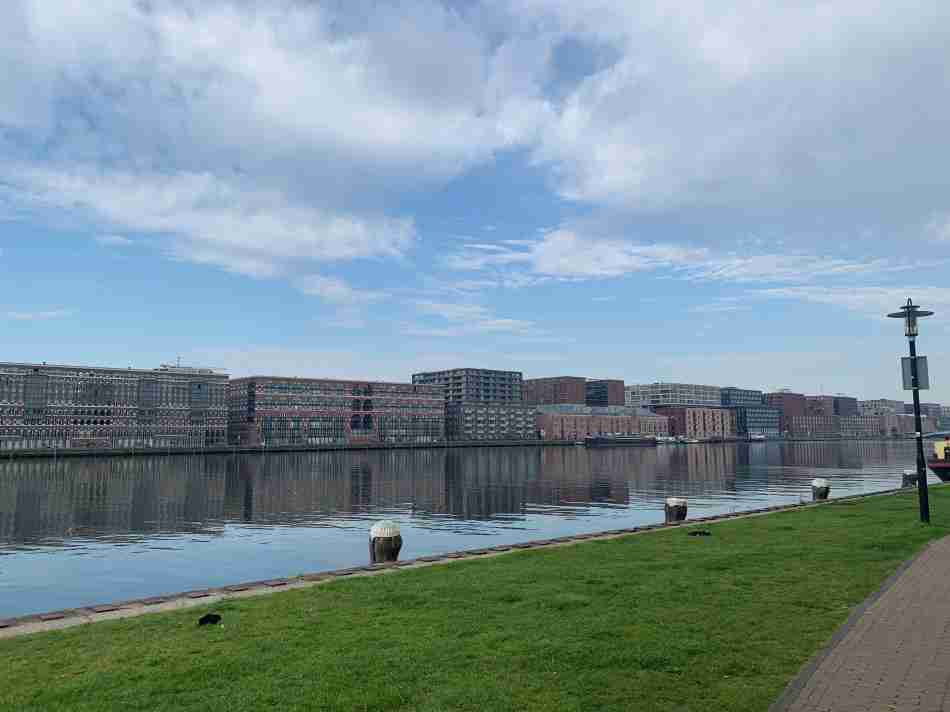 10. Oostelijk Havengebied
Het Oostelijk Havengebied (Eastern Docklands) is a popular modern up-market residential area full of hip hotspots. Inspiration for the buildings came from London's East Docklands. The contemporary architecture on these islands is unlike anything else in Amsterdam, although apartments in this area are still as expensive as in other areas of Amsterdam.
Nevertheless, apartments are usually modern and spacious, and views across the river IJ can be incredible. In addition, the location of this neighborhood is fantastic, right next to the center of the city and the railway station. However, international schools are not easy to reach, and parking is a nightmare.
11. Amsterdam-Noord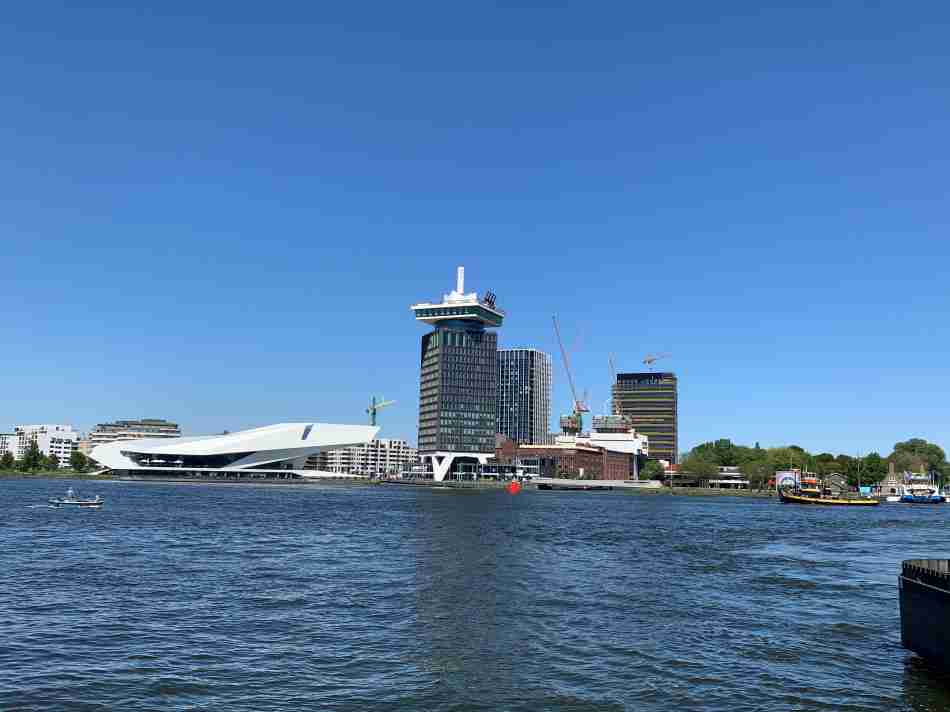 Amsterdam-Noord is the borough north of the river IJ. Amsterdam-Noord was the neglected part of Amsterdam, which could only be reached by ferry.
Amsterdam-Noord has been booming since the opening of the metro connection with the center of Amsterdam in 2018. Cultural hotspots in Amsterdam-Noord are rapidly developing. Amsterdam-Noord is big enough to be diverse and has lots of green, water, and quaint residential areas.
If you are considering living in Amsterdam-Noord, look at the neighborhoods around the two metro stations in Amsterdam-Noord or along the river IJ where you can get a fantastic view of the skyline of Amsterdam. Amsterdam-Noord is more affordable than virtually any other part of Amsterdam. However, house prices are rapidly increasing since the metro line to the center of Amsterdam is up and running.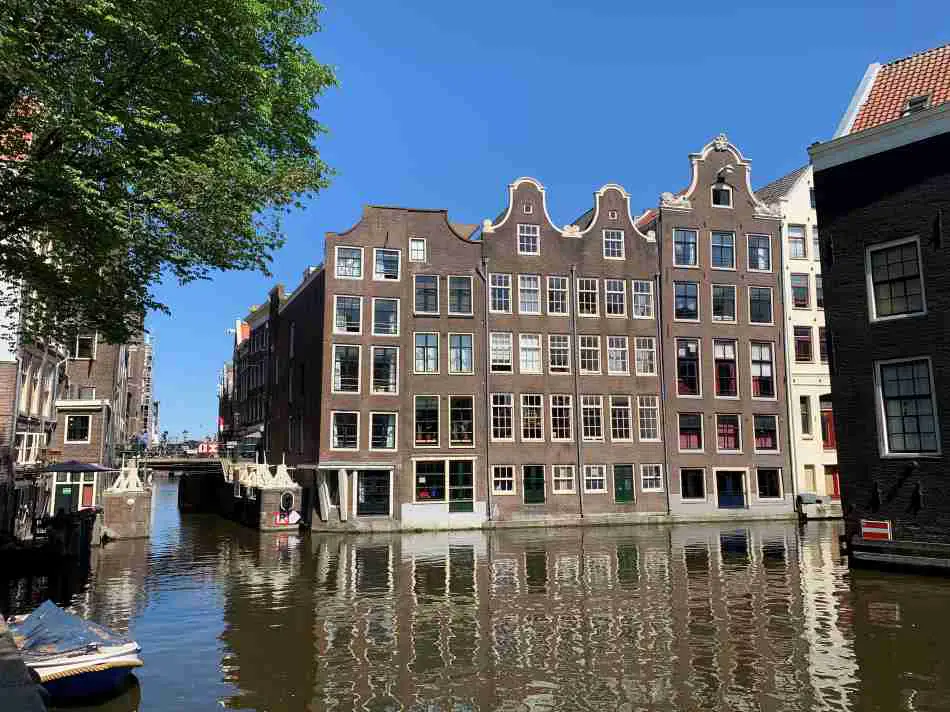 Where Not To Live In Amsterdam?
There are specific neighborhoods in Amsterdam that you don't want to live in and avoid at night.
Even though it has been rapidly improving over the last 10-20 years, the Bijlmer in the southeast of Amsterdam is still an area to avoid.
In addition, inhabitants of the neighborhood Nieuw-West are not happy with the quality of life in their neighborhood. In the Nieuw-West area, you better avoid living in neighborhoods such as:
Osdorp
Geuzenveld
Slotervaart
De Aker
Is Amsterdam A Safe City?
The Netherlands is a safe country compared to other Western European countries. However, it is also true that most of the crimes in The Netherlands are reported in larger cities like Amsterdam. On the map below, the cities are dark blue, indicating more registered traditional criminality, and Amsterdam is the darkest blue spot. Having said that, a lot of the crime in Amsterdam and The Netherlands is bike theft.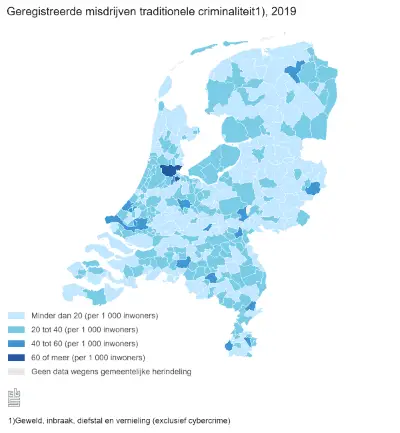 Bike theft is a severe problem in The Netherlands, especially in major cities like Amsterdam. A large part of the crime rate in the Netherlands is due to the theft of bikes. Approximately 0,5 million bicycles are stolen annually out of the 18 million bicycles in The Netherlands. The more expensive e-bikes are most popular among thieves, and you should lock your e-bike securely if you are not using it.
Watch out for pickpocketing in bigger cities. It is a matter of common sense to protect your wallet carefully in a big city like Amsterdam. It is also common sense to avoid some neighborhoods in the evenings and during the night.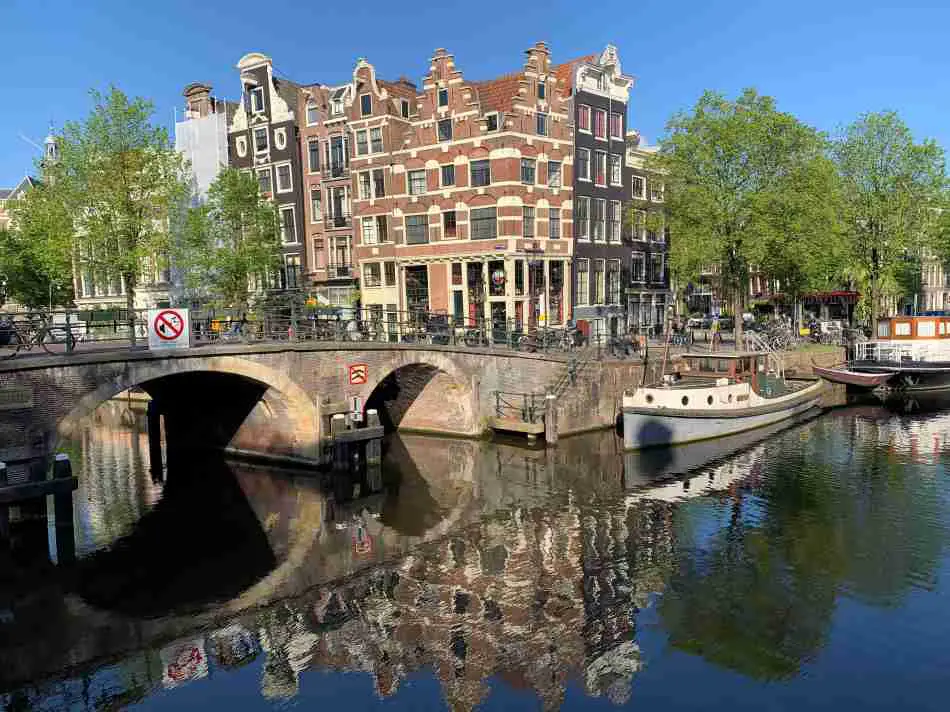 Living in Amsterdam Versus Living In The Hague Or Rotterdam?
The expat city ranking 2019 compared living in Amsterdam, The Hague, and Rotterdam through the eyes of expats.
Amsterdam ranked 48th out of 82 cities globally, much lower than Dutch cities like The Hague (9th) and Rotterdam (32th). Eindhoven, another popular Dutch city among expats, was not included in this study. The low ranking of Amsterdam was primarily due to the cost of housing and the difficulty of finding a house. Unfortunately, Amsterdam has gotten incredibly expensive over the last two decades.
Respondents did enjoy the work-life balance in Amsterdam, and Amsterdam was also seen as the best Dutch city to build a career. Amsterdam is a city for younger expats, building a career and enjoying life simultaneously.
I compared living in Amsterdam vs. living in The Hague in much more detail in another article on this website, living in Amsterdam vs. The Hague (11 Pros and Cons).
Alternatives For Living In Amsterdam
You may want to consider living outside of Amsterdam and commuting to work, especially if you have children attending an international school. It will also be much cheaper, and you will get more value for money in housing. In addition, public transportation in The Netherlands is excellent. For example, if you work in the WTC Amsterdam district area or near the RAI, the train from The Hague takes only about 30 minutes.
Consider the municipalities of Voorschoten and Wassenaar as options to settle down with your family. These municipalities are popular among expat families because of the two international schools. The British school is in Voorschoten, and the American School is in Wassenaar. In addition, Voorschoten has a railway station with excellent connections to Amsterdam and easy access to the A4 highway leading to Amsterdam.
If you don't have children attending an international school, Utrecht, Leiden, or Delft are excellent alternatives to living in Amsterdam. All three cities have excellent high-speed train connections with Amsterdam to commute in 45 minutes or less. You can read more about these cities in the following articles.
How To Get A Good First Impression Of Amsterdam?
The video below is, by far, the best Youtube video I could find about Amsterdam. There is a reason that this Youtube video has already been watched a few million times. I recommend watching this video if you are considering moving to Amsterdam and want a good first impression of this beautiful city.
Living In Other Dutch Cities?
Check out the links below if you want to live in another Dutch city.