The Netherlands is not cheap, and we thought you might be interested in 6 super easy tips on saving money on travel while visiting The Netherlands. That will help you enjoy your vacation even more.
Fill up your gasoline tank before entering The Netherlands
Find Cheap Gasoline Stations In The Netherlands
Use Park & Ride Locations For Cheap Parking
Take the Train Whenever Possible
Use Discounted Train Tickets
Use Tourist Tickets For Traveling Inside Cities
1. Fill Up Your Gasoline Tank Before Entering The Netherlands
Many visitors to The Netherlands come by car, and some will rent a car at Schiphol airport. You need to realize that gasoline prices in the Netherlands are significantly higher than in surrounding countries.
When writing this article, the price of gasoline in The Netherlands was around € 1,60 liter. For Americans, this gasoline price is equivalent to a gasoline price of $ 6,7 / gallon.
Gasoline prices in the countries surrounding The Netherlands are much lower, as you can see in the overview below, collected by the ANWB, the national organization of car drivers in The Netherlands.
| | |
| --- | --- |
| Country | Price/liter (€) |
| Netherlands | € 1,60 / liter |
| Germany | € 1,38 / liter |
| Belgium | € 1,37 / liter |
| Luxemburg | € 1,20 / liter |
| France | € 1,50 / liter |
| United Kingdom | € 1,48 / liter |
A difference of ± 25% between the gasoline prices in The Netherlands and Luxembourg is why many Dutchmen fill up their gasoline tank in Luxembourg when they pass by Luxembourg while driving back and forth to the south of France during their summer vacation.
I strongly advise you to do the same if you drive from Luxembourg to The Netherlands.
2. Find Cheap Gasoline Stations In The Netherlands
While the average (advice) price of gasoline in The Netherlands may be ± € 1,60 today, gasoline prices on the highways will be even 15-20% higher. Therefore, I never buy gasoline on the highways and use a free app on my phone to find cheaper gasoline stations.
Several of these free apps exist, but my favorite app is the free app from "DirectLease Tank service" because it is so simple! You select the type of gasoline you are looking for in the app, and the app will indicate the gasoline stations in your neighborhood and their price with colors.
If you click on one of the colored dots, a pop-up screen appears that will provide you with the exact gasoline price of that gasoline station on that day. In my experience, this app is almost always up to date and saves me hundreds of euros yearly.
The price difference between expensive and cheap gasoline is usually less than 0,20 / liter. Therefore, if you need ± 50 liters of gas to fill up your tank, it is easy to calculate that you can easily save around € 10 every time by filling up your tank at a cheap gasoline station.
3. Use Park & Ride Locations For Cheap Parking
Parking in city centers is expensive in The Netherlands to keep cars out of the city as much as possible. It now costs € 8 / hour to park your car in the parking garage at the Dam in the heart of Amsterdam. If you spend a day in Amsterdam sightseeing and having dinner, the parking costs in Amsterdam's center can easily add € 80-100 to your cost of a day in Amsterdam. I don't know how that works for you, but that would take away quite a bit of fun for me.
Fortunately, there is no need to pay these parking tariffs since there is a reasonable and cheaper alternative with the Park & Ride locations. You can park your car at these P & R locations around the city that you can easily recognize by this traffic sign. In addition, public transportation from these P & R locations to the city center is always available and cheap.
I have collected all the known Park & Ride locations in The Netherlands on a map to help you find the most convenient P & R location for the city you want to visit. There are P & R locations around major Dutch cities like Amsterdam, Rotterdam, Utrecht, Groningen, The Hague, and Delft. If you click on the P & R location of your choice, you will find a link to their website. You can also use Google maps to make it easy to find these parking garages.
Almost all of these P & R locations have websites in English. However, the procedures may vary between the various cities, and it is important to understand the process in detail to profit optimally from the significant discounts.
4. Take the Train Whenever Possible
Let's give credit where credit is due. We have a fantastic public railway system in The Netherlands abbreviated as NS (Nationale Spoorwegen = National Railway). I use the train daily on weekdays and am a delighted customer of the NS.
Using the train will be much more comfortable and often cheaper to bring you to the center of the cities except for families for whom I recommend the P & R locations and traveling to the centers by metro, tram, or busses with a family ticket.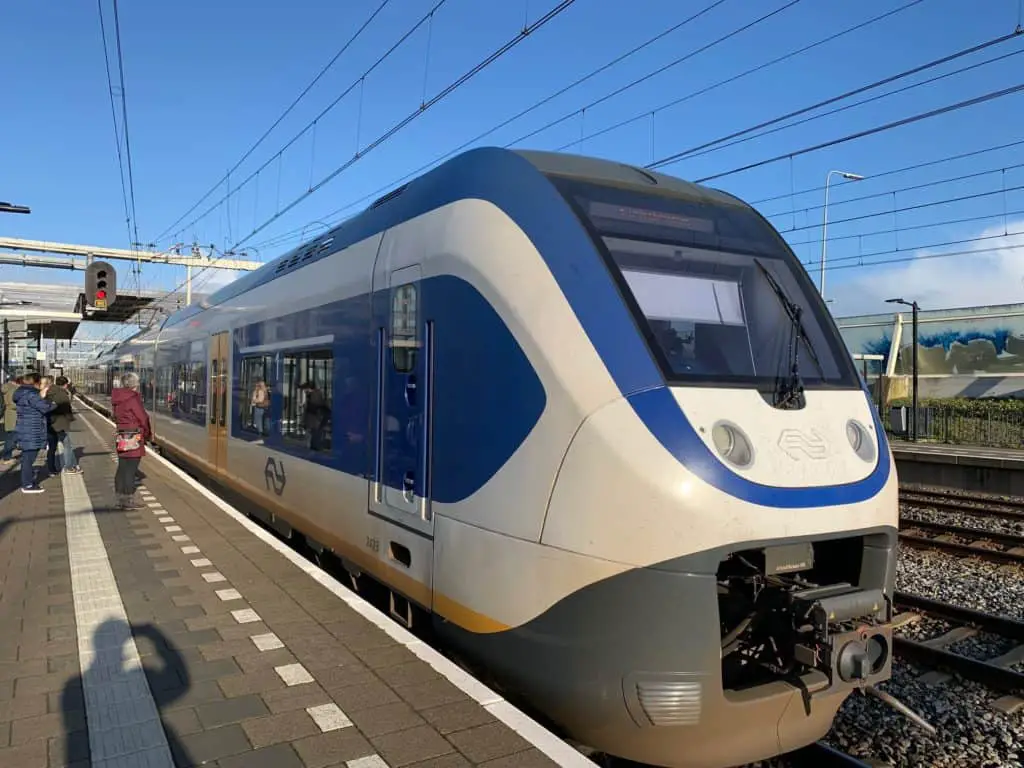 The NS has a super cool free app that has an English version. Just search for the "NS app" among the available apps on your mobile phone. However, I am unsure if you will automatically get the English language app version if you download this NS app outside the Netherlands.
If not, you have to take five easy steps to switch the app to English
Open the app
Click on "meer" in the bottom right of your screen
Click on "instellingen," which is a bit below the middle of your screen
Click on "taal," which is a bit above the middle of your screen.
Select "English" as the language
You can now plan your trip with this very convenient planner and determine which train best suits your plans. Then, purchase your train ticket in the app with a credit card. This e-ticket will be € 1 cheaper than a regular train ticket.
The ticket is downloaded in the app, together with its corresponding QR code. Use this QR-code on your phone's screen to pass through the gates by having the QR-code scanned by a barcode reader on the right-hand side of the gate.
5. Use Discounted Train Tickets
If you stay in the western part of the country as most visitors to The Netherlands will do, and only short travel distances in this part of the country, this tip will not be important for you. But if you have to take the train for a more extended trip, you can save a significant amount of money by purchasing discounted train tickets at a fixed price.
Usually, these discounted train tickets cost around € 11-12 for a one-way ticket and € 19-22 for a return ticket, so they make only sense if you have to take a somewhat more extended train trip. However, you cannot travel during rush hours in the morning and evening with these tickets.
However, I can recommend from experience that you don't want to travel during rush hours, so I don't see that as a drawback of these discount tickets. You can travel all day without restriction with these discount tickets during the weekends.
The best overview of discounted train tickets is on this Dutch website.
On this site, you select the tickets with the best possible discount prices in that period and purchase a voucher. You then switch to the website of NS to exchange this voucher for a train e-ticket. This e-ticket, in its turn, can be downloaded in the NS app on your phone, and you are ready to go.
It is super simple; try it out and save yourself some money.
6. Use Tourist Tickets For Traveling Inside Cities?
All major cities have cheap options for tourists to travel unlimitedly through the city using public transportation at a fixed price.
I have listed the websites of the larger cities with tourist tickets below.
Amsterdam: has many options for unlimited public transportation for 1, 2, or days, including back and forth to Schiphol Amsterdam Airport. Be sure to check this site to find out more.
Rotterdam: has cheap options for unlimited public transportation for tourists, including the spectacular water taxis on the river Maas. You can find more information here.
The Hague: also has excellent and cheap options for tourists for unlimited public transportation, which you can find here.
These are six super easy tips to save money while staying in The Netherlands.
Become Dutch with the Dutch. After all, you are in The Netherlands where we are proud of every Euro we do not spend….!