Hof van Saksen is one of the most luxurious resorts in the Netherlands. We have visited Hof van Saksen about twentyfive times since it opened in 2007, often several times a year. So, what made us go to Hof van Saksen so often?
Hof van Saksen is worth visiting because it is a lovely resort for families with children. Hof van Saksen offers many facilities and activities for children, from toddlers to teenagers. Hof van Saksen also has a luxurious feel, which enhances the vacation feeling.
In this review, I want to describe why we like Hof van Saksen and which details to pay attention to when booking a vacation home at Hof van Saksen. Let me help you with our extensive Hof van Saksen experience to make your vacation more enjoyable.
Where Is Hof Van Saksen Located?
The Hof van Saksen vacation resort is located in Nooitgedacht in the province of Drenthe. Nooitgedacht is a hamlet and part of the Aa en Hunze municipality.
We have always been puzzled that the hamlet of Nooitgedacht still existed because it was not much more than a couple of farmhouses. A new residential neighborhood was recently built in Nooitgedacht, but that neighborhood will not bother you if you stay at Hof van Saksen.
The address of Hof van Saksen is:

Hof van Saksen, Borgerderstraat 12, 9449 PA Nooitgedacht
The nearest village with good local amenities is Rolde, north of the provincial road between Assen and Gieten. In Rolde, you will find several supermarkets and restaurants.
You must go to Assen or Emmen to go shopping extensively or to a cinema. This is because Assen and Emmen are larger cities with reasonable shopping centers, and both Assen and Emmen have large cinemas. In addition, the nearest NS train stations are also in Assen and Emmen.
Hof van Saksen can best be reached by car because public transportation in the area is not impressive. Hof van Saksen has ± 25 public charging stations for electric cars.
Hof van Saksen is located ± 40 km (± 24 mi) from the German border and is easy to reach for German visitors. Our German neighbors have discovered Hof van Saksen, given the increasing number of cars with white German license plates on the parking places.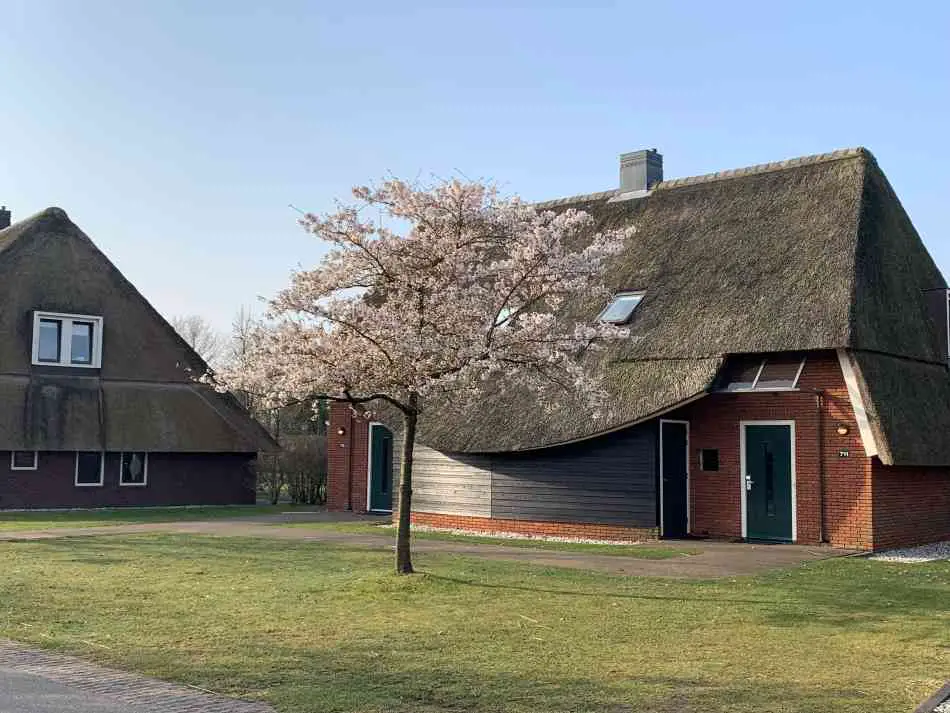 How Large Is Hof Van Saksen?
There are just over 600 vacation homes at Hof van Saksen. Most of these vacation homes are Saxon-style farmhouses with thatched roofs. The pictures above show an example of the architecture at Hof van Saksen.
According to Hof van Saksen, their vacation homes are built in the style of the farmhouses that used to be here in the area. However, this image is somewhat romanticized because I was born and raised less than 10 miles away from Hof van Saksen and can't remember such beautiful farmhouses.
In any case, the accommodations at Hof van Saksen are cozy, comfortable, and exclusive, which matters.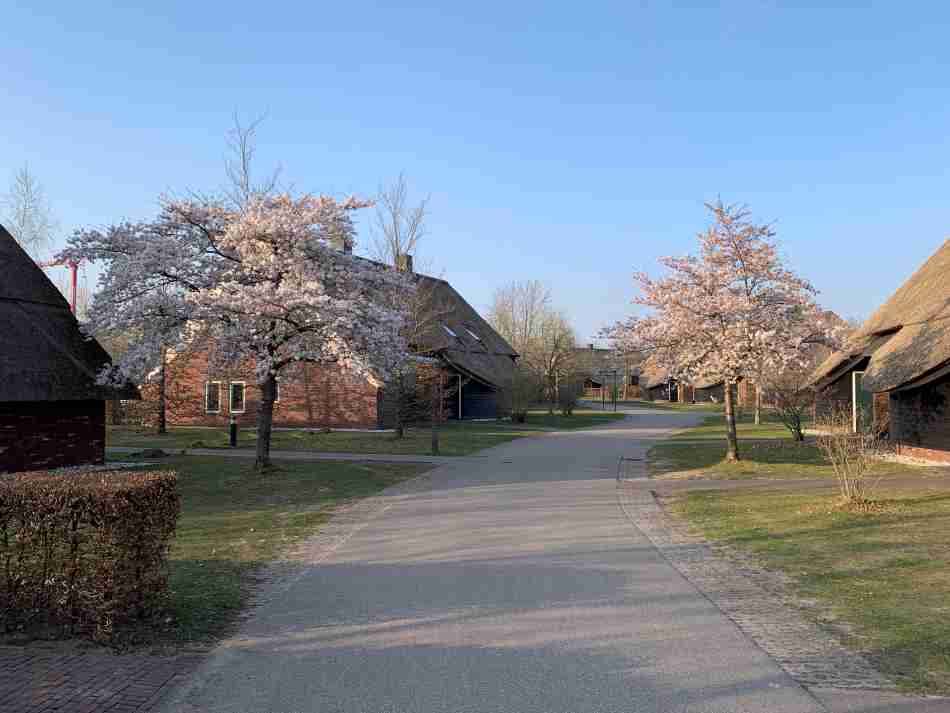 What To Consider When Booking At Hof van Saksen?
Hof van Saksen has an English-language booking web page to make online booking easy for foreign visitors.
There are 26 different types of accommodation at Hof van Saksen, so you need to take your time to find out which accommodation type you prefer.
Please, consider the following points to find the best cottage for you at Hof van Saksen.
Cottages at a corner of a row of houses have more windows and natural daylight.
Cottages with a terrace facing the west can still enjoy the evening sun.
Selecting a individual house number costs € 35, but we always consider that money well spent. We like houses 915, 923, 935, and 952 because they have lots of natural daylight and you can enjoy a lakeside view with fantastic sunsets.
You can find a map of Hof van Saksen on their website to detect which cottage you prefer.
You can find a map of Hof van Saksen on their website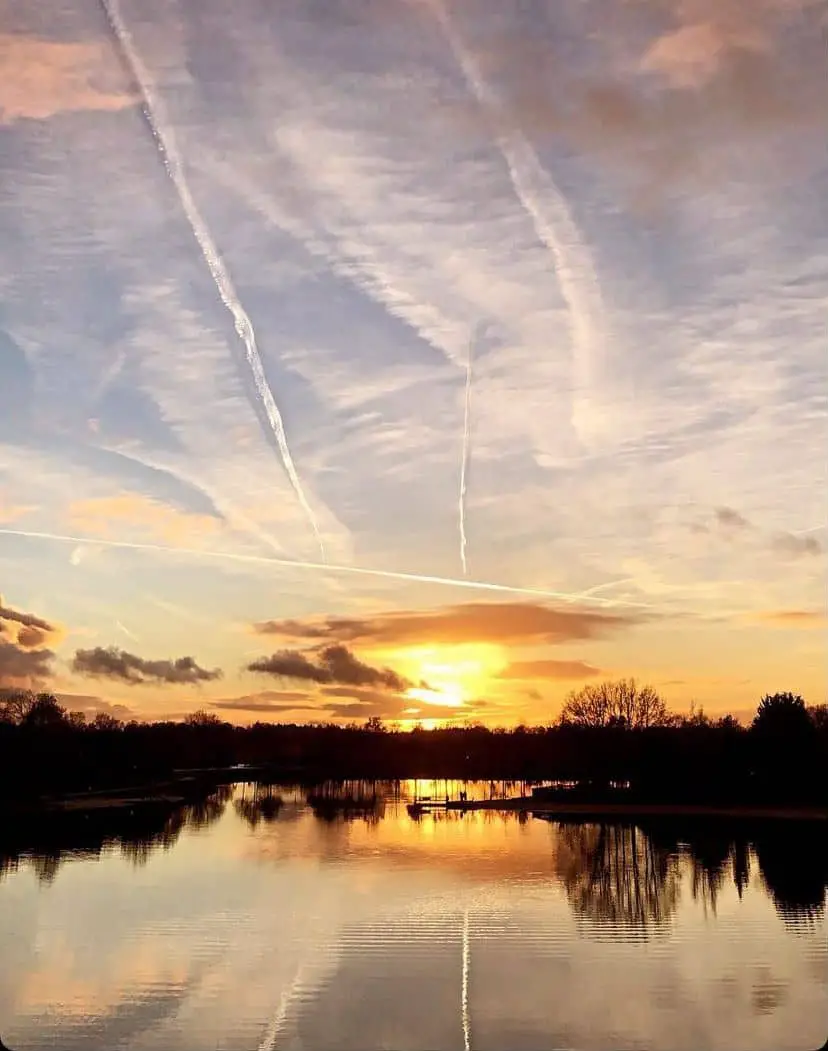 Instead of selecting a specific house number, you can also select a part of Hof van Saksen where you want to stay during your vacation. That is an interesting option, especially if you have young children.
If you have young children, Reserving a cottage near the Brink (with many activities for children) or near the Havezate with the swimming pool is very convenient. You can also select a cottage near a playground, the lake, or the park's edge (in case you bring your dog).
When the children were younger, we always reserved a cottage between the Brink and Havezate. We have always booked a cottage with a lakeside view in recent years. Those lakeside cottages offer a fantastic sunset view over the lake and are close to the main building (the Havezate), with restaurants and a swimming pool.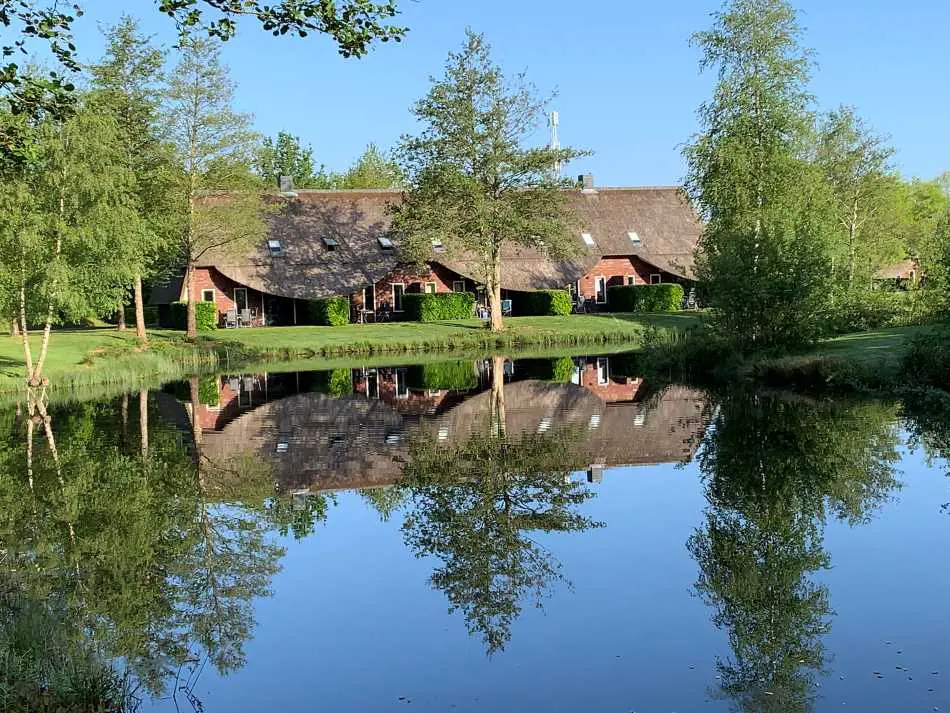 Discounts And Special Offers At Hof van Saksen
If you consider booking at Hof van Saksen, you should first check out their web page with special offers (see below). You have to look at their Dutch website because the discounts are not available on the English language website.
Use Google Translate to translate the Dutch website into your preferred language so that you can still apply for the discount.
Before making a reservation, I always check their website for discounts which saved us a lot of money over the years.
You can also save quite a bit if you can make a reservation outside the school holidays. We always do that now the kids are no longer joining us because the prices outside school holidays are about 50-70% lower than during school holidays.
I have made a table of the school holidays in the Netherlands in 2023 and 2024 (see below) and recommend you compare the prices on the Hof van Saksen website.
You can save 50-70% if you book outside the school holidays.
School holidays in The Netherlands
| Holiday | Region North | Region Middle | Region South |
| --- | --- | --- | --- |
| Summer | 22nd July – 3rd September 2023 | 8th July – 20th Augustus 2023 | 15th Juli – 27th Augustus 2023 |
| Autumn | 21st October – 29th October | 14th October – 29th October | 14th October – 29th October |
| Christmas | 23rd Dec. 20223 – 7th January 2024 | 23rd Dec. 2023 – 7th January 2024 | 23rd Dec. 2023 – 7th January 2024 |
| February | 17-25 February 2024 | 17 – 25 February 2024 | 10-18 February 2024 |
| May | 27th April – 5th May 2024 | 27th April – 5th May 2024 | 27th April – 5th May 2024 |
| Summer | 20st July – 1st September 2024 | 13th Juli – 25th Augustus 2024 | 6th July – 18th August 2024 |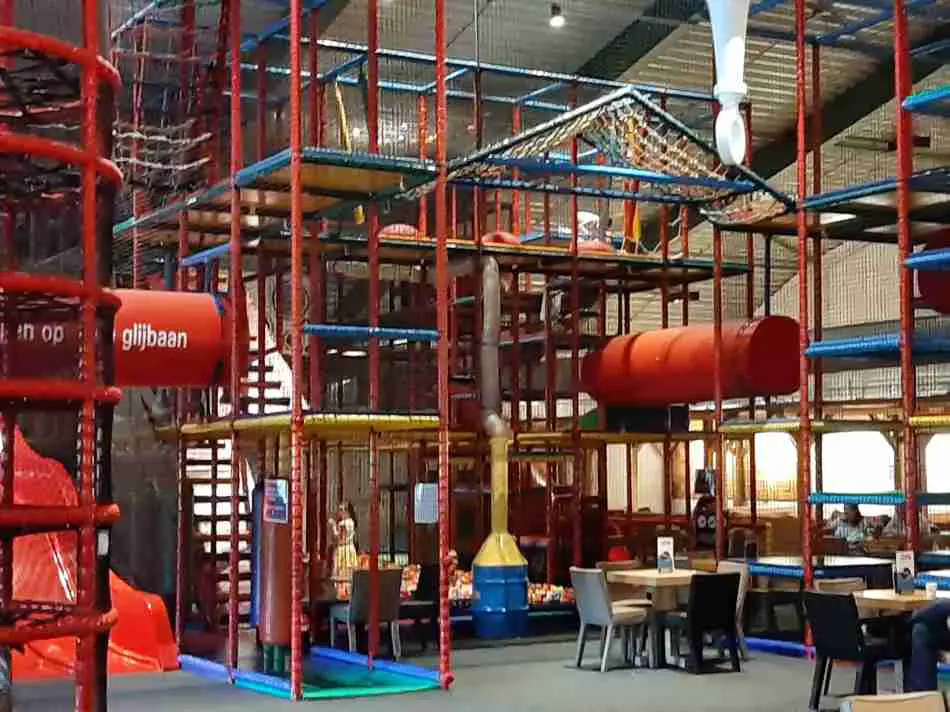 Facilities At Hof Van Saksen
The buildings and facilities at Hof van Saksen are beautiful and designed by well-known architects and designers. We love the main building, De Havezate, for its beautiful design and appearance. The facilities for children in the Brink are great, and Hof van Saksen offers excellent options for every age group.
De Brink (facilities for children)

Harrewar is an indoor playground for small children. Our children loved this indoor playground when they were young. The children can climb and clamber around safely while the parents sit on the edge, drinking coffee or white wine. You don't have to entertain the children; they do that themselves.
Bounz is the trampoline park, which our children also loved when they were older. So they are guaranteed to return tired but satisfied and be calmer for the rest of the day.
There are several Academies for children where they can get involved in crafts, fashion, building, archaeology, engineering, and many other subjects. There are plenty of these indoor academies so the kids can have a great time even if it rains.
There is also a teenage game hall and a small bowling alley for families.
The Havezate (Main building with swimming pool and restaurants)

There are several restaurants in the Havezate. Our favorite restaurant is the Grand Café, where the tables at the window offer a beautiful lake view. There is also a buffet restaurant which is very convenient for young children who don't have the patience to sit at a table for a long time. Make reservations at the restaurants as early as possible to avoid disappointments.
There is a small Spa & Wellness with various saunas and the possibility of booking facials.
There is a small but well-equipped fitness room in the main building.
The swimming pool, with its spectacular slides, is also located in the main building.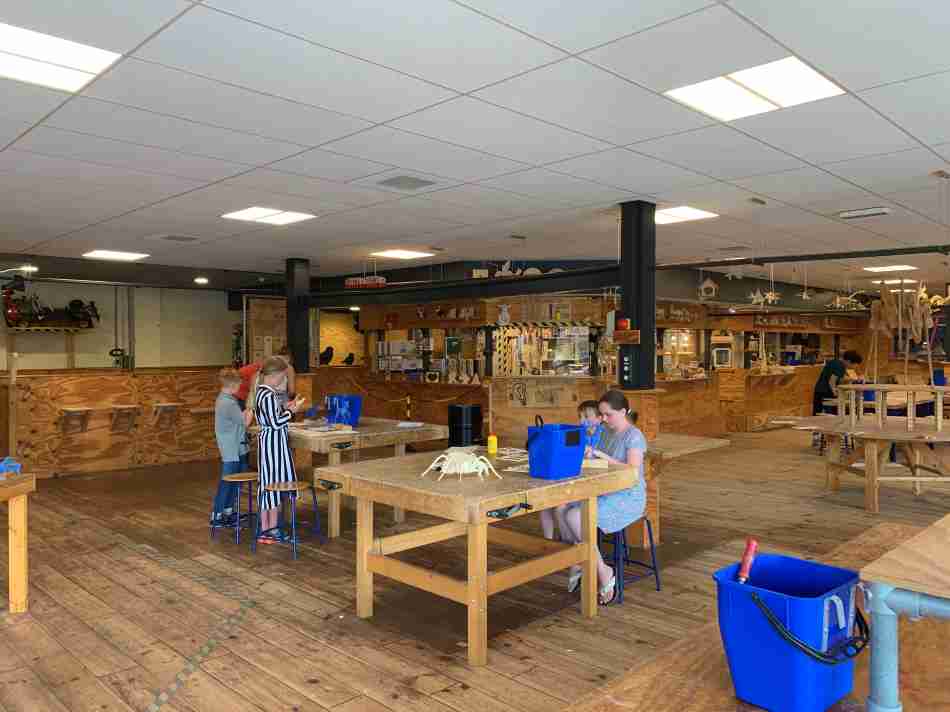 Why Is The Hof Van Saksen Swimming Pool So Much Fun?
Hof van Saksen has a spectacular swimming paradise. Four great slides were built a few years ago, and our (now grown-up) children still love spending an afternoon here because of these four slides.
SALTATO

The longest funnel slide in the world

BOMBO

The largest indoor tire slide in the world

INTENSO

The highest tire slide in the Benelux

PRESTO

The steepest speed slide in the Netherlands
You can also watch this Youtube video, which has already been viewed more than 8 million times, and spend a few minutes discovering whether these slides could be something for you and your children.
Activities At Hof Van Saksen?
Miniature golf

A beautiful miniature golf course has recently been constructed.
Footgolf

has been a popular activity at Hof van Saksen for many years, and the children (and fathers) can get carried away.
Bicycle rental with beautiful cycling routes

We always took our bicycles because cycling near Hof van Saksen is beautiful. There are some lovely forests and heathlands nearby.
Sports fields for playing soccer, basketball, or volleyball
Climbing tower

With a view over Hof van Saksen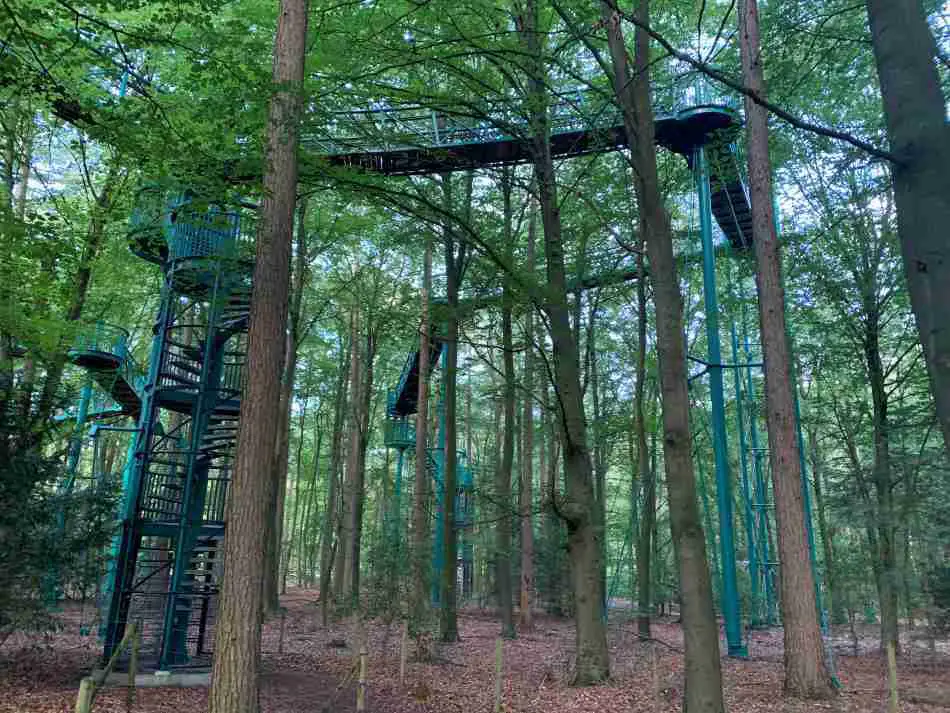 Activities Near Hof Van Saksen
Visit the Boomkroonpad

The Boomkroonpad is a fun activity for children in the beautiful Borger forestry, 6 km from Hof van Saksen. From the Boomkroonpad, you can also take lovely walks through the Borger forestry area.
Hike the Balloerveld

The Balloërveld is one of the most beautiful pieces of nature with magnificent heathland near Hof van Saksen.
Visit Assen

Assen is the nearest city for shopping or a trip to the cinema. The Drents Museum in the center of Assen is one of the 30 most beautiful museums in the Netherlands.
Visit Emmen

Emmen has a large zoo, Wildlands Emmen, and also a large cinema
Visit the city of Groningen

with its beautiful historic center and the modern Groninger museum
Visit the Hunebedcentrum (dolmen center) in Borger

located next to the largest dolmen in the Netherlands
Drouwenerzand Amusement Park

A charming amusement park for children up to 12 years old, 13 km from Hof van Saksen.
Visit the fortress town of Bourtange in Groningen.

Forty-five minutes drive from Hof van Saksen but very worthwhile.
Exloo, Gnome land

Playing, watching gnomes and animals, fun for little ones
Museum Village Orvelte

One of the most beautiful museum villages in the Netherlands with a unique atmosphere
Plopsa indoor Coevorden

Indoor playground for children
Prison Museum Veenhuizen

Interesting museum about the former prison in Veenhuizen and its surroundings
Memorial Centre Camp Westerbork

Former concentration camp where Anne Frank and her family once stayed
Map Of Activities Near Hof Van Saksen
Golf Courses Near Hof Van Saksen
There are quite a few lovely golf courses in the vicinity. I love these golf courses because they are quieter than those in other parts of The Netherlands. My favorite golf course near Hof van Saksen is de Semslanden in Gieten, a lovely tranquil golf course.
Golf course De Semslanden

18 km from Hof van Saksen
Beautiful quiet golf course
GC de Gelpenberg

24 km from Hof van Saksen
Lovely golf course in beautiful surroundings
Drenthe Golf & Country Club

19 km from Hof van Saksen
27 holes, spaciously set up
Exloo Golf Course

18 km from Hof van Saksen
New golf course
Country Golf Ees

14 km from Hof van Saksen
Pitch & Putt course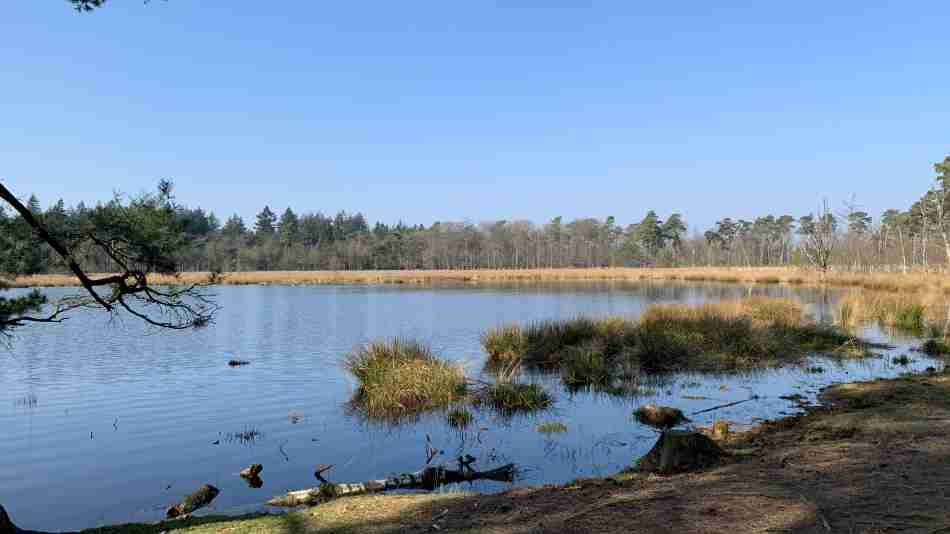 Hof Van Saksen Alternatives
We almost always go on vacation in the Netherlands and have visited many vacation resorts, but the facilities for children at Hof van Saksen are unique, in our opinion.
Nevertheless, several other resorts in the Netherlands have more or less the same appeal as Hof van Saksen and are a possible Hof van Saksen alternative.
PUUR Exloo
PUUR Exloo is also located in Drenthe and is a brand-new small vacation park with ± 100 beautiful vacation bungalows. These bungalows can compete with the luxury cottages at Hof van Saksen and offer considerably more space and privacy. Furthermore, you can use the facilities of the Fletcher Hotel next door, and golf park Exloo is a stone's throw away.
Puur Exloo is a charming and quiet vacation park in a more beautiful environment than Hof van Saksen. Still, Puur Exloo does not come close to Hof van Saksen regarding amenities and facilities. However, if you're going for cozy, comfortable, and exclusive accommodations in peaceful surroundings, you will love the Puur Exloo vacation resort.
Het Land van Bartje
Land van Bartje is a vacation resort in Drenthe, and its location is beautiful. Land van Bartje is located next to beautiful forestry, a more attractive location than Hof van Saksen. You also have much more space around your house than in Hof van Saksen, so more privacy.
The cottages in Land van Bartje are older than those at Hof van Saksen, and the amenities and facilities at Land van Bartje do not come close to those at Hof van Saksen. However, if you're going for the location and the forest, Land van Bartje is your place.
Hof van Salland
Hof van Salland is a vacation resort next to the Salland Ridge and is often mentioned as an alternative to Hof van Saksen. Hof van Salland certainly has new modern cottages, but Hof van Salland is smaller than Hof van Saksen and has fewer facilities.
However, the Salland Ridge is gorgeous and one of the most beautiful environments in our country.