Latest update: 18th July 2022
The Netherlands has more than 500 km of beaches and more than 50 beach resorts. With so many beaches and beach resorts on offer, it is hard for foreign visitors to select that perfect beach for their families.
So let me help you find that perfect beach in The Netherlands because I took my family to as many different Dutch beaches as possible. I also set up a survey filled out by hundreds of Dutch people to get a good overview of the best beaches in The Netherlands.
I created a selection of the 25 best beaches in The Netherlands, suggested by locals. I described the beach resorts' facilities in detail, added helpful links, and provided an overview of tourist attractions in and around each beach resort.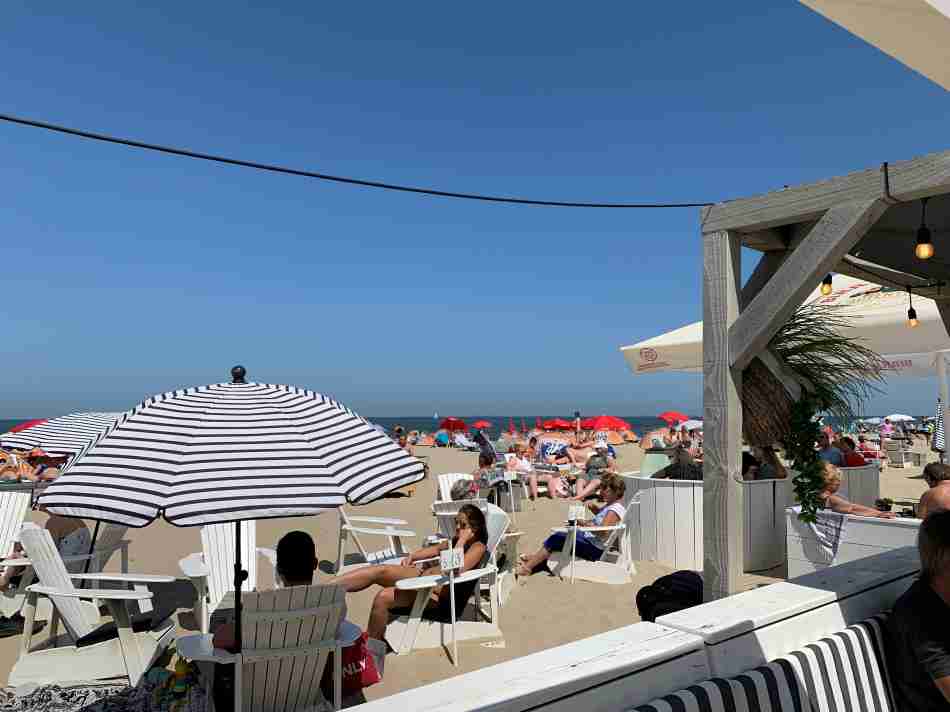 What Are The 25 Best Beaches In The Netherlands?
You can find an overview of the 25 best beaches in The Netherlands below, arranged from the south to the north.
| Nr. | Beach |
| --- | --- |
| 1 | Cadzand-Bad |
| 2 | Zouteland |
| 3 | Westkapelle |
| 4 | Oostkapelle |
| 5 | Vrouwenpolder |
| 6 | Renesse |
| 7 | Ouddorp |
| 8 | Hoek van Holland |
| 9 | Kijkduin |
| 10 | Scheveningen |
| 11 | Katwijk aan zee |
| 12 | Noordwijk aan zee |
| 13 | Zandvoort |
| 14 | Bloemendaal |
| 15 | Castricum aan zee |
| 16 | Egmond aan zee |
| 17 | Bergen aan zee |
| 18 | Petten |
| 19 | St. Maartensdorp |
| 20 | Julianadorp |
| 21 | Texel |
| 22 | Vlieland |
| 23 | Terschelling |
| 24 | Ameland |
| 25 | Schiermonnikoog |
Map Of 25 Best Beaches In The Netherlands
You can use the map below to find the locations of the 25 best beaches in the Netherlands.
Click in the upper right corner to enlarge the map.
Click on a beach resort to access the Google Maps pictures and get a first impression of the beach and beach resort.
What Kind Of Beach Are You Looking For?
Beaches and beach resorts in The Netherlands come in different sorts and sizes, as are people going to the beach. Some people like beach resorts with many cool beach clubs, while others are looking for a quiet beach with as few people as possible. In addition, families with young children are often looking for a relatively quiet beach with many facilities for children in the neighborhood.
| Popular Beach | Quiet Beach | Child-friendly Beach |
| --- | --- | --- |
| Scheveningen | Cadzand-Bad | Kijkduin |
| Kijkduin | Bergen aan Zee | Noordwijk |
| Zandvoort | Julianadorp | Katwijk |
| Bloemendaal | Texel | Bergen aan Zee |
| Hoek van Holland | Vlieland | Julianadorp |
| | Terschelling | |
| | Ameland | |
| | Schiermonnikoog | |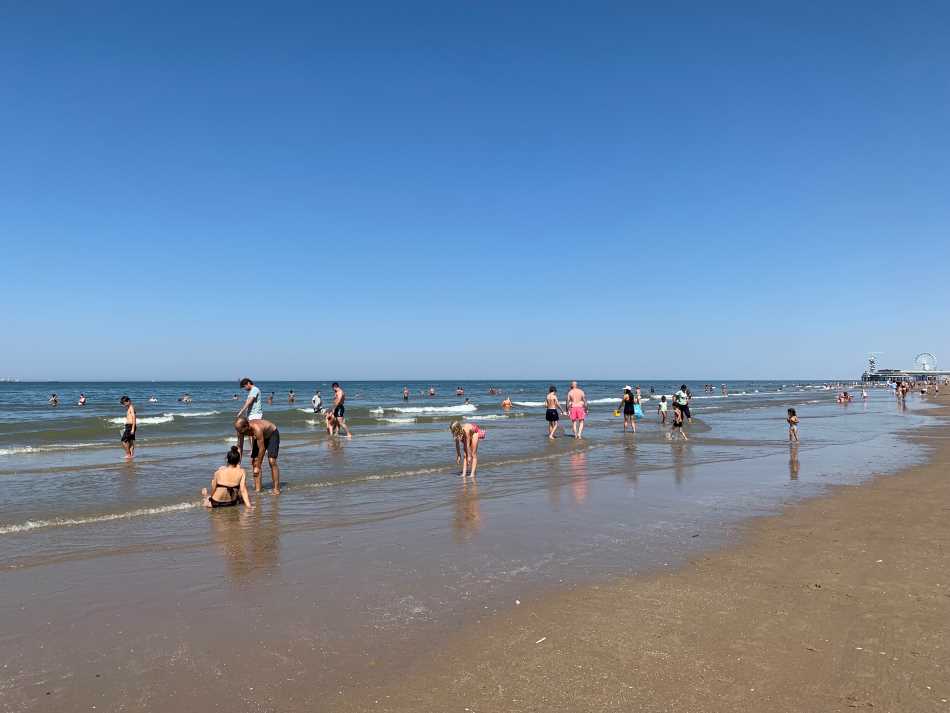 The 5 Most Popular Beaches In The Netherlands
Popular beaches have plenty of beach clubs and other facilities for tourists. These popular beach resorts usually score high in the coolest beach clubs and places. On the other hand, these beach resorts are also crowded and sometimes very crowded.
The 5 most popular beaches in The Netherlands are
Scheveningen
Kijkduin
Zandvoort
Bloemendaal
Hoek van Holland
Scheveningen is the most crowded beach resort in the Netherlands and is almost impossible to reach by car on a sunny day. Kijkduin is the smaller version of Scheveningen and an excellent alternative because there are still plenty of beach clubs.
Zandvoort is a trendy beach because its train station is near the beach and can easily be reached. Bloemendaal is a beach for all the cool people from Amsterdam, some form of Amsterdam Beach. Hoek van Holland will become Rotterdam Beach now that the high-speed metro line from Rotterdam is finished with a metro station next to the beach.
8 Quiet Beaches In The Netherlands
If you are looking for a quiet beach, you can best stay away from the larger cities in the middle of the country. Quiet beaches in The Netherlands are located on the Wadden Islands or in the upper part of Noord-Holland.
8 quiet beaches in The Netherlands are:
Cadzand-Bad
Bergen aan Zee
Julianadorp
Texel
Vlieland
Terschelling
Ameland
Schiermonnikoog
These beaches are quiet because it takes quite a bit of traveling to get there. Therefore, the Dutch are not going there for just one day at the beach. In addition, the little villages in Noord-Holland are also relatively quiet beach resorts.
5 Child-Friendly Beaches In The Netherlands
If you are looking for child-friendly beaches, you can best look for the quiet beaches in South- and Noord-Holland. There are many vacation resorts in Noord-Holland near the beaches, which is a good sign that these beach resorts are well suited for family vacations. In addition, there are many amusement parks near the beaches in Zuid-Holland, perfect for families with children.
The 5 most child-friendly beaches in The Netherlands are:
Kijkduin
Noordwijk
Katwijk
Bergen aan Zee
Julianadorp
Look below for extensive descriptions of these beach resorts.
What Are The 7 Best Beaches in Zeeland?
Zeeland has the most hours of sunshine in all of the Netherlands, and some of the most popular beaches in the Netherlands are in Zeeland. From Noord-Brabant and Limburg, the beaches in Zeeland are easily accessible. It is best to drive along the A58, which runs deep into Zeeland.
1. Cadzand-Bad
Cadzand-Bad is our most southern beach resort in the country, located almost at the border with Belgium and the sunniest beach resort in The Netherlands. Beach club Dok 14 in Cadzand-bad won the best beach club award in 2019.
Zoutelande has become the best-known name among the beach resorts in The Netherlands since a Dutch band called BLØF made a song about Zoutelande a few years ago. The song's video has been watched over 31 million times on Youtube and provides you with excellent shots of Zoutelande to get a good impression of this beach resort.
Zoutelande, like Westkappele and Oostkappelle, always scores high in rankings of best beach resorts because that part of the island of Walcheren has this unique vacation feeling. You can drive from village to village and see only happy people on vacation.
3 & 4. Westkapelle & Oostkapelle
We will discuss these two beach resorts together as they are located close to each other on the west coast of the island of Walcheren. Like Zoutelande, that special vacation feeling is also present in these small and charming villages. The Zuiderduin Beachhotel in Westkapelle is ideally located, about 50 meters away from the beach, and has its own beach club.
This region between Westkapelle and Oostkapelle has the most sunshine hours in the country, the highest average temperature, but not the highest maximum temperature since the sea wind is always refreshing.
In other words, this region in Zeeland has the best climate in The Netherlands, which makes it ideal for beach vacations. Therefore, it should be no surprise that all beaches in Zeeland score very high in the popularity contests among the best Dutch beaches and beach resorts.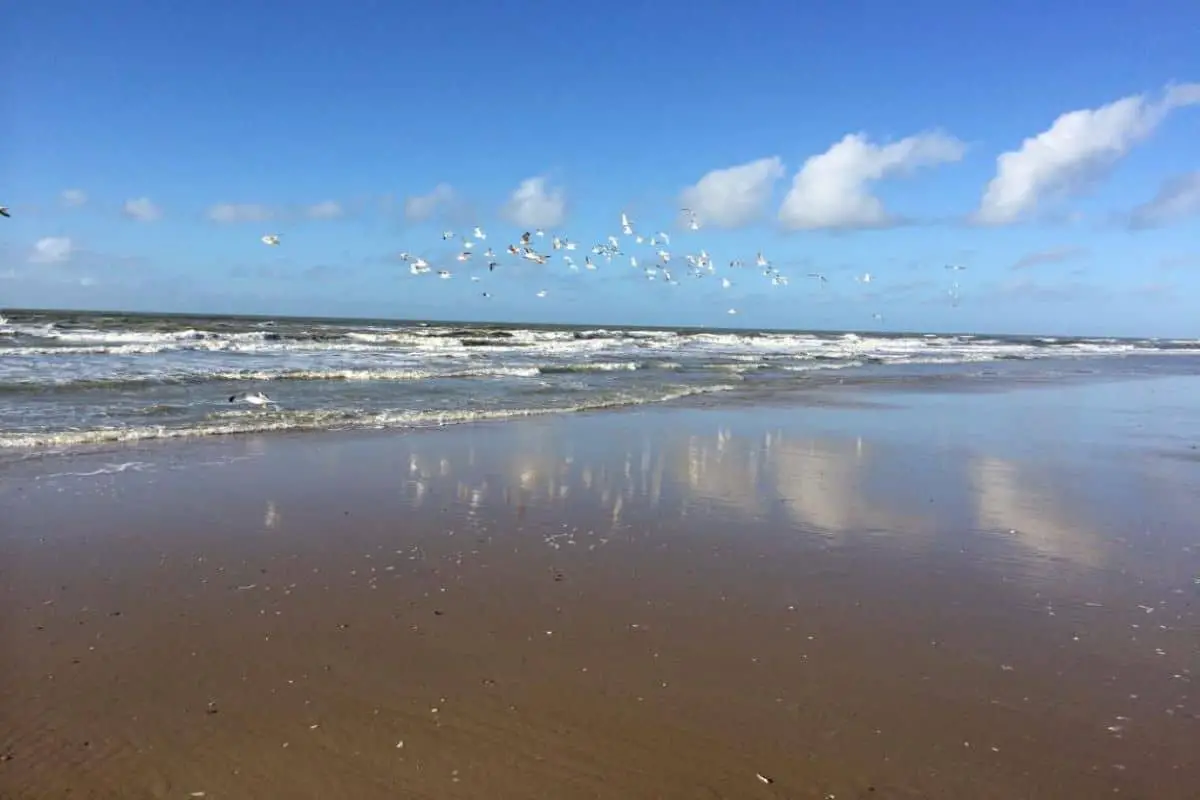 5. Vrouwenpolder
Vrouwenpolder is an unusual beach resort because it lies between the sea and a lake (Veerse Meer). That provides options for combining a beach vacation with other water activities like sailing or windsurfing on a relatively calm lake. The more exciting watersports, like kitesurfing, are still done on the sea.
This video has won the 2019 drone award and made Vrouwenpolder known as "kitesurf heaven"….! I love this video because it provides a fantastic impression of the more spectacular activities in Zeeland.
Vrouwenpolder lies next to the Oosterscheldekering, the country's longest storm surge barrier (9 km) and a must-see on your bucket list in Zeeland.6. Renesse
Renesse is a beach resort known as a campsite for youngsters where parties occur every night. Therefore, Renesse has a reputation as the ultimate party beach resort. If you have to believe all the stories, almost everyone in The Netherlands spent a vacation in Renesse as a teenager and tremendously enjoyed that first vacation without their parents.
Of course, there is another side to it, and the municipality is doing everything it can to improve the image of Renesse as a family beach resort. And to be fair, the teenagers' parties almost always take place on the camping ground. But it will take a long time before we consider Renesse a regular family beach resort.
6. Renesse
Renesse is a seaside resort known as a campground for teenagers, camping Duin en Strand, where a big party is going on every night. If all the stories are to be believed, almost every Dutchman spent a vacation in Renesse as a teenager and immensely enjoyed that first vacation without their parents.
The municipality of Renesse is doing everything to improve the image of Renesse as a family seaside resort. And to be honest, the party of the teenagers only takes place at the youth camping site itself. Other holidaymakers in Renesse are hardly bothered by this.
7. Ouddorp
Ouddorp also lies between the sea and a lake, in this case, the Grevelingenmeer. This location provides an excellent opportunity to combine a beach vacation with other watersports, although the kite surfers will be mostly at sea.
There are plenty of facilities in and around Ouddorp for visitors. Ouddorp is a very highly regarded beach resort. It's not surprising that many vacation parks and hotels can be found here. The resorts Ouddorp Duin and Strandpark Duynhille are even located against the North Sea beach, as is the Fletcher Hotel Duinzicht.
I like the beach and lake combination because they provide something for everybody. You can keep even teenagers happy if they can sail or surf all day long and combine that with chilling on the beach the next day.
What Else Is There To Do In Zeeland?
Visit the Deltawerken
Day-trips to charming cities like Middelburg, Domburg, Vlissingen, and Veere
Visit Attraction park Efteling.
Watch the flowers in springtime in Zeeuws-Vlaanderen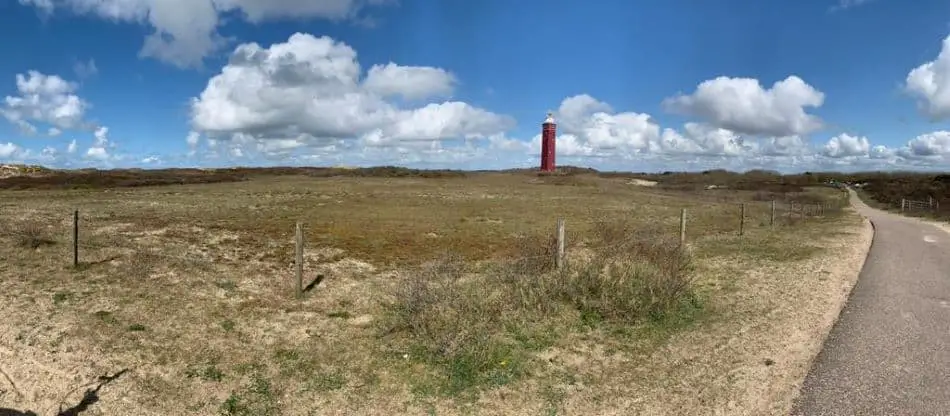 What Are The 5 Best Beaches In Zuid-Holland?
8. Hoek van Holland
Hoek van Holland is an up-and-coming beach resort that nicely developed over the last few years. Its location is more isolated than other beach resorts, but the recent developments have been promising. The number of facilities for tourists has increased significantly.
A new metro line runs from Rotterdam to the Harbour of Hoek van Holland. Work has now started to extend that metro line to the beach of Hoek van Holland and will be finished in the summer of 2022. This extension will transform Hoek van Holland into Rotterdam Beach.
The facilities for tourists in Hoek van Holland have expanded considerably in recent years and there is now a very nice boulevard. It is now possible to rent beach houses in Hoek van Holland (Beach Villa's Hoek van Holland).
These beach houses are a fantastic idea because you will be living literally on the beach. Furthermore, the beaches in The Netherlands are all facing the west, so sunsets can be spectacularly beautiful and enjoyed from these beach houses.
Hoek van Holland's beach is located just above the river leading to the harbor of Rotterdam from the North Sea. Therefore, you can regularly see enormous sea ships passing by on their way to and from Rotterdam's port.
9. Kijkduin
Kijkduin is located just below The Hague and is a miniature version of Scheveningen with plenty of tourist facilities but without mass tourism. Kijkduin is an ideal beach for families with young children. Although it is a large beach and attracts many people, the masses of tourists are heading toward Scheveningen.
Kijkduin is an ideal beach resort for families with young children and there is a very child-friendly family vacation resort in Kijkduin (Vakantiecentrum Kijkduinpark), close to the beach. There are also very cool beach houses available in Kijkduin for those looking for the ultimate beach vacation.
Renovating the boulevard in Kijkduin made Kijkduin a much more attractive beach resort. Kijkduin is a lovely beach resort if you want to visit a beach near The Hague and avoid the mass tourism of Scheveningen. Come early in the morning if you want a good parking spot. If you come later in the day, it will be a long walk to the beach.
South of Kijkduin is a beautiful dune region leading to the so-called sand motor, an innovation to strengthen the coastline by adding sand to the coast using the natural flow. It is a walk of about 30 minutes from Kijkduin, and there are a few excellent, quiet beach clubs there.
10. Scheveningen
Scheveningen is seen by the Dutch as the ultimate beach resort in the Netherlands. I lived ± 200 m from Scheveningen beach, and I can assure you from personal experience that Scheveningen is the most crowded beach in the Netherlands.
If you want to go to Scheveningen beach, be prepared to pay a small fortune for parking. It helps if you also come early in the morning on sunny days to find a parking spot. I highly recommend coming to Scheveningen by public transportation.
There is, of course, a reason why Scheveningen is so popular. The reason is that Scheveningen has the largest number of facilities of any beach resort in The Netherlands. In addition, Scheveningen has a beautiful wide beach with a very long boulevard with all kinds of shops and restaurants. The Pier of Scheveningen stretches into the sea, waiting for a visit from you.
The Kurhaus is a monumental building next to the beach that you will also want to explore a bit further by having a drink over there. Right across the street from the Kurhaus are a cinema and a casino. As I said, no other beach resort in The Netherlands has these facilities. That is why Scheveningen will remain the most popular beach resort in The Netherlands in the foreseeable future.
11. Katwijk aan Zee
Katwijk aan Zee is a small beach resort north of The Hague. Katwijk is one of those small fisherman villages that discovered, almost by accident, that tourism is a more attractive source of income than fishing. Katwijk has plenty of beach facilities nowadays, but the fisherman's village's atmosphere is still present in Katwijk.
Katwijk aan Zee is not the most exciting beach resort but is well suited for younger families. The Duinrell Attraction park, with its spectacular tropical indoor swimming pool, is nearby. Visits to Madurodam are also guaranteed success with young children.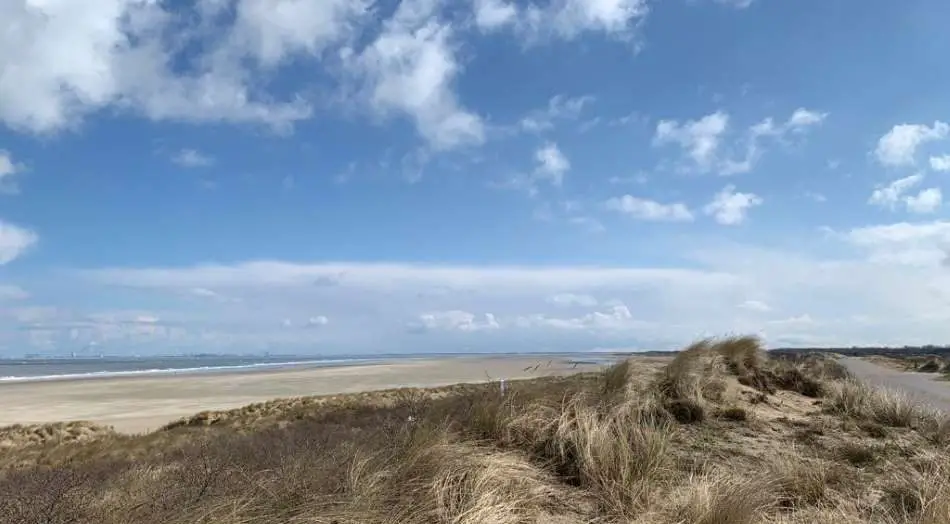 12. Noordwijk aan Zee
Noordwijk Aan Zee is a well-known seaside resort located just north of Katwijk. Like Katwijk, Noordwijk is one of those fisherman's villages turned into a beach resort. Noordwijk has a vast beach of no less than 8.1 kilometers, ensuring you can find quiet spots on the edges. There are no less than 14 campsites and vacation parks in the region, which is usually a good sign of the attractiveness of a beach resort for vacations.
Noordwijk is so close to Katwijk that the recommendations for sightseeing are the same, with one exception. Noordwijk lies on the south edge of the Bollenstreek, with plenty of flowers in springtime. Therefore, I highly recommend a "tulip tour" to watch springtime's many colorful fields with flowers.
What Else Is There To Do In Zuid-Holland?
Day-trips to Amsterdam, Rotterdam, or The Hague
Attraction parks Duinrell, Drievliet and Madurodam
What Are The 8 Best Beaches In Noord-Holland?
13. Zandvoort
Zandvoort is marketing itself as Amsterdam Beach, which is very smart. They have a point because the train from Amsterdam takes only 30 minutes to get you to Zandvoort and the train station is next to the beach. So if you visit Amsterdam and want to spend a day at the beach, Zandvoort will be your destination of choice.
Just be aware that these trains to and from Zandvoort will be very crowded on sunny days.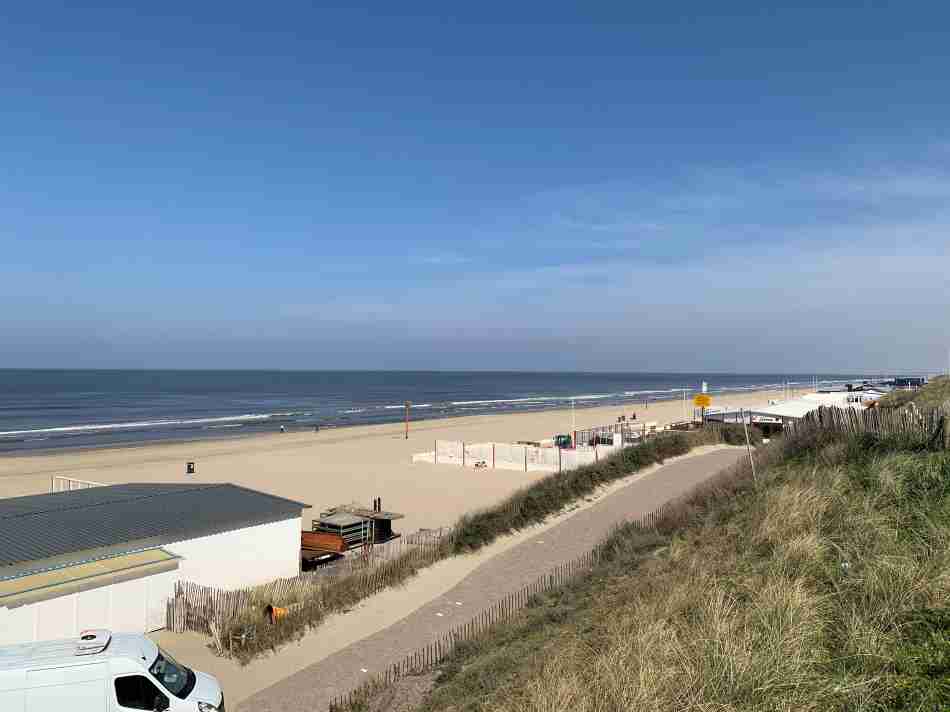 Zandvoort is one of the most relaxed beach resorts in the Netherlands and is very popular among the young and hip or those who still want to feel young and hip. There are about 35 beach clubs in Zandvoort, some of which rank very high on the yearly national hit list of places to be and the coolest beach clubs.
I believe that Zandvoort is an excellent beach resort for the young (at heart) among us. Zandvoort is very different from the many family beach resorts along the coast and a perfect beach resort for the young.
14. Bloemendaal
Bloemendaal is located just above Zandvoort and, therefore, also close to Amsterdam. It must be the Amsterdam influence because Bloemendaal is also a beach resort for the young and hip. Bloemendaal also has many beach clubs, and some of these clubs are also high-ranking in the yearly elections of the coolest beach club. The beach parties will probably be an essential factor in those elections.
Bloemendaal cannot be reached by train quickly, and you will need to go by car. Therefore, you will find a subtly different audience on this beach than on the beaches in Zandvoort. Bloemendaal is a beach resort for the young who want fun and parties. Families with young children should find their place under the sun somewhere else.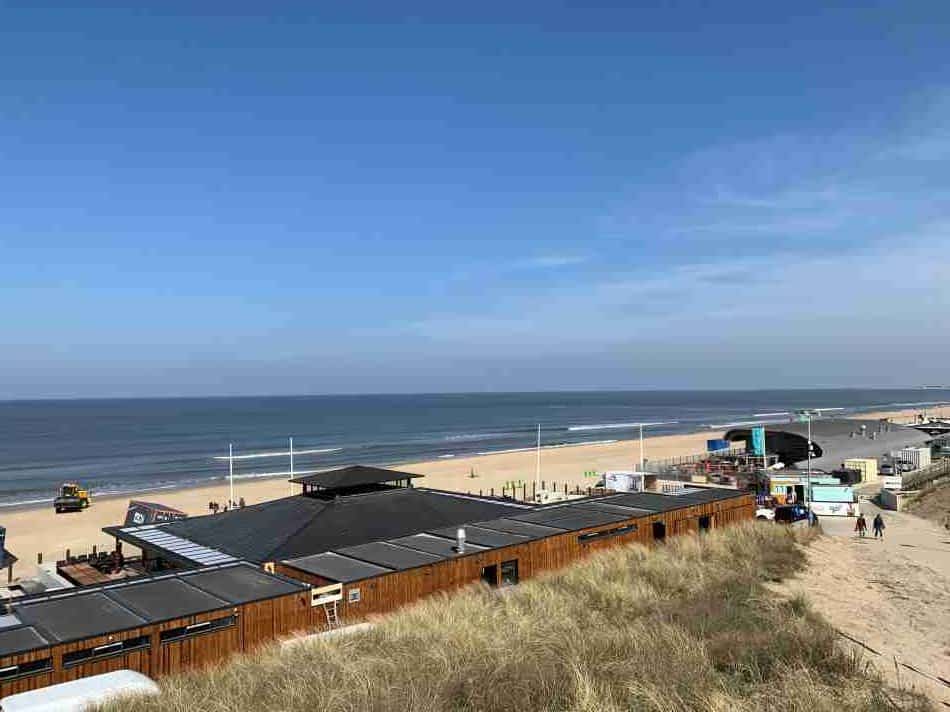 15. Castricum aan Zee
Castricum aan Zee is different from other beach resorts in the Netherlands because it is not a beach resort. The village is not located near the dunes but a few kilometers away from the sea. Next to the sea is only a large parking place which will be overloaded with cars on hot and sunny days.
You can also come by train to Castricum train station. Busses will go back and forth to the seaside (about a 5 km drive). This train is a direct train to Amsterdam and is also very convenient the other way around to spend a day in Amsterdam if you are vacationing in Castricum.
There are a few beach clubs near the parking place, which will be the most crowded. So if you are looking for more personal space, you have to use the ultimate Dutch solution and hop on your bike to create distance between you and the other visitors.
The dunes south of Castricum (Noord-Hollands Duinreservaat) are magnificent and well worth exploring.
16. Egmond aan Zee
Egmond Aan Zee is another charming small village near the sea like most other beach resorts in Noord-Holland. Beautiful beaches, dunes, and enough facilities to cater to tourists, nothing is missing here for a successful beach vacation, and there is no need to change anything. The fresh air and proximity of the sea will make you feel completely refreshed when you return home.
Egmond is close to Alkmaar, but the natural attractions of this beach resort are the dunes around Egmond aan Zee, which make this part of the country so beloved.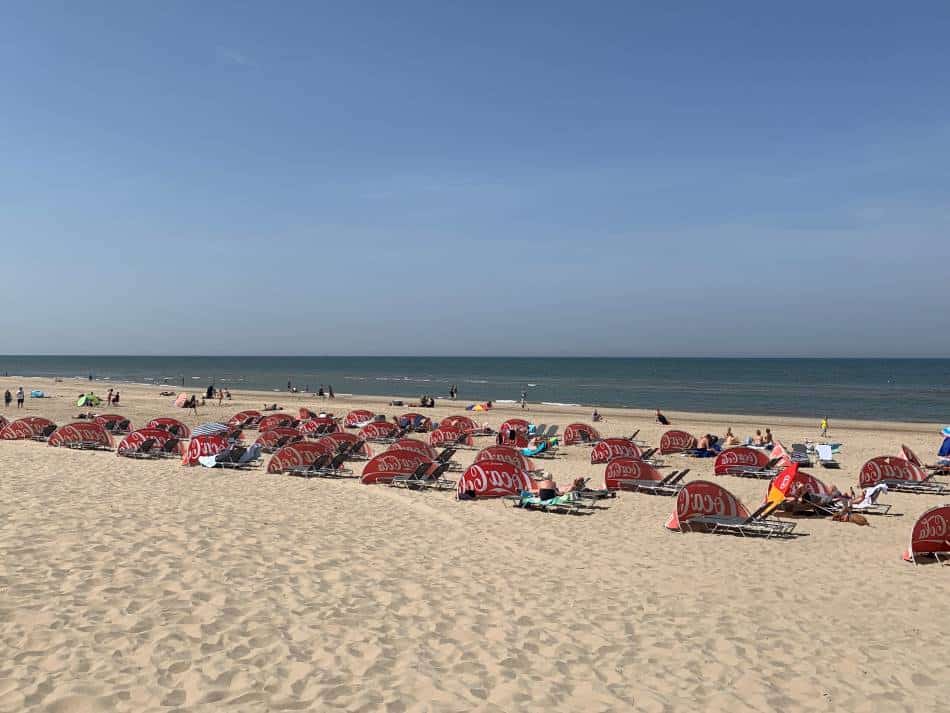 17. Bergen aan Zee
Bergen aan Zee lies at the border of one of the most beautiful dune areas of The Netherlands, de Schoorlse Duinen. At its broadest, the dunes are here 5 km wide, which is quite wide for dunes. In our opinion, the Schoorlse Duinen is one of the most beautiful regions in The Netherlands, and if you intend to visit Bergen, make sure that you also visit these dunes.
Schoorl lies on the north side of this region, and its beach cannot be reached by car. That is a great advantage because that beach will be much quieter. Don't worry, your bike will get you to the beach, no matter what.
The Fletcher Hotel Jan van Scorel in Schoorl is beautifully situated, right next to the Schoorlse Duinen, one of the most beautiful locations for exploring the dunes.
Bergen is a charming small village and has the reputation of an artistic town. Between 1910-1950, a group of painters lived in Bergen, and their style of painting is known as Bergense School". Nowadays, there is still a large number of galleries in Bergen.
Bergen aan Zee's major attraction is the (quiet) beach and its location next to the Dunes of Schoorl. Bergen aan Zee also has a sea aquarium with fish from all over the world, an attraction that the children will probably like very much.
Bergen aan Zee offers a wide range of hotels and resorts (overview) because it is one of the best beach resorts in The Netherlands.
18. Petten
Petten is an interesting beach resort because it is very new as a beach resort. The beach and dunes at Petten were artificially created to strengthen this coast. These artificial beaches and dunes were created in 2016, so Petten is the new kid on the block as a beach resort.
They have been very efficient in Petten and divided the beach into three parts: families, beach houses, and boats. Currently, they have three beach clubs over there, and I am not sure if they have also been allocated to different groups. Let's hope not because this will make a day at the beach a bit too efficient.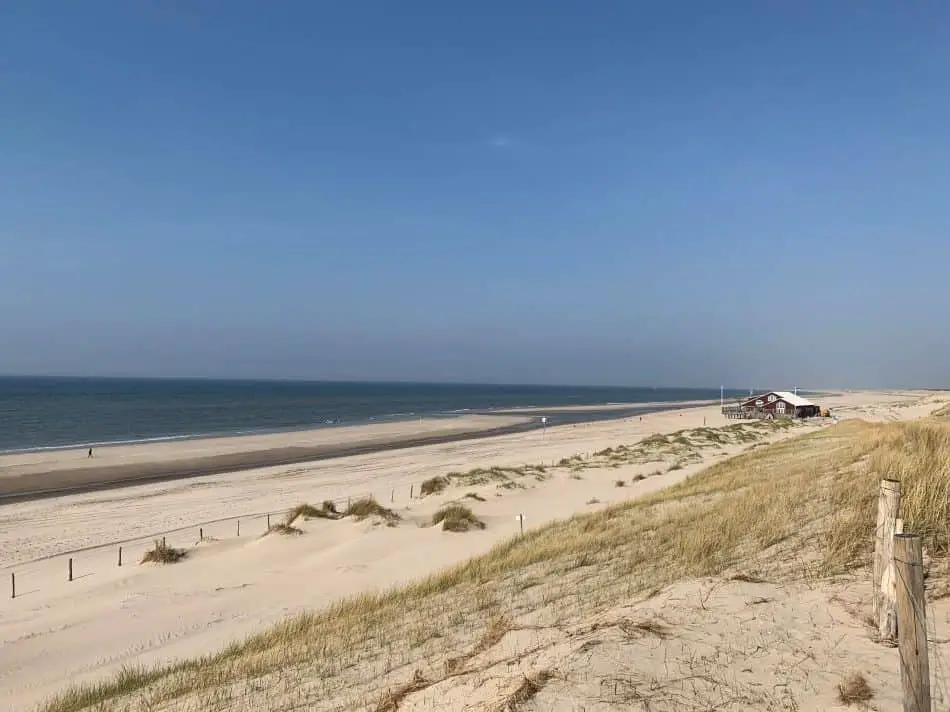 You can check out what all of this looks like if you climb the highest dune in Petten, which will give you an excellent overview of this new beach. Furthermore, to understand why this project was needed to protect against the sea, visit the information center "sand against the sea" in Petten.
19. St. Maartenszee
The official website of St Maartenszee promotes itself as the best-hidden piece of beach in the Netherlands. I'm afraid I disagree because many have already discovered St. Maartenszee, given this area's many vacation resorts, hotels, and camping sites. Instead, St. Maartenszee should have described itself as a beautiful vacation resort with a relatively quiet beach and plenty of regional facilities for a great family vacation.
The number of visitors on the beach in St. Maartenszee is nowhere near what you will find on the beach in Scheveningen. For example, there are only two beach clubs at St. Maartenszee compared to about 100 beach clubs in Scheveningen, so no worries……!
Our favorite thing to do in the area in springtime is watching the flowers because St. Maartenszee is right in the middle of vast tulip fields, and you should try out one of the tulip tours in the area. We also advise exploring the area south of St. Maartenszee in the direction of Petten and Camperduin, which has become a beautiful area. Don't forget to climb the high "lookout dune" in the area in Petten when you drive by to enjoy the view.
20. Julianadorp
Juliandorp is a village with many vacation resorts and accommodations in and around the town. Julianadorp is an ideal vacation resort for families with young children with the right balance between facilities for families and the rest and recreation for those who need some personal space.
Like in many other areas in The Netherlands, you should bring your bike with you or rent a bike because it will allow you to explore the region in more detail.
We love that Julianadorp is close to large areas with flowers in springtime, and "tulip tours" by bike are our favorite means of enjoying the flowers. Later in the years, we advise visiting the surrounding villages and exploring the dunes by bike in both directions because this is a beautiful part of the country.
What Else Is There Do In Noord-Holland?
Sightseeing or shopping in Alkmaar
A day trip to one of the characteristic fishermen's villages like Volendam, Marken, Medemblik, and Enkhuizen
Visit the windmills of the Zaanse Schans and the Beemster polder.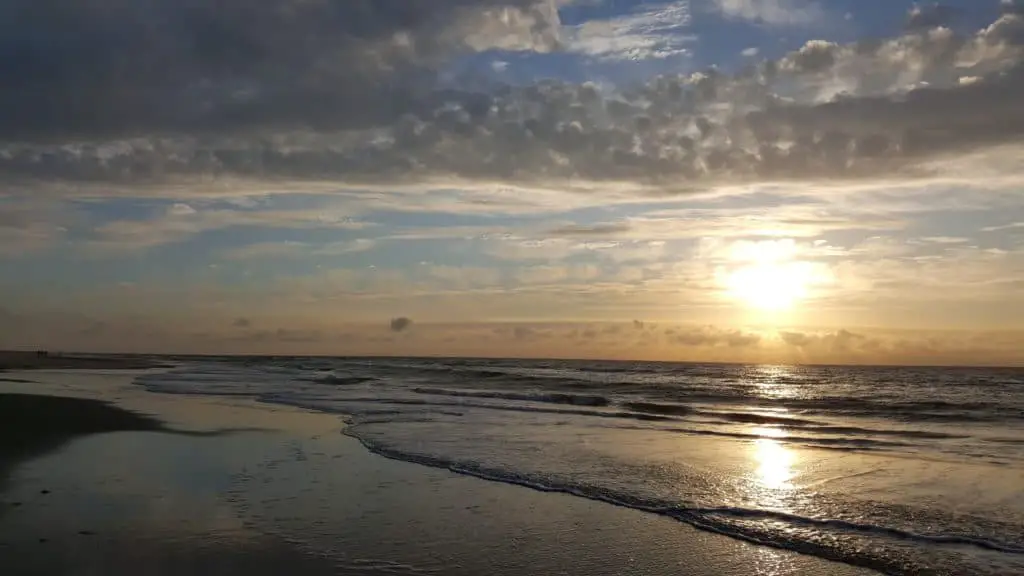 What Are The 5 Best Beaches on The Wadden Islands?
The Wadden islands provide a different beach experience than the other beaches in The Netherlands, which often have many beach clubs and, unfortunately, lots of people. The Wadden islands are much quieter and more nature-oriented than the other beaches in The Netherlands. The Wadden Sea is probably the most beautiful region in The Netherlands.
21. Texel
Of all the Wadden islands, Texel comes closest to what we nowadays consider a "regular beach resort" with all kinds of tourist facilities and attractions in the region. Fortunately, there is still enough of that special feeling of the Wadden Islands because some parts of Texel, like the natural park de Slufter, are famous for the many birds in this area. Vacation Resort Sluftervallei is located next to this beautiful area. The most beautifully located hotel on Texel is Grand Hotel Opduin.
Watching seals in Ecomare is yet another attraction, and there are plenty of opportunities for sightseeing in any of the small villages on the island.
For those who feel inclined, you can play a round of golf on Texel, and you can even jump out of a plane with a parachute if that is your way of relaxing….!
Texel can also (relatively) easily be reached by boat, although you have to be aware of the long drive to get to Den Helder to the ferry to Texel.
Keep in mind that it takes quite a bit of traveling (in Dutch terms) to get to the Wadden islands. However, the bonus you get for this long trip is the quietest beaches in the country.
22. Vlieland
Vlieland is small and stunningly beautiful, like Schiermonnikoog. Vlieland is an exquisite example of a Wadden island and proudly shows the Dutch Wadden area's natural beauty. The beaches are phenomenal and quiet.
Vlieland is fantastic for a sunny weekend on the beach, and you will come back totally refreshed. If you intend to stay longer, explore the island by bike because cars are not allowed.
The Vlieduyn resort is a cozy apartment complex 200 meters from the beach for those who would like to discover the beautiful Vlieland from comfortable apartments. Strandhotel Seeduyn is really fantastically located on the North Sea beach, with a chance of beautiful sunsets.
Another bucket list item (at least on Vlieland!) is the Vliehors Express, a tour over the western part of the island, nicknamed the Sahara of the north, with an almost guaranteed possibility to watch seals and plenty of birds. Of course, the bird lovers among you will never want to leave Vlieland again.
23. Terschelling
Terschelling is a well-balanced mixture of vast white sandy beaches, beautiful dunes with incomparable heathlands, lost forests, and plenty of facilities for today's pampered tourists. The drawback is that too many people have already discovered that Terschelling is a stunningly beautiful island.
There are many vacation parks and campsites on Terschelling, including Camping Appelhof, where teenagers try to find out if they have the energy level to party every night when they have the first week of vacation without their parents. Fortunately, Terschelling is large enough to give these teenagers a place to have fun without disturbing families with younger children.
Taken together, Terschelling has it all. The only drawback of Terschelling is its popularity. If you can, try to go in the spring or after the school holidays because it is superb……!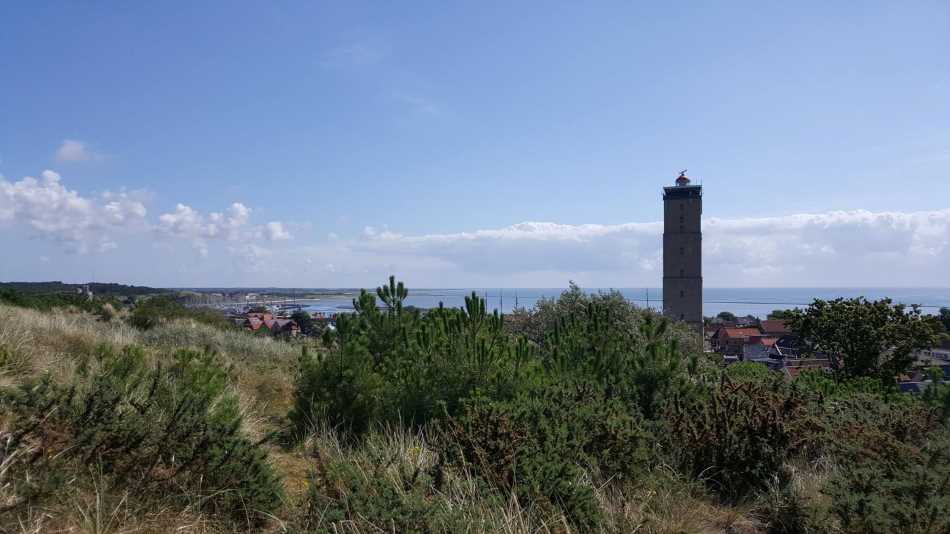 24. Ameland
Ameland is the favorite island for family vacations and has cherished that tradition. For the more suspicious of you, including myself, it may look like a brilliant marketing concept because Ameland has targeted the huge family market with precisely the right proposition; Ameland is a quiet family vacation with enough things to do for younger children.
There is no hassle with teenagers who want to party because there is no possibility to party on Ameland. A party on Ameland is eating pancakes and ice cream as dessert. Nothing wrong with that, but important to know before you come to Ameland.
25. Schiermonnikoog
The island of Schiermonnikoog has a national park status, which should tell you something. Shiermonnikoog is as pristine as you can get it in the Netherlands, and its natural beauty is overwhelming. You should only come to Schiermonnikoog if you like to hear the sound of the wind and the birds because it is not a party island, not in any way.
It is a big plus that you cannot bring your car to the island as a visitor because it brings a very relaxed atmosphere. Like many other beaches in the Netherlands, Schiermonnikoog claims to be the widest and cleanest.
Size seems to matter regarding beaches because many beach resorts claim to have the country's widest beaches. However, Schiermonnikoog does not need such a claim because it is already stunningly beautiful.
Vacation Resort Vitamaris offers modern comfortable apartments in a beautiful location to explore Schiermonnikoog.
Other things To Do On The Wadden Islands?
The best way to enjoy the beauty of the Wadden Sea is to hike over the Wadden Sea's mudflats.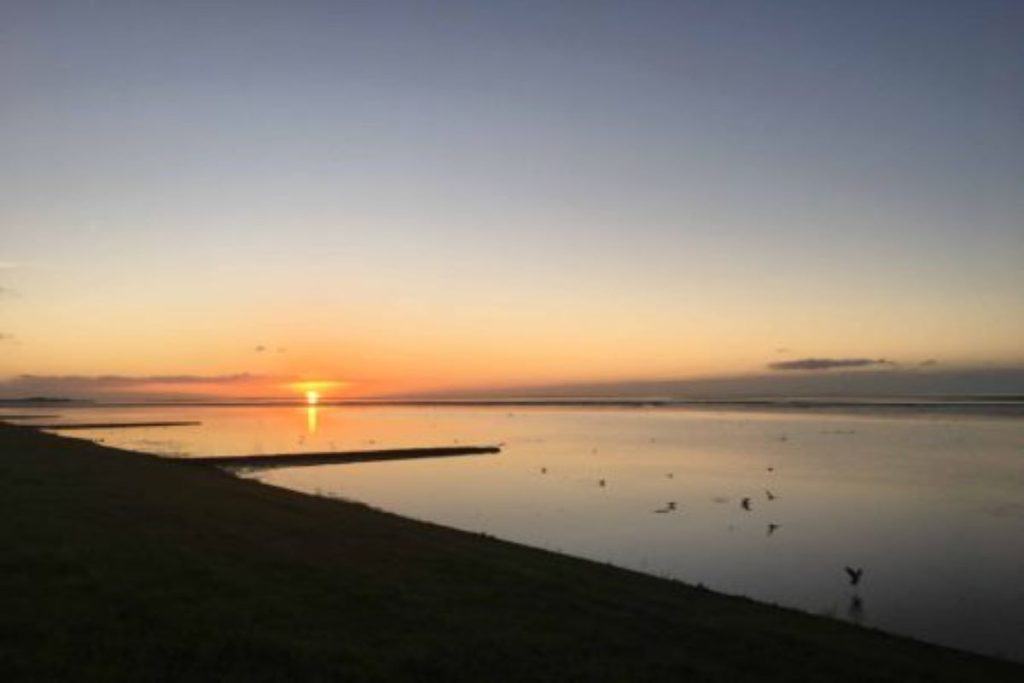 How Sunny Are The Dutch Beaches?
I checked the yearly weather overview in The Netherlands for 2019 by the Royal Dutch Institute of Meteorology.
This map shows the total number of hours of sun in 2019 in different regions of The Netherlands. The coastal area gets the most sunshine in the country, an extra 100-200 hours per year more sun than the rest of The Netherlands.
In the southwest corner of the country, Zeeland has the most sunshine hours in the entire country. Therefore, it is no surprise that some of the most popular beaches in The Netherlands are in Zeeland.
3 Often-Asked Questions About Beaches In The Netherlands
There are several other points about Dutch beaches that you need to consider. Foreign visitors often ask the following questions about Dutch beaches.
Can I Bring My Dog To A Dutch Beach?
Many dog lovers will wonder if it is allowed to take their dog to a beach in the Netherlands?
Dogs are often, but not always, allowed on beaches in The Netherlands. You should check out the website of the municipality of that beach to be sure if you can take your dog.
There are specific time slots during the day or the year (winter) that dogs are allowed while they are prohibited outside these slots.
Is Topless Sunbathing Allowed On Dutch Beaches?
That is another sensitive question often asked by foreign visitors.
You are allowed to sunbathe topless in The Netherlands. However, hardly anyone does that anymore because pictures of you are easily made and can appear on social media instantaneously.
Are There Nudist Beaches In The Netherlands?
That is a logical follow-up question.
There are many nudist beaches in The Netherlands. In addition, many larger beach resorts have a separate beach part reserved for the nudist beach. A complete overview of nudist beaches in The Netherlands is provided on naaktstrandje.nl.