Shopping in a fashion outlet can save you a lot of money and be fun. However, to have a fun shopping day, you have to make it fun for your family, who may enjoy shopping less than you do. Therefore, a fashion outlet with activities in the neighborhood for the rest of the family is the ideal combination to ensure that the entire family will have a great day.
I compared and reviewed the three best outlet centers in The Netherlands and looked for family attractions near these outlets. I also reviewed the 3 Dutch fashion outlets separately and prepared helpful maps to find the family attractions quickly.
Fashion outlets, also called designer outlets, are a relatively new phenomenon in the Netherlands, which is odd given the appetite of Dutchmen to get a good deal.
The first fashion outlet in the Netherlands -was Batavia Stad in Lelystad, which opened in 2001. Since then, two other large fashion outlets have been built in the Netherlands, attracting millions of visitors annually.
I have reviewed these 3 Dutch fashion outlets in more detail to help you find the fashion outlet that will be the most fun for you and your family.
Comparison of 3 Best Dutch Fashion Outlets
| Outlet | # shops | # restaurants | # visitors/year |
| --- | --- | --- | --- |
| Roermond | 186 | 25 | 8 mln |
| Batavia Stad | 150 | 11 | 3-4 mln |
| Roosendaal | 85 | 5 | 1.5 mln |
Batavia Stad may have been the first Dutch fashion outlet; it is no longer the biggest outlet in The Netherlands. The Designer Outlet Roermond is now the biggest outlet in The Netherland, attracting more than 8 million visitors annually.
The Designer Outlet Roermond outlet is ideally located between Belgium and Germany, and many Belgian and German visitors come to Roermond because it is within a reasonable distance.
Roermond Outlet Vs. Batavia Stad
The fashion outlet in Roermond has considerably more stores and restaurants than Batavia Stad. However, I did not like the outlet in Roermond more than Batavia Stad because Batatavia Stad was more than big enough. Therefore, I would let the choice of going to Roermond or Batavia Stad depend on the required travel time.
Roosendaal Outlet Vs. Roermond Outlet
The outlet in Roosendaal is considerably smaller than the outlet in Roermond but offers more than enough stores to find excellent discounts. However, the outlet in Roermond provides much more choice in stores, restaurants, and facilities around the outlet, which is why I would choose Roermond.
Batavia Stad Vs. Roosendaal Outlet
I would also rather go to Batavia Stad than to the designer outlet in Roosendaal because of the broader range of stores, restaurants, and facilities in the neighborhood of Batavia Stad.
Where Are The 3 Best Dutch Fashion Outlets?
If you click on any of the numbers in the map below, you can get an impression of the outlet centers with the photos uploaded to Google Maps.
I have also added links to their websites' English versions to check if your favorite brands are in that outlet center.
The 3 Best Designer Outlets In The Netherlands
I will start with a review of the Roermond Designer Outlet.
1. Designer Outlet Roermond
Designer Outlet Roermond is ideally located to welcome many visitors from Germany and Belgium. It is a massive outlet with over 180 stores and most major brands. Therefore, I understand why this outlet welcomes more than 8 million visitors annually.
My advice is to be there as soon as the stores open to beat the crowd and enjoy the first few hours of quiet shopping. Check their website to find out their opening hours.
I like the Designer Outlet Roermond for its many shops and restaurants and many family activities next to it. A cinema is located across the street, and the outlet center is also situated next to an area with lakes where you can swim. You can cruise along the Maas River if you want to. Other watersports like surfing and sailing are also possible. That usually works to keep even teenagers happy.
Check the interactive map above to explore the opportunities in and around the Roermond outlet in more detail.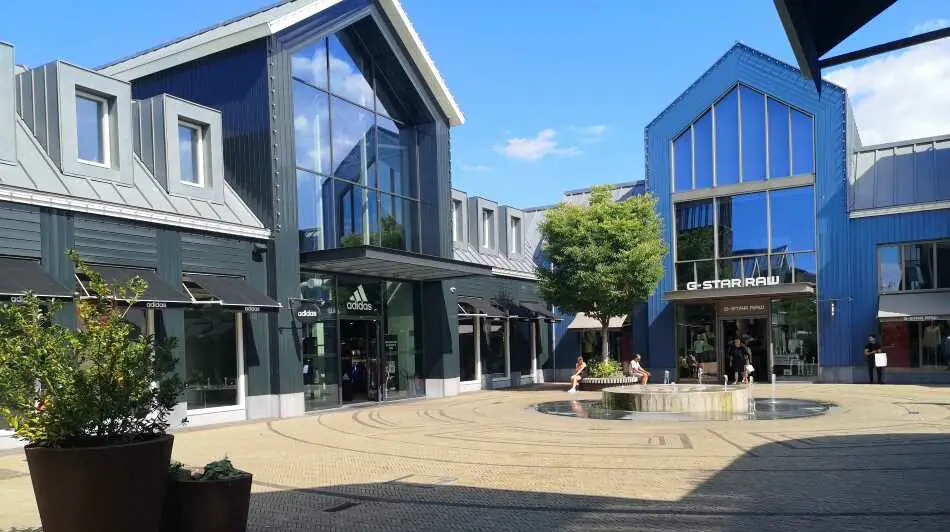 2. Batavia Stad Fashion Outlet
Batavia Stad is a large shopping outlet located in Lelystad and a 45-minute drive from Amsterdam.
Batavia Stad calls itself the Amsterdam Fashion Outlet Center. When you visit Amsterdam, visiting Batavia Stad can be pretty attractive although The Styles Outlet is closer to Amsterdam.
I advise you to arrive early in the day and be there when the shops open to avoid traffic and enjoy a few hours of quiet shopping. Check out their website for opening hours. Then, when the crowds arrive, you will go with your family to one of the nearby attractions with a smile.
Batavia Stad is located next to a lake, the Markermeer, which offers various engaging family activities. For example, the Batavialand replica museum is next door and provides a fantastic insight into the history of the Netherlands' most famous historical company, the VOC. I am pretty sure that your kids will love it.
At less than 30 minutes driving distance, you can also find an amusement park, Walibi. I wrote an extensive post about Dutch amusement parks in which Walibi Attraction Park is reviewed in detail.
The area around Lelystad has a lot of beautiful nature to offer. This link will give you a good overview of all national parks around Batavia Stad, and we recommend the Oostvaardersplassen in particular.
Flevoland also has a region with beautiful flower fields in springtime. Flevoland also has some small beaches; I would go for it if the weather is good enough.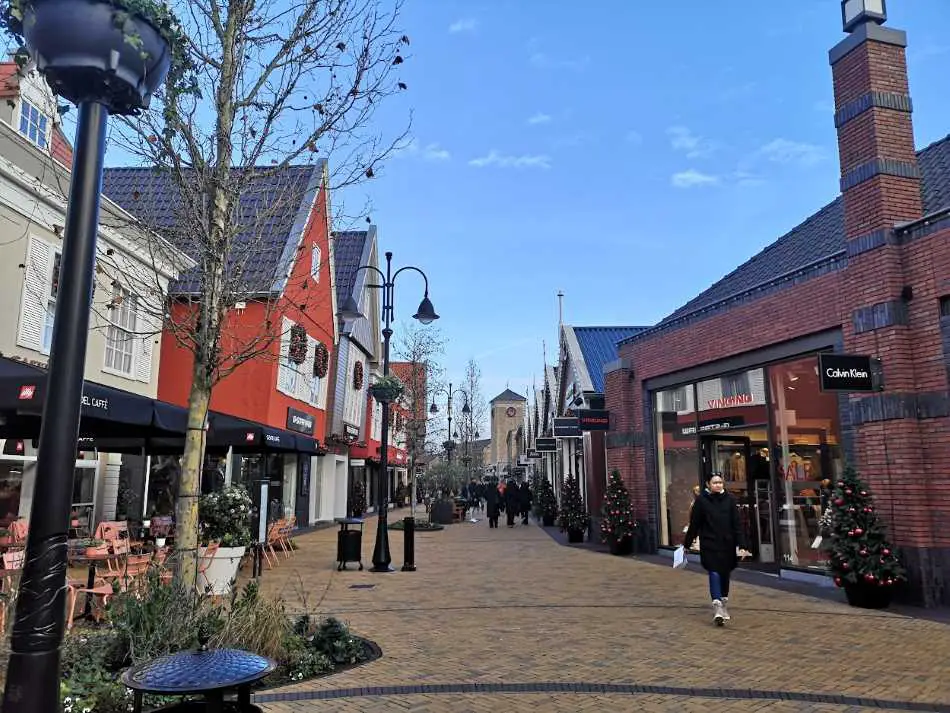 3. Designer Outlet Roosendaal
The designer outlet center in Roosendaal is the smallest of the three outlets but still has 85 shops and 5 restaurants. On their website, you can check if your favorite brand is present in this outlet.
The designer outlet Roosendaal has very few family activities around it. It is located between an Indoor Skydive Roosendaal Center and a Kart Center. Those are excellent activities, but they have a significant price tag.
Furthermore, I found a museum about the history of Roosendaal, which looks like it may be fun. Finally, I also found a playground in Roosendaal that may be fun. But that is about all that could be found in and around Roosendaal.
You have to use the designer outlet Roosendaal in another way than the other two outlets and spend a morning or an afternoon here when you vacation in Zeeland or the region around Roosendaal.
In this way, you can shop in the morning in the outlet and spend the afternoon on one of the beaches in Zeeland or the Attraction Park Efteling. See their website below.
Frequently Asked Questions
What is The Best Outlet mall in Amsterdam?
Recently, a new outlet mall (The Styles Outlet) has opened in a suburb of Amsterdam.
I have reviewed the Styles Outlet in another article on this website and compared it to the three other outlet malls in The Netherlands.