Delft Blue pottery is part of our Dutch cultural heritage, like windmills, wooden shoes, and Dutch cheese. However, Delft Blue is less known than these other Dutch icons. I regularly visit Delft and researched Delft Blue pottery to answer the ten most frequently asked questions.
What is Delft Blue pottery?
Why is most Delft Blue pottery white and blue?
How is Delft Blue pottery made?
How valuable is Delft Blue pottery?
How to tell if Delft Blue pottery is genuine?
How to tell if Delft Blue pottery is antique?
Where does Delft Blue Pottery come from?
Where to Buy Delft Blue Pottery?
Is The Royal Delft Factory Museum worth visiting?
What is Delft?
Read on to learn more about the fascinating history of Delft Blue pottery, or scroll down to the question about Delft Blue pottery that interests you most.
1. What Is Delft Blue Pottery?
Let's start with the most obvious question: What is Delft Blue pottery?
Delft Blue pottery, also known as Delft Blue, Delftware, or Delft porcelain, is the characteristic white tin-glazed ceramic pottery with blue decorations, traditionally produced in Delft in The Netherlands. Delft Blue pottery was first made around 1600 as an alternative to Chinese porcelain.
The technique to produce white tin-glazed ceramics originated in the Middle East and spread through Europe via Spain and Italy to Antwerp. Many potters from Antwerp fled to Dutch cities after the Spanish conquered Antwerp in 1585 and introduced these new pottery techniques in The Netherlands.
Delft was a city in the Netherlands that became popular among Antwerp potters looking for a new hometown.
The Flemish potters in Delft succeeded best in refining their techniques to produce much thinner, more luxurious earthenware that could be used as tableware, and we now know as Delft blue pottery. Potters in other Dutch cities also made tin-glazed pottery, but the pottery from Delft was considered the best in The Netherlands.
Delft Blue pottery was first produced around 1600 to copy Chinese porcelain introduced by Dutch merchant ships that returned from China. Delft blue pottery became popular because Chinese porcelain was costly, and only the rich could afford it. However, it was impossible to copy Chinese porcelain because the clay used to produce porcelain contained kaolin, which was unavailable to the Delft potters.
Most of the Delft blue pottery is the characteristic white and blue faience, although other color schemes were used. Most of the Delft Blue Pottery was household tableware for everyday use, but items like vases, pictorial plates, and tiles were also in great demand.
The handpainted illustrations on the Delft Blue pottery were often typical Dutch, like Dutch landscapes, windmills, and fishing boats. Furthermore, tiles with proverbs and sayings were trendy and present in virtually every Dutch household.
The Delft Blue pottery production peaked around 1700-1750, producing millions of Delft Blue items annually. However, in 1745, kaolin-containing clay, used to produce Chinese porcelain, was also discovered in Cornwall, England. This discovery made creamware production cheaper and more robust than tin-glazed earthenware from Delft.
Josiah Wedgewood founded his English creamware factory in 1759, and English creamware took over the Delft Blue market because it was much more robust and suitable for everyday use. Wedgewood is still a well-known tableware brand today. My tableware is Wedgewood tableware because it is ideal for everyday use due to its robustness.
After the introduction of English creamware by Wedgewood, other European creamware producers in Europe also started producing various types of creamware. At the same time, Chinese porcelain became much cheaper.
Consequently, the global market for Delft Blue decreased after 1759, and virtually all 33 Delft Blue factories disappeared. Only a single Delft Blue factory, De Porceleyne Fles, survived and still produces Delft Blue pottery today.
2. Why Is Most Delft Blue Pottery White And Blue?
Virtually all Delftware (> 90%) was white and blue. Other colors like red and orange were also used but were less popular.
There were three reasons why most Delft Blue pottery was white and blue.
Delft Blue was an alternative to Chinese porcelain, and Chinese porcelain was also white and blue.
The use of Blue was much easier in the production process than red.
White and blue Delft Blue pottery was much more affordable than white and red pottery.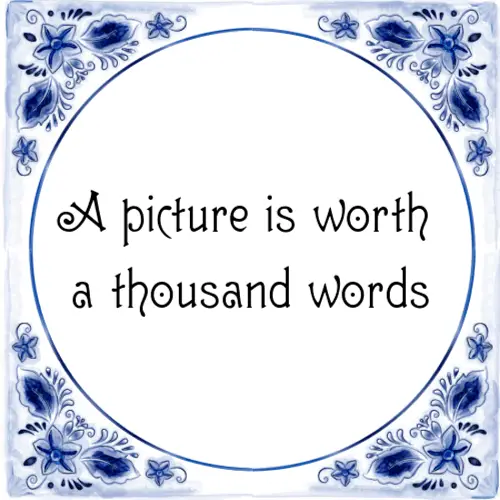 The white color of Delft Blue is due to the tin glaze used to coat the pottery. The earthenware was dipped into a bath of tin glaze containing lead, tin oxide, sand, soda, and salt before being fired in a kiln at 800 – 1000 oC. Once fired, tin oxide is white, shiny, and opaque; the well-known glossy white background of Delft Blue pottery appears.
The blue color of the decorations of Delft Blue is due to the use of paint containing cobalt oxide. Cobalt oxide is grey but will turn blue once fired in a kiln at 800 – 1000 oC. The more cobalt oxide the paint contained, the brighter the Blue on the Delftware.
Delft Blue's illustrations were handpainted until ± 1750, when the first techniques were introduced to print images on ceramics. However, Handpainting Delft Blue was not wholly abandoned after 1750 but was reserved for unique and more expensive items.
3. How Is Delft Blue Pottery Made?
A potter from Delft, Gerrit Paape, published a detailed overview of the Delft Blue pottery's production process in 1794. The book is called De Plateelbakker of Delftsch Aardewerkmaker (The Potter or Delftware Maker).
The traditional Delft blue production process was a multi-step sequential process that could take two weeks and included the following production steps:
Purifying and mixing

The different types of clay were first purified and mixed.

Shaping

Delft blue items were then shaped by hand or using a mold.

Drying

Before baking, newly shaped items needed to dry for several days.

Baking

The new Delft blue items were baked at 800-1000 oC for the first time.

Glazing

Subsequently, the new Delft blue items were dipped into a bath of tin glaze.

Painting

When the glaze had dried up, illustrations on the new Delft Blue items were painted by hand.

Baking

Finally, the Delft blue items required final baking at 800-1000 oC
Nowadays, some steps in the production process are more optimized, nicely illustrated in the video of the Royal Delft factory below. If you spend two minutes watching this video, you will get an excellent impression of how Delft Blue is made.
4. How Valuable Is Delft Blue Pottery?
Prices of new Delft Blue items are reasonable. I have looked up prices on several websites, and prices of new Delft Blue items are in the ranges in the table below.
| Delft Blue Item | Price (€) |
| --- | --- |
| Dinner plate | € 25-35 |
| breakfast plate | € 15-20 |
| Bowl | € 10-22 |
| Vase (small) | € 20-30 |
| Vase (large) | € 60-80 |
| Wall plate | € 15-120 |
| Tile | € 8-15 |
You can buy much more expensive new Delft Blue items if you want to. For example, check out the Royal Delft factory webshop to look at tulip vases for € 16.000 or a tile painting of Rembrandt's Night Watch for a mere € 13.500…..!
Antique Delft Blue pieces are much more expensive than new Delft Blue pieces. High-quality antique Delftware pottery typically sells for US$ 3.000-6.000, but exceptional antique genuine Delftware pieces have been sold for US$ 100.000-200.000.
The best antique Delft Blue items end up in one of the best museums in The Netherlands. For example, The Kunstmuseum in The Hague has one of the world's largest and most beautiful Delftware collections. The exhibition is called Delftware Wonderware, and I highly recommend visiting it.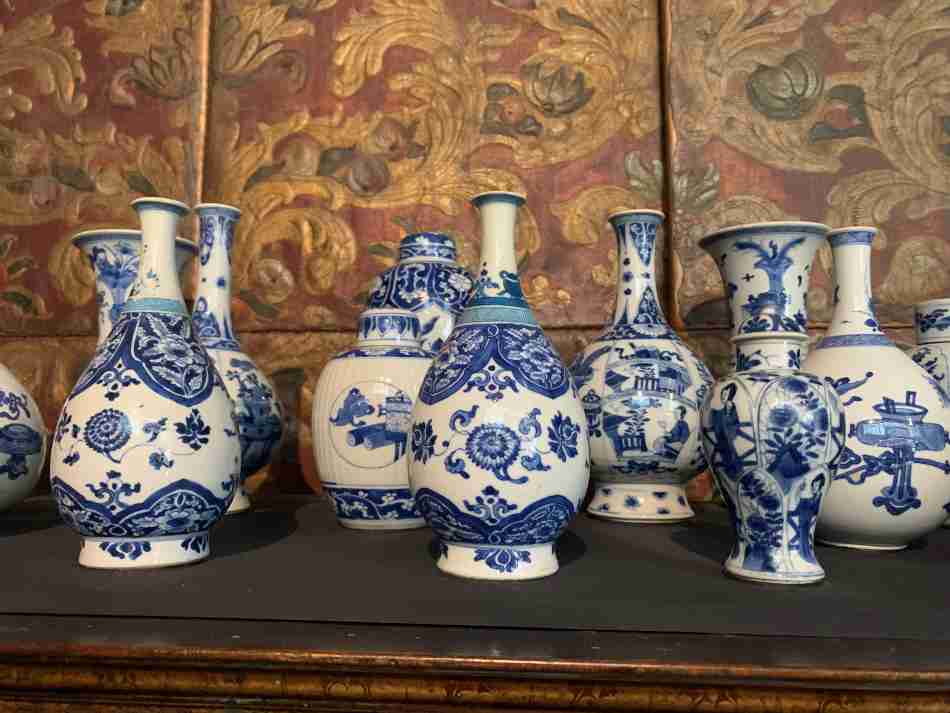 5. How To Tell If Delft Blue Pottery Is Genuine?
Delft Blue is not a protected trade name; any producer can call his pottery Delft Blue. White and blue faience was also produced in other Dutch cities and European countries. Thus, Delft Blue became a synonym for any white and blue faience, whether made in Delft or not.
To determine if Delft Blue is genuine, experts analyze the marks of Delft potters at the back or bottom of Delftware products. In addition, experts will study the materials and decorations of the Delftware object to verify its authenticity.
The increased competition was an important reason that Delft Blue potters started to paint marks at the back or bottom of Delftware products to distinguish genuine Delft Blue from white and blue faience produced elsewhere.
These marks were usually painted at the back or bottom of Delft Blue items and contained the pottery owner's initials or full name. A symbol associated with the pottery was also sometimes depicted.
You can find an overview of all genuine Delftware marks here.
This picture shows the marks of the remaining Delft Blue factory, De Porceleyne Fles. The little bottle is a reference to its name.
However, the competition outside Delft often falsified these marks, and only 1/3 of all Delft potters used marks. Therefore, experts must also study the object's materials and decorations to ascertain it is genuine Delftware (see below).
6. How To Tell If Delft Blue Pottery Is Antique?
To verify if a Delft Blue item is antique, experts carefully look at three different aspects:
The marks on the bottom of the Delft Blue item
The materials the Delft Blue item is made of
The decorations on the Delft blue item
Marks: The marks allowed the Delft potters to distinguish their Delft Blue faience from white and blue pottery made elsewhere. However, these marks were falsified because pottery from Delft was more expensive. Therefore, experts need to check if these marks are genuine and look for additional symbols, words, dates, or numbers to discover the items' origins.
Materials: Delft Blue pottery was produced from three clays, usually beige, yellow, or light red. Antique Delft Blue items often have minor damage at the rims, allowing you to observe what kind of clay has been used.
Delft Blue can easily be distinguished from Chinese porcelain because Chinese porcelain is made from bright white clay. Small notches at the bottom of the item are another feature to recognize Delft Blue because its production process caused these notches.
Decorations: Authentic antique Delft Blue is always handpainted, and these decorations, therefore, provide important information about the authenticity of an antique Delft Blue item. Printing of decorations only became possible after 1750.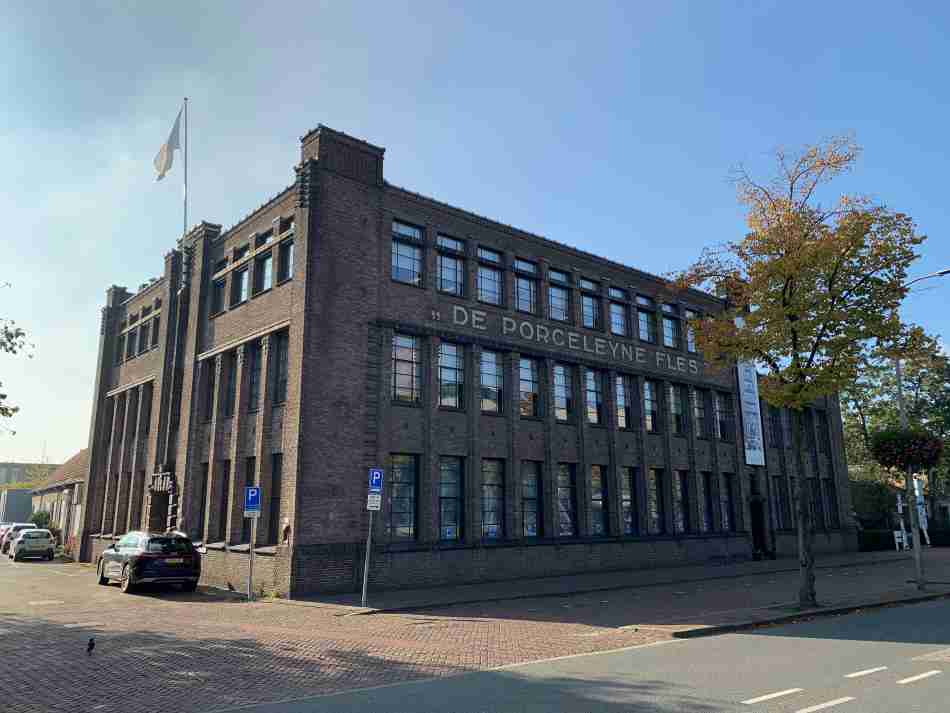 7. Where Does Delft Blue Pottery Come From?
The name Delft will not be familiar to everyone because many people don't know that Delft is a small city in The Netherlands.
Delft Blue pottery comes from Delft, a small city in The Netherlands. However, Delft Blue is not a protected trade name, and Delft Blue has become synonymous with white and blue faience, independent of where it was produced.
You may wonder why Delft succeeded better than other Dutch cities in producing refined, luxurious tin-glazed earthenware. What was so special about this quaint little Dutch city that became spectacularly successful in pottery?
First and foremost, many of the most innovative potters that fled Antwerp after 1585 ended up in Delft. However, that raises the follow-up question of why these Antwerp potters moved to Delft rather than any other Dutch city.
Delft was ideally located for pottery bakers because it was next to the river Schie. This river was the source of (part of) the clay to produce Delft blue pottery. Ships also transported the additional clay types sourced abroad to Delft.
The river Schie also provided Delft with a convenient connection to Dutch sea harbors, like Delfshaven and Amsterdam, to export Delft Blue worldwide. At its peak at the end of the 17th century, the 33 potteries in Delft produced and shipped millions of Delft Blue tableware items yearly.
Delft blue pottery is still produced in Delft because one of the original 33 Delft blue potteries still exists. The Royal Delft company still operates a Delft Blue factory in Delft and produces high-quality Delft Blue tableware.
If you are interested in purchasing Delft Blue from Delft, make sure that the mark of the Royal Delft factory (see above) is on the bottom.
8. Where To Buy Delft Blue Pottery?
There are several possibilities to buy Delft Blue Pottery:
If you visit Delft, you can buy Delft blue pottery at Heinen Delfts Blauw or the Royal Delft Blue factory shop
If you visit Amsterdam, you can buy Delft Blue Pottery at Heinen Delft Blue in Amsterdam.
You can buy Delft Blue Pottery online at Heinen Delft Blue webshop
You can buy Delft Blue Pottery online at the Royal Delft webshop.
Of course, the best place to buy Delft Blue pottery is in Delft itself. There are several places in Delft where you can go shopping and buy your favorite Blue Delft item.
There is a shop of Heinen Delfts Blauw at the market square in the city center of Delft. This shop has an extensive collection of Delft Blue pottery. Ask for the genuine Delft Blue because part of their merchandise comes from China. It would be a pity if you are a visitor from China, and you return home with a Delft Blue souvenir made in China…!
Another possibility for buying Delft Blue is at the Royal Delft Blue factory (see above). The Royal Delft factory has guided tours to see the Delft Blue production process yourself. You can buy their products after the guided tour in their shop. That is an excellent combination if you want to understand how to produce Delft blue pottery and, perhaps, buy an item yourself.
The museum of the Royal Delft Blue factory is relatively small, but their shop is very impressive, much more impressive than those of Heinen Delft Blue. The Royal Delft factory shop items may be much nicer but more expensive.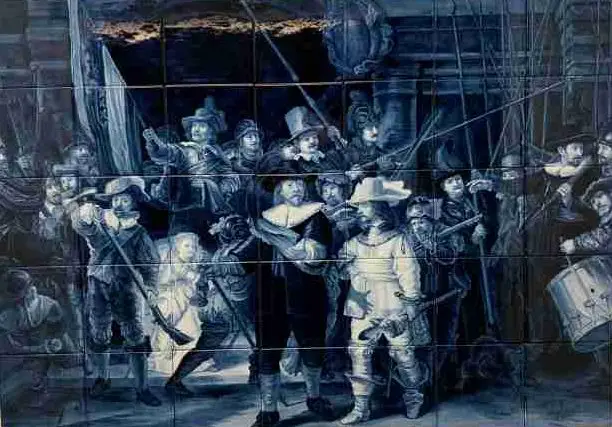 9. Is The Royal Delft Factory Museum Worth a Visit?
The Royal Delft Factory is the only remaining factory in Delft still producing Delft Blue pottery by hand. There is a lovely museum next to this factory, the Royal Delft Factory Museum, with exhibits about Delft Blue and its production in Delft.
Fully restored in 2022, the Royal Delft Factory Museum has become a unique combination of a museum and factory. Part of the tour takes you through the factory where Delft Blue pottery is manually produced during opening hours.
The Royal Delft Factory Museum is unique. I have written an extensive review about this museum in another article on this website (is the Royal Delft Museum worth a visit?).
10. What is Delft?
The name Delft is derived from the Dutch word delven, meaning to delve or dig. The name Delft was entirely appropriate because Delft was located next to a canal called Delf, called like this because it was delved.