Last updated: 15th April 2023
My family loved amusement parks, and we visited several amusement parks in The Netherlands every vacation. Therefore, I reviewed the ten best Dutch amusement parks to help you find the perfect amusement park in The Netherlands to take your family.
Nr.
Amusement Park
Best for Age

1

.

Efteling

2-18 years

2.

Drievliet

2-14 years

3.

Duinrell

2-18 years

4.

Madurodam

2-12 years

5.

Walibi

12-18 years

6.

Slagharen

2-12 Years

7.

Hellendoorn

2-12 Years

8.

Toverland

2-14 Years

9.

Julianatoren

2-10 Years

10.

Plaswijckpark

2-10 years
You can purchase e-tickets for most of the ten best Dutch amusement parks at Tiqets.com. The e-tickets will be sent directly to your phone, so printing is unnecessary.
Map Of 10 Best Amusement Parks In The Netherlands
You can find the locations of the ten best amusement parks in The Netherlands on the map below. Click on the individual parks on the map to find out where these parks are and how you can best get there.
a
1. Why Is The Efteling A Fantastic Amusement Park?
Address: Europalaan 1, 5171 KW Kaatsheuvel
Efteling is the largest amusement park in the Netherlands and wins awards for the best amusement park and attractions almost every year. The Efteling is a fantastic amusement park we have visited many times with the children, and it never disappoints.
The best part of the Efteling is that it offers enough for every age group to spend an entire day in the park and leave without the feeling that you have seen it all. The Efteling is huge and continues to expand yearly with new attractions for every age group.
The Fairytale Forest is a charming attraction where fairytales are brought to life. You will find well-known fairytales like Little Red Riding Hood and Hansel & Gretel, depicted by dolls in a non-threatening way.
The fairytales are all situated in a forest where the large mushrooms make music to enhance the enchanting atmosphere. The children will run from fairytale to fairytale to discover what is next. The fairytale forest made an ever-lasting impression on me as a child and continues to charm me as a parent.
There are also plenty of exciting attractions for older children. You can even take teenagers to the Efteling and ensure they will have a good day, although teenagers will never admit that….!
The older kids' attractions vary from enchanting fairytale-theme attractions for the 8-12-year-olds to more super exciting roller coasters for teenagers.
If you want to visit the Efteling on a busy day, my advice is to be there when they open. Use the first few hours of the day as much as possible before it becomes jam-packed.
Tip: Efteling is an incredible award-winning park visited yearly by millions of guests. That makes it very crowded some days, and queues for popular attractions can become lengthy. Check their online calendar, indicating when it is most crowded.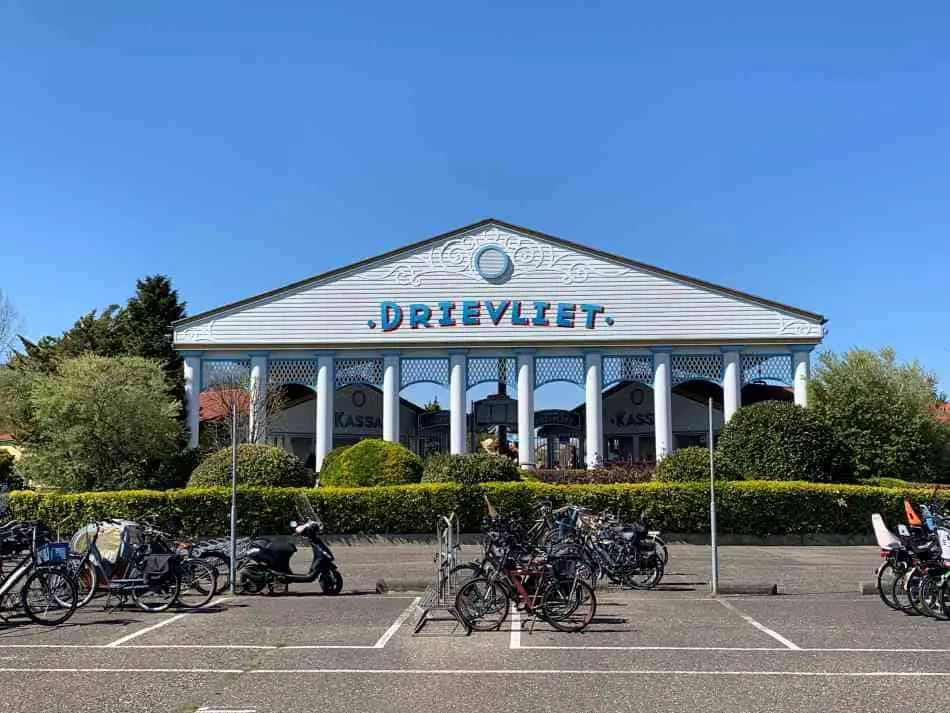 2. Family Park Drievliet
Address: Laan van 's-Gravenmade 81, 2495 BD Den Haag
Family Park Drievliet is an amusement park located in The Hague. Drievliet is not a very large park. Family Park Drievliet is much smaller than the Efteling, and our children were no longer interested in going to Drievliet when they were 13-14. The good part of being much smaller than the Efteling is that it is quieter.
A few spectacular attractions of Drievliet are interesting for teenagers and may suffice if this is a first-time visit. However, in our experience, if there is one attraction that these young teenagers find cool, they will spend the entire afternoon on it, send tons of messages to their friends about this incredible attraction, and go home happily.
In any case, Family Park Drievliet is a good choice for a family with younger children (perhaps even young teenagers) when you are in the neighborhood of The Hague.
Drievliet is closed during the winter. Please check out their website if you intend to visit Drievliet to ensure that the park will be open when you want to visit Drievliet.
3. Amusement Park Duinrel; Awesome Water Park
Address: Duinrell 1, 2242 JP Wassenaar
Duinrell is an amusement park in Wassenaar, close to the beaches. Thus, Duinrell combines what children like, such as beaches and the sea, with an amusement park in their backyard as a big bonus.
Duinrell distinguishes itself from other amusement parks because it has a fantastic water park called Tiki Pool with more than 20 slides for more than 1,5 km.
Some of these slides are so spectacular that your teenagers will not get bored in Duinrell and can impress their friends through social media with the incredible aqua park in their backyard. My teenagers loved it and couldn't get enough of it.
The amusement park of Duinrell, with over 40 attractions, is not as spectacular as the water park and is more suited for younger children. However, I have often been there on school trips when the children were still young. When they were still young, they loved the park. However, my kids found it boring as teenagers, but they were thrilled by the aqua park.
That makes Duinrell a park I like, with possibilities for various age groups. You can find out more about ticket prices and opening hours on their website.
Access to the amusement and aqua park is included if you stay in their vacation park.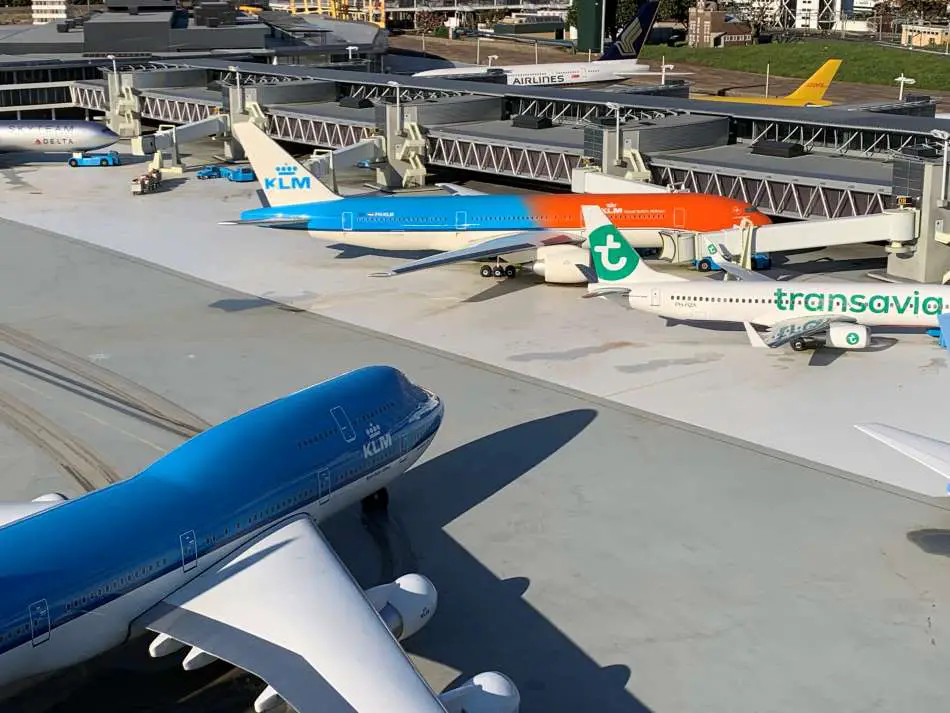 4. Madurodam in The Hague; For Young Children
Address: George Maduroplein 1, 2584 RZ Den Haag
Madurodam in The Hague is charming, very charming, and highly recommended for visiting with younger children. Madurodam is a miniature city on a scale of 1:25 and opened in 1952.
Madurodam has been a favorite amusement park for Dutch families for decades and attracts more than 600.000 visitors yearly.
Madurodam is the Netherlands in miniature and gives a picture of Dutch society. Madurodam is a unique concept and an extraordinary experience. You can see large buildings from Dutch cities such as Amsterdam, Rotterdam, and The Hague and highlights from smaller towns or villages. Dutch castles, farms, and windmills are all present in Madurodam.
You can find more information about the opening hours and ticket prices of Madurodam on their website.
5. Why Is Amusement Park Walibi Perfect For Teenagers?
Address: Spijkweg 30, 8256 RJ Biddinghuizen
Walibi is an amusement park located in Biddinghuizen in the province of Flevoland. Walibi is a perfect amusement park for teenagers because they will enjoy the thrilling roller coasters and not get quickly bored.
The highest and longest roller coaster in The Netherlands, called Goliath, is one of the top attractions in Walibi and is indeed an incredible experience.
There are plenty of other thrilling attractions in Walibi, so Walibi is an ideal park for teenagers. So feel free to check it out with your teenagers and show them this video to see if it is spectacular enough for them. My teenagers loved Walibi…!
Walibi is also interesting for younger children, making Walibi an ideal amusement park for families with children of varying ages. However, you may not be able to keep an eye on everybody and stay in touch with your teenager through their mobile while keeping an eye on the younger ones. What is new here because the only way to communicate with teenagers is through their mobiles anyway….!
Tip: check out their website (available in English and German) to learn more about their prices because we noted attractive deals for families on their website that may save you a significant amount of money. Walibi is a park where you can spend several days, and you may want to stay over for the night or a weekend to save yourself a drive with tired children in the back of the car.
6. Why Is Amusement Park Slagharen Ideal For Younger Children?
Address: Zwarte Dijk 37, 7776 PB Slagharen
Slagharen is an amusement and holiday park located in Hardeberg, close to the border with Germany. Slagharen is ideally situated for those vacationing in the North-East of the country. The park opened in 1963 as "Pony Park Slagharen," Initially, the park focused on ponies.
Since then, the amusement park Slagharen has been restyled in a Country & Western style. The ponies all retired a few years ago and now enjoy their retirement in a quiet place.
Slagharen also has an aqua park for which you have to pay extra. Still, combining an aqua park and an amusement park is usually a plus for children because they often like that combination. If you book a cottage at the vacation park of Slagharen, you will have access to both the amusement and aqua parks.
You can check out the possibilities on their website, also available in German.
This amusement park in Slagharen is best suited for younger children from 2-12 years. The park has around 30 attractions, including two roller coasters, but they do not have the thrill factor for teenagers to keep them engaged for a day.
The strong point of Slagharen is the combination of an amusement park and an aqua park because that is ideal for (younger) children. I also like the opportunity to stay in the vacation park or go camping because that combination usually works well for a family vacation.
Note: The amusement park closes early at 17:00 hours on weekdays and 18:00 hours on the weekend, which is too early. It is a special day for most visitors that you don't want to end too soon because the park closes so early.
The aquapark closes every day of the week at 20:00 hours, which I find a much more customer-friendly time.
7. Hellendoorn; Ideal For Children Of 2-12 Years
Address: Luttenbergerweg 22, 7447 PB Hellendoorn
Amusement Park Hellendoorn is located in Hellendoorn, a village on the north side of the Sallandse Heuvelrug, a range of hills (at least, hills for Dutchmen) in the middle of our otherwise completely flat country.
The Sallandse Heuvelrug is one of the most beautiful areas of The Netherlands and is ideal for a family vacation. Hellendoorn is also not far from Veluwe, yet another beautiful area of The Netherlands with many possibilities for family vacations.
Amusement Park Hellendoorn is best suited for younger children 2-12 years. I visited Hellendoorn with my family when my children were still young, but I doubt you will satisfy your teenager with this park's attractions.
Amusement Park Hellendoorn also has an aqua park, but this is an outdoor aqua park and requires beautiful weather.
8. Toverland; A Wonderful Amusement Park In The South
Address: Toverlaan 2, 5975 MR Sevenum
Toverland is a relatively new amusement park in Sevenum in Limburg. Toverland is an excellent choice to visit with the family for those vacationing there. Toverland started in 2001 as an indoor playground.
That playground is still there, but the park has grown tremendously in the meantime. Toverland now also attracts many visitors from Germany and Belgium.
Toverland still leans a bit more toward younger children. However, the number of thrilling attractions you need to keep teenagers interested has grown, making Toverland an attractive amusement park to visit with your family.
If you are on vacation or live in that region, you can save yourself a drive of, at the very least, an hour to the Efteling if you go to Toverland instead. That makes Toverland an exciting option in this region.
Toverland offers a discount of up to € 7 per ticket if you order the tickets online at least seven days in advance. They call this the early bird discount, and it can be attractive if you already know the date you would like to go to Toverland.
You can find more information on the Toverland website.
9. Julianatoren; An Extended Playground
Address: Amersfoortseweg 35, 7313 AC Apeldoorn
Julianpark is an amusement park in Apeldoorn and close to the Veluwe. The Veluwe is a beautiful region of the Netherlands with many family vacation opportunities. We have spent several summer vacations in this area and have visited Julianatoren a few times.
Julianatoren is more of an extended playground than an amusement park. Julianatoren is designed for children between 2-10 years and is perfect for that age. The park is not large and has fewer attractions than De Efteling or Drievliet.
You should not expect thrilling roller coasters in Julianatoren, but it is a charming and quiet park to spend an afternoon with young children.
10. Plaswijckpark: A Playground And A Zoo
Address: Ringdijk 20, 3053 KS Rotterdam
Plaswijckpark is an amusement park in Rotterdam. Plaswijckpark comes much closer to a classical playground than any amusement park mentioned in this post.
There is nothing wrong with being a playground, but it is good to know this when you intend to visit Plaswijckpark. There is also an indoor playground in Plaswijckpark where young children can still have a wonderful time if the weather is not helping.
In addition to the playgrounds, part of Plaswijckpark contains a small zoo. That is a combination that I like for young children. There are some monkeys and farm animals. Noting spectacular, but it will suffice for an afternoon with young children in a quiet, charming park.
Tip: Plaswijckpark has attractive combination tickets with two other attractions in Rotterdam, Miniworld, and a cruise in the harbor of Rotterdam, the largest port in Europe. Those are two great options for another fun afternoon with the children, and I would advise you to check these possibilities out.
Tip: read 30 Things To Do In The Netherlands (Suggested By Locals) for more inspiration of activities during your visit to The Netherlands.