The Dutch have a peculiar relationship with food. On the one hand, the Dutch realize that good food brings vibrancy and warmth and gets people together. But, on the other hand, this moral compass in Dutchmen prohibits us from spending time preparing good food and enjoying it.
I have collected and answered the 11 most frequently asked questions about Dutch food to help you understand the relationship between the Dutch and food.
The 11 Most Asked Questions About Dutch Food
How good is Dutch Food?
What is a traditional Dutch breakfast?
What is a traditional Dutch lunch?
What is a traditional Dutch dinner?
Where are traditional Dutch food restaurants?
What are traditional Dutch treats?
What are traditional Dutch snacks?
What is traditional Dutch food for children?
What is traditional Dutch street food?
The 4 best Dutch online food delivery services?
The 6 best meal kit providers in The Netherlands
So, read on to learn more about Dutch food, or scroll down to the question that interests you most.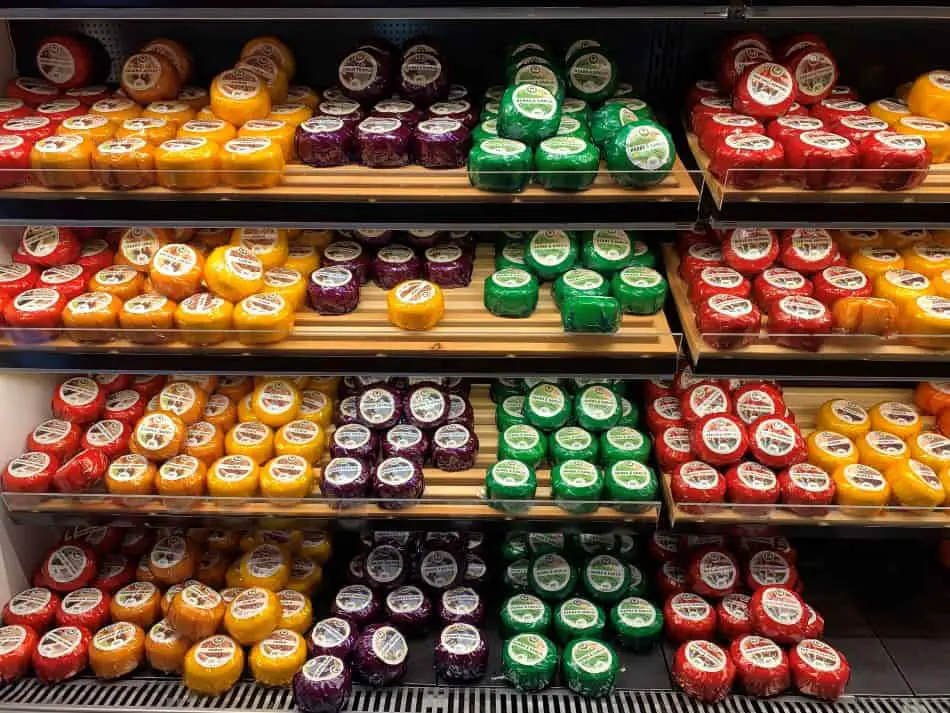 How Good Is Dutch Food?
Let's start with the most obvious question first: is Dutch food any good?
The cuisine of a country is often a reflection of its national culture. The Dutch culture is dominated by moderation, frugality, and austerity; exuberant enjoyment of life is considered suspicious.
Unfortunately, you see this mentality reflected in Dutch cuisine.
Dutch food is not good because it is bland and less adventurous than other European cuisines. Food in the Netherlands must be simple, nutritious, and inexpensive, in line with the Dutch mentality of working hard and being frugal.
Dutch cuisine lacks imagination and consists more of products than dishes. Nevertheless, a revival of Dutch cuisine is slowly ongoing, and good Dutch restaurants are becoming increasingly ubiquitous.
The exploding popularity of food delivery services in The Netherlands is an excellent example of the Dutch attitude towards food.
Why spend precious time preparing food if delivery services deliver complete meals within 30 minutes to your doorstep?
There is a tremendous and deep irony in the Dutch attitude towards food because the Dutch work hard to afford vacations and enjoy good food tremendously while on vacation. Fortunately, over the last few years, increasing self-reflection has led to a revival of the importance of good and healthy food.
However, a cultural shift towards a daily appreciation of good food in the Netherlands will be an excruciatingly slow process. Unfortunately, this joie de vivre is not present in our Dutch genes.
What is A Traditional Dutch breakfast?
The Dutch like to start their days with light breakfasts. Heavy breakfasts, such as pancakes or fried eggs, are not typical.
A typical Dutch breakfast consists of sliced buttered bread with toppings like Dutch cheese or chocolate sprinkles. A Dutch breakfast is incomplete without tea, coffee, or milk for children.
Even though the Dutch enjoy light breakfasts, cereals have never gained much popularity as breakfasts in The Netherlands. Furthermore, alternatives such as fruit have also not become popular in the Netherlands because eating fruit for breakfast feels too exuberant for our culture and too expensive for many.
Chocolate sprinkles are virtually all Dutch children's favorite topping on sliced buttered bread. De Ruijter makes the very best chocolate sprinkles in the country. De Ruijter is a premium Dutch chocolate factory established in 1860 and still making the best chocolate sprinkles in The Netherlands.
Dutch cheese is another favorite topping on sliced buttered bread. The average yearly cheese consumption of the Dutch is ± 20 kg/ person, children included. Dutch cheese has become world-famous and is exported worldwide. The Netherlands is even the second-largest cheese exporter in the world. Famous Dutch cheese brands are Gouda and Edam.
What Is A Traditional Dutch Lunch?
Lunch is the day's highlight in many countries, but not the Netherlands.
A typical Dutch lunch consists of sandwiches filled with sliced meat or cheese and is accompanied by milk or orange juice. The Dutch often bring their lunch to work, but cafeterias also serve hot soups, ham & cheese toast, or salads. Take-away lunches are also rapidly becoming popular.
The lunch period during a working day is the moment to socialize with colleagues, even though Dutch lunches typically only last ± 30 minutes. This brief lunch period is another example of Dutchmen being too pragmatic and focused.
What Is A Traditional Dutch Dinner?
And what are the Dutch habits regarding dinner, the day's most important meal?
A typical Dutch dinner consists of meat, vegetables, and boiled potatoes, served with gravy. Other traditional Dutch dishes are stews of a mixture of vegetables and potatoes or thick legume soups like pea soup with smoked sausage. Desserts are usually yogurt or custard and coffee, to top it off.
Dinner is served early, and a typical family dinner is around 6 p.m. That is a severe culture shock for visitors with a Mediterranean background, where dinners start late in the evening, which many Dutchmen consider a reasonable time to go to bed.
Dutch stews are traditional winter meals and are variations on the same theme. All Dutch stews consist of mashed potatoes with mashed vegetables like kale or carrots with onions. Stews are served with meat, usually smoked sausage or beef. Stews are loaded with carbohydrates and calories, making perfect sense for a cold Dutch winter day.
Stews are best when served with beef, onions, butter, and herbs that simmer for a few hours. The result will be a fantastic stew with tender meat and a rich, flavorful sauce.
Pea soup is the quintessential Dutch legume soup, another tasteful traditional Dutch winter meal we highly recommend for cold Dutch winter days. Pea soups are usually served with smoked sausage (see picture above).
Where Are Restaurants With Traditional Dutch Food?
Restaurants that serve traditional Dutch dishes are typically found in larger cities in The Netherlands and cater to tourists who want to try traditional Dutch food during their visit to The Netherlands.
Examples of such restaurants are:
Amsterdam
Rotterdam
The Hague
If you want to try out one of these traditional dishes before you visit The Netherlands, you can find recipes for traditional Dutch dishes all over the internet.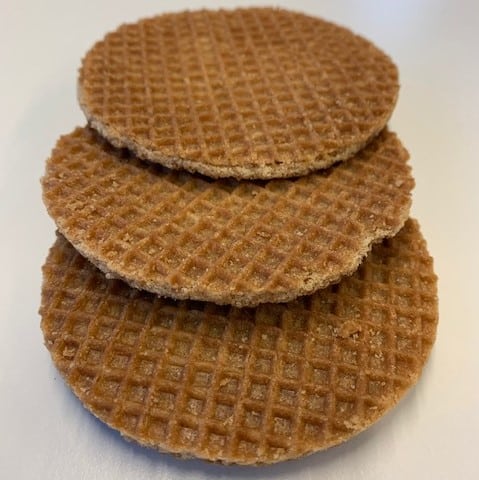 What Are Traditional Dutch Treats?
Believe it or not, a Dutch treat may differ from a split bill.
Honey waffles (stroopwafels" in Dutch) are among the most famous Dutch treats because they are genuinely delicious. In the past, honey waffles were food for poor people because they were cheap. Nowadays, honey waffles are a treat for everybody and are available everywhere.
Waffles with cherries and whipped cream is a Dutch treat that you find primarily in the south of the Netherlands, particularly in Limburg, where it is considered a regional specialty. The waffles and cherries are warmed to make them particularly tasty and are best with lots of whipped cream. Yes, it will mean many calories, but you need calories on a cold Dutch winter day.
Apple pie with whipped cream is my personal favorite. The first recipe for an apple pie was found in a cooking book in 1514, illustrating its long and proud heritage in our Dutch cuisine. Many cafés in many cities will serve apple pie, but you will have to talk to the locals to find the cafés that make homemade apple pies much better than mass-produced apple pies.
Licorice is another popular Dutch treat, and the Dutch consume a shocking ± 2 kg licorice per person annually. Licorice comes in two variations: salt or sweet, and the preference is highly personal.
What Are Traditional Dutch Snacks?
The Dutch are fond of snacks, especially fried ones. So, if you join a group of Dutch during happy hour, you will probably skip dinner if you have enjoyed the full range of Dutch snacks. So, what are the three most popular Dutch snacks?
Bitterballen
Bitterballen is the undisputed favorite savory snack of the Dutch and is available in virtually every Dutch bar. Bitterballen are balls made from thick meat-filled ragouts covered with bread crumbs. They are then fried and usually served with mustard.
Croquettes are a popular variation of bitterballen, made similarly but with a distinct sausage-like shape.
Cheese Bites
A plate of Dutch cheese bites served with mustard is another typical Dutch snack during happy hour. The Dutch have plenty of cheese to choose from because they are the second-largest cheese producer globally.
Gouda and Edam are the best-known Dutch cheese brands, but my favorite is cheese from the Beemster, a polder near Edam.
Potato Chips & Peanuts
Potato chips and peanuts are the standard snacks in every Dutch bar and café. They are usually on the house and served with your first drink. After that, you can continue snacking as much as you like because you will drink more with a full stomach.
What Is Traditional Dutch Children's Food?
Pancakes are children's favorite and so beloved that they are often the first dish they like to prepare themselves because they are also easy to make.
Pancakes are not eaten for breakfast in The Netherlands, like in Anglo-Saxon cultures, but during dinner as a treat for children. They are sweetened with (lots of) powdered sugar or sweet syrup. If you insist on trying pancakes as an adult, go for pancakes with cheese and bacon.
Poffertjes is the Dutch version of tiny pancakes, again consumed with powdered sugar. The kids will love it and can still handle the carbohydrates that accompany it. Poffertjes are not often seen anymore and are slowly fading away, benefiting this country's overall health.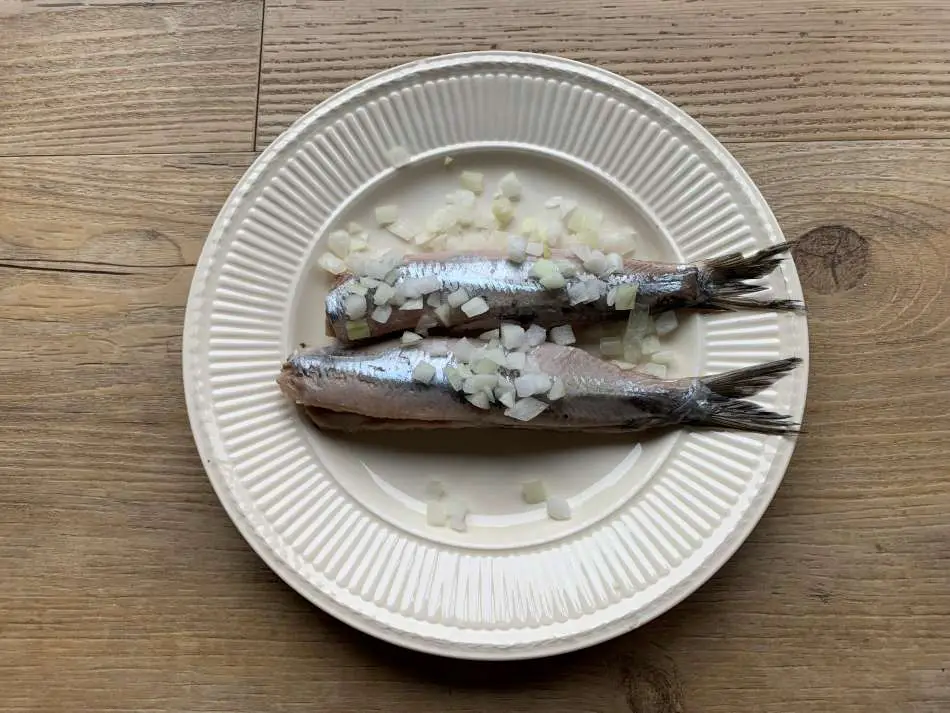 What Is Traditional Dutch Street Food?
Raw herring is the quintessential example of Dutch street food. Friends insist that herring must be consumed with vodka, but I figure they are more interested in it than herring. So, if you want to feel like a real Dutchman, grab the herring by the tail and consume the herring bite by bite until only the tail is left.
You can find fresh herring in fish shops and on street markets everywhere. Once you have eaten one, you will recognize the herring smell immediately and, maybe, will become as hooked to herrings as the Dutch are. Herring is at its best in early summer, and the arrival of the fleet of fish cotters with the first herring catch of the new season is a major event in Dutch harbors.
Kibbeling is the Dutch word for fried bits of battered cod, like the English fish and chips. If you like fried white fish, this may be your thing, but, in my experience, it depends upon the sauce that goes along with it whether or not it will be any good. Typical sauces for kibbeling are traditional fish sauces like ravigotte sauce, garlic sauce, and mayonnaise sauce. The best part about kibbeling is that it is cheap.
Kapsalon is the Dutch word for hairdressing salon. I understand your confusion about what a hairdressing salon has to do with food. A Kapsalon consists of a layer of fries with a layer of shoarma meat on top of the fries. Tasty cheese is then melted over the shoarma meat and fries, and this carbohydrate bomb is topped with massive amounts of garlic sauce. A single kapsalon contains ± 1800 kcal, almost the daily calories an adult human requires. Consider yourself warned!
Turkish Pizza: Turkish Pizza is a pizza invented by the Turks. It is a trendy food in Turkey, becoming increasingly popular in The Netherlands. Turkish Pizza is made from flat Turkish bread topped with meat (often beef) and vegetables. You can choose many other ingredients if you want to. Onions, tomatoes, lettuce, and herbs are popular ingredients. Turkish pizzas are often served with some garlic or sambal sauce.