Vincent van Gogh was a renowned Dutch painter who lived and worked most of his life in The Netherlands, mainly in Noord-Brabant, in the south of The Netherlands.
However, Vincent van Gogh also lived and worked in other parts of The Netherlands.
| Period | Town | Why did Van Gogh live here? |
| --- | --- | --- |
| 1853 – 1864 | Zundert | Early youth |
| 1864 – 1866 | Zevenbergen | Boarding school |
| 1866 – 1868 | Tilburg | King Willem II High School |
| 1869 – 1873 | The Hague | Office Clerk at Goupil & Cie |
| 1877 | Dordrecht | Clerk in a bookshop |
| 1877 – 1878 | Amsterdam | Preparing to study theology |
| 1881 | Etten | Discovering painting |
| 1881 -1883 | The Hague | The apprentice painter |
| 1883 | Drenthe | The rural painter |
| 1883 – 1885 | Nuenen | The peasant painter |
Map Of Places Where Van Gogh Lived In The Netherlands
You can find the places in The Netherlands where Vincent van Gogh lived and worked on the map below.
If you click the map number, more information about these locations, including the English language websites, will become visible.
Vincent van Gogh's life was fascinating, but his hardship was immense. Vincent constantly struggled against poverty, hunger, discouragement, loneliness, despair, and madness. His suffering may have driven his creative urge, but by diving deeper into Vincent's life, you will feel compassion for this poor soul.
Vincent van Gogh, indisputably a genius and one of the greatest painters that ever lived, considered himself and his paintings a debacle. How cruel that one of the most renowned painters in history did not receive any recognition in his lifetime, except for the unwavering lifelong support of his brother Theo. How fitting that the two brothers are buried side by side in a cemetery in Auvers-Sur-Oise in France.
Vincent lived and died believing he was a good-for-nothing, disagreeable man who had achieved nothing. But through his paintings, he showed the emotions in the heart of such a nobody.
No wonder Vincent felt deeply connected to the most miserable huts and the dirtiest corners. He saw paintings in the pain, agony, and despair of the ordinary peasant, laborer, and miner. That was the same pain and hopelessness he carried in his heart and could express through his formidable paintings.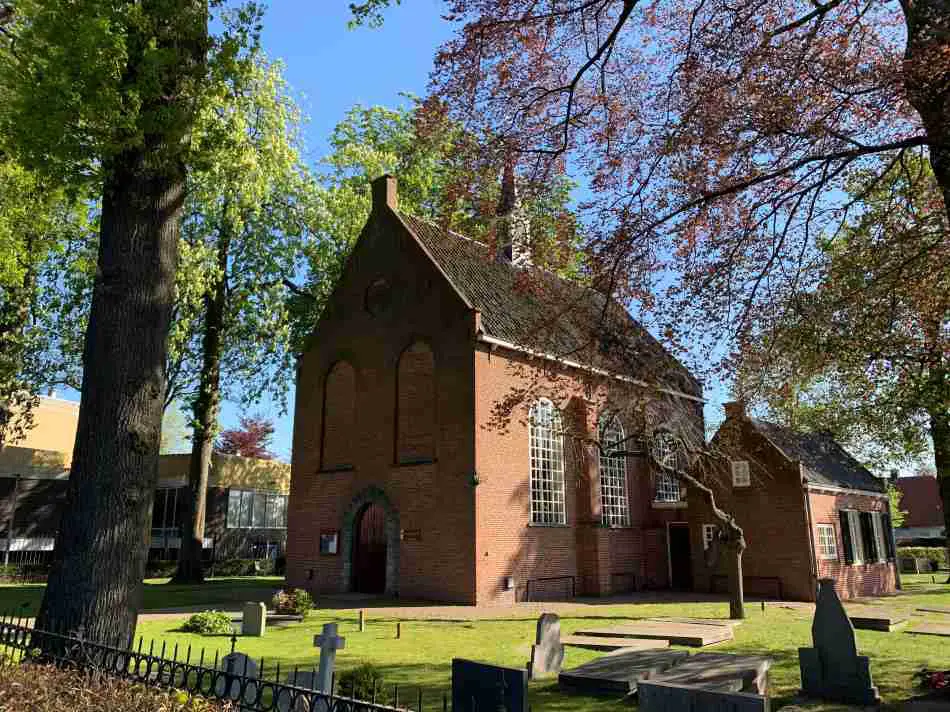 Where Was Vincent van Gogh Born?
Vincent van Gogh was the eldest son of a Protestant minister, the first of six children.
Vincent van Gogh was born on 30 March 1853 in Zundert, a small Dutch village close to the border with Belgium. Vincent grew up in the Protestant church's parsonage of Zundert until he left at 12 for boarding school in Zevenhuizen.
Vincent was not an ordinary child, but he was different. Vincent van Gogh was a taciturn and introverted boy who remained eccentric. In addition, Vincent was a Protestant child in a predominantly Catholic community.
Vincent did not go to school in Zundert but was educated at home, making him even more of an outsider in this small community. He must have been very lonely as a young boy, with his younger brother Theo as his only companion and friend.
Vincent often played with his younger brother Theo in the large back garden of the parsonage. Theo was four years younger, and his older brother Vincent was the most important person in his life. In this rear garden of the parsonage in Zundert, they forged a bond for life.
A life without Vincent was incomplete for Theo, and together, but not separately, they could understand and survive in this world.
I put my heart and soul into my work and I lost my mind in the process
Is van Gogh's Birthplace, Zundert, Worth Visiting?
You may wonder if Zundert, Vincent van Gogh's birthplace, is worth visiting to learn more about Vincent van Gogh.
Vincent van Gogh's birth house in Zundert was demolished, but a van Gogh House, dedicated to Vincent van Gogh's younger years, replaced it. Here, you can relive Vincent's younger years and understand the foundation of his agony that became apparent throughout his later years.
Vincent's father was the minister of the protestant church right around the corner from the parsonage. Fortunately, this lovely little church originated in 1805 and is still intact. His stillborn elder brother, also called Vincent, is buried in the graveyard of this church.
A beautiful bronze statue of Vincent van Gogh and his brother Theo, made by Zadkine, stands in front of this church and shows the two brothers intimately intertwined. This statue is a beautiful artistic impression of the two brothers' relationship because his brother Theo was his best friend and financially supported Vincent in pursuing his creative dreams.
Nevertheless, the inscription at the bottom of the statue, a French quote from his last letter to his brother Theo, shows the tremendous agony he was in at that time: Through me, you have your share in the production of some paintings that even in the debacle keep their calm.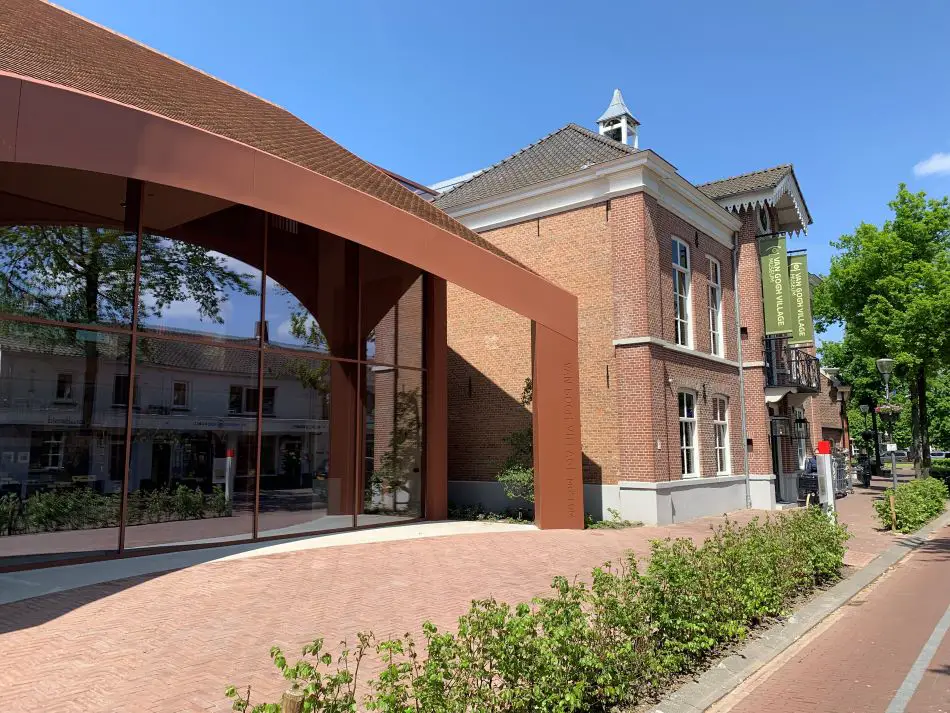 Where Did Vincent Van Gogh Find His Inspiration?
The peasants' hardship in the dirt-poor small villages in The Netherlands inspired Vincent van Gogh greatly. Through his paintings, he expressed his affinity and solidarity with these poor people, whose lives were as miserable as his own.
Vincent van Gogh left hundreds of letters to his brother Theo. These letters provided us with insight into his life and mind. Vincent shared all his thoughts with Theo in these letters and wrote about his drawings and paintings.
Vincent also described his feelings extensively in these letters to his brother Theo. Therefore, these letters helped tremendously to understand where Vincent van Gogh was inspired in The Netherlands.
Vincent van Gogh suffered tremendously when he lived with the miners in the Borinage in Belgium
Why Did Vincent Van Gogh Want To Become A Painter?
During his early adulthood, Vincent van Gogh struggled mightily to find his destiny in life. In his early twenties, Vincent went from failure to failure in his professional life. He was an art dealer, teacher, bookseller, Theology student, and evangelist, failing at every occupation he tried.
Vincent van Gogh lived in Amsterdam briefly between May 1877 and July 1878 while preparing for an entrance exam to study Theology at the University of Amsterdam. Vincent was not a dedicated Theology student and slowly became more interested in art by visiting museums in Amsterdam and taking art lessons from his cousin Anton Mauve.
However, going from failure to failure was not good for his self-esteem, and he was always short of money and often hungry. Moreover, his misery increased because some of his infatuations didn't turn out to be mutual.
Vincent van Gogh suffered tremendously when he lived with the miners in the Borinage in Belgium for two years and shared their miserable faith. Then, finally, he returned home to live with his parents for a while and recover his health. His father had become the minister of the protestant church in Etten, and his parents had moved from Zundert to Etten.
Vincent moved to the parsonage in Etten, where he got his first studio as an artist and started to paint seriously.
Vincent had begun to draw and sketch in the final months of his stay in the Borinage and felt that he might have discovered his calling. Vincent became convinced that he could also serve God as an artist.
If you hear a voice within you, say you cannot paint, then by all means paint, and that voice will be silenced
Vincent's parents were disappointed that their eldest son had opted for an artist's existence. In their eyes, that was the same as a social failure, and they tried to discourage him as much as possible.
Fortunately, his brother Theo, who was in the art business and doing very well financially, promised to support him financially. Theo's financial support allowed Vincent van Gogh the freedom to develop himself as a painter and learn the craft by practicing as much as he could.
However, his artistic development was only beginning, even though he was already 27. Nevertheless, that did not stop Vincent from practicing day and night, although he was still redrawing and copying other work to practice his drawing skills and learn the painting's craft.
Where Did Vincent van Gogh Learn To Paint?
Vincent recognized that he was still an amateur. He needed to study more and needed to learn from more experienced painters.
Vincent van Gogh moved to The Hague to practice as an apprentice of his cousin Anton Mauve, a renowned painter. Vincent learned the principles of painting in watercolor and oil paint from Mauve and came to his studio almost every day to practice.
Anton Mauve belonged to The Hague School of painters, led by Herman Tersteeg. Tersteeg was the most important art dealer in The Netherlands in that period, and Vincent worked as a clerk in his gallery. He hoped that Tersteeg could help him with advice and sell his paintings.
Despite Theo's monthly allowances, Vincent was always desperately short of money because the cost of painting materials and models was much higher than he could afford. As a result, Vincent van Gogh was miserable, lonely, and often very hungry during his years in The Hague. He had to choose between food and painting materials and preferred painting materials over food.
Painting is a faith, and it imposes the duty to disregard public opinion
He found company in his misery and despair with a prostitute, Christine (Sien), with whom he developed a romantic relationship. Unfortunately, his family and mentors Mauve and Tersteegen thought that a romantic relationship with a prostitute was scandalous and distanced themselves from Vincent to safeguard their reputation.
Vincent had to leave The Hague and went to the province of Drenthe to paint the country life in that part of the country that was also dirt-poor. Vincent seemed to look for misery wherever he could find it.
Drenthe: Adding To Vincent's Loneliness And Misery
Vincent left for Drenthe's countryside to draw and paint heath and peat landscapes and the peasants there. He stayed for a few months in Hoogeveen and Nieuw-Amsterdam.
Although Vincent liked Drenthe, it did not only bring him peace and inspiration because he was, again, lonely and miserable. But, unfortunately, that seemed to be the story of his life!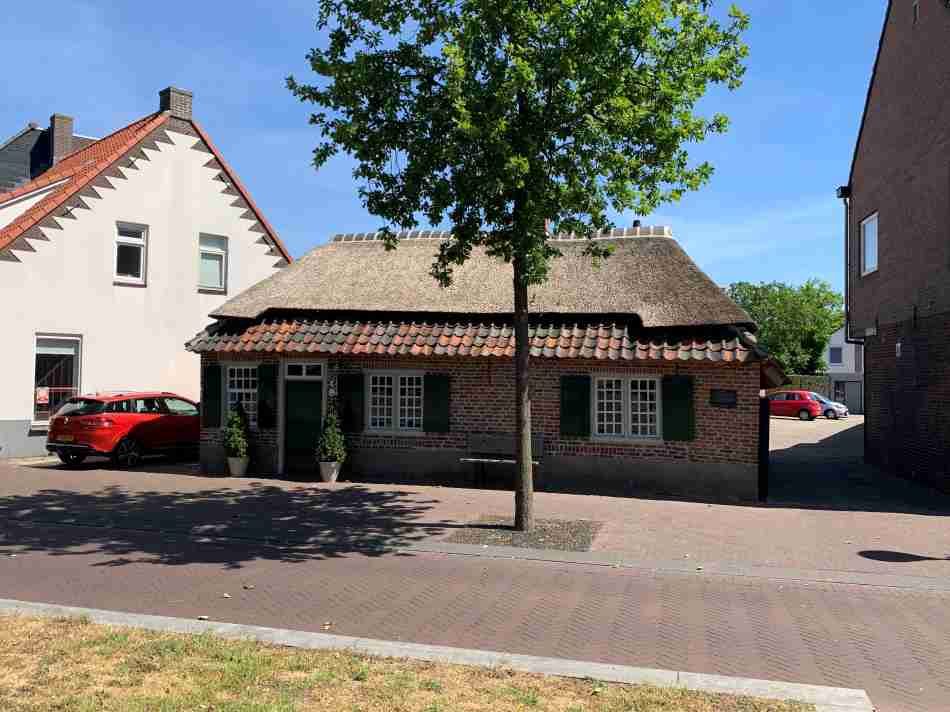 Van Gogh Found Inspiration In Rural Life In Nuenen
In December 1883, Vincent left Drenthe and went to his parents, who had moved to Nuenen. Initially, he went home only for a brief vacation and to recover from another illness. However, Vincent loved Brabant profoundly and decided to stay.
His two years in Nuenen were incredibly productive, and Vincent created almost a quarter of his entire oeuvre of 900 paintings and 1100 drawings in Nuenen, including his masterpiece, The Potato Eaters.
And reality sometimes comes very close to the Brabant that one has been dreaming of… 
Vincent's inspiration came from living deep in the heart of the countryside, and he wished nothing more than to paint nature and the rural life of the peasants who lived here. He wanted to live with, understand, and paint the peasants as they went along with their daily lives.
I dream my paintings and I paint my dream"
During his stay in Nuenen, Vincent always arose early and spent the entire day in the field or the peasants' and weavers' huts. He felt at home with the people of the area. Vincent became so absorbed in their lives that he could not think of anything else. Perhaps a genius needs to be obsessed with what he is doing, but his obsession is immense and overwhelming.
His parents created a small studio for Vincent at the back of the parsonage, but he rented a more extensive space elsewhere in the village a few months later. The parsonage in Nuenen is still intact but cannot be visited, and it is impossible to see his former studio if you stand on the street.
However, across the street, you will find the van Gogh Village Museum, dedicated to Vincent's life and work during his two years in Nuenen. It will bring you as close to Vincent's life in Nuenen as possible. With the help of audiovisual techniques, you will hear and see the story of his life.
If you realize that he lived across the street and painted "The Potato Eaters" around the corner, you will become as mesmerized as I was by visiting the Van Gogh Village Museum.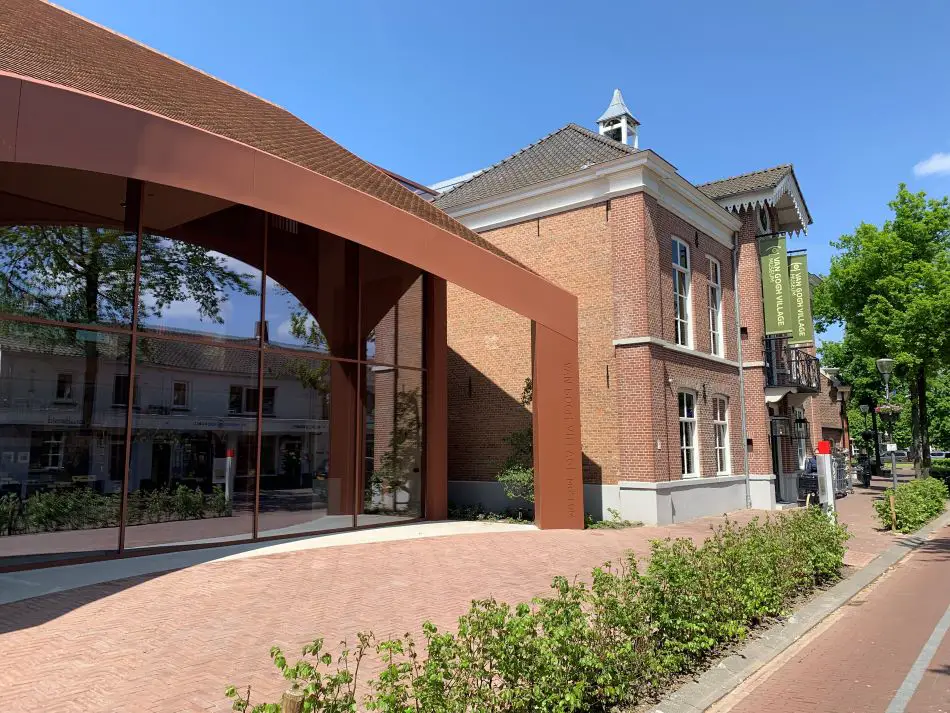 If you leave the museum and walk to the right, you will find a bronze statue of his masterpiece, the Potato Eaters. The painting was created in a little cottage in Nuenen that you will find when you leave van Gogh Village Museum and walk a bit to the left.
The "potato eaters" were the De Groot family, who lived in a little cottage in Nuenen near his studio. Van Gogh practiced an entire winter before painting the final version of this masterpiece.
Van Gogh considered "the potato eaters" his best work until that moment. The Potato Eaters expressed all his social and moral feelings and the injustice of peasants' suffering. You can sense from the painting that he felt at home in their world, genuinely loved them, and shared their misery.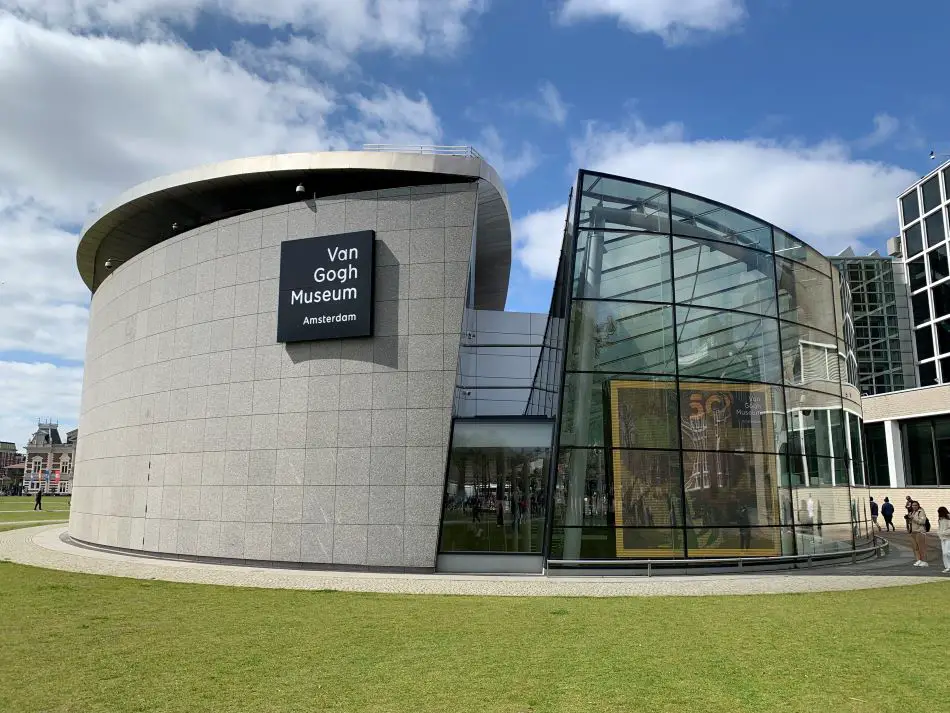 Where In The Netherlands Are Van Gogh's Paintings Exhibited?
After Vincent van Gogh killed himself in 1890, his brother Theo inherited all his work, but Theo passed away in 1891. Theo's widow, Jo van Gogh-Bonger, cared for Vincent's heritage. She made Vincent van Gogh famous by lending his work to museums worldwide and publishing his letters to his brother Theo.
Her son transferred ownership of the paintings to the State of The Netherlands. In turn, the State of The Netherlands committed itself to building a Van Gogh museum accessible to everyone.
The van Gogh Museum in Amsterdam welcomes approximately 2 million visitors annually. p
The van Gogh Museum in Amsterdam was created by a famous Dutch architect, Gerrit Rietveld, and welcomes approximately 2 million visitors annually.
The van Gogh Museum in Amsterdam exhibits 200 of van Gogh's paintings and 500 of his pencil drawings. The museum has grouped his work chronologically to give a fascinating overview of Vincent's personal and artistic development as a painter.
The Kröller-Müller Museum in Otterlo has the second-largest van Gogh collection in the world, with almost 90 paintings and over 180 drawings of van Gogh. Moreover, the museum is situated in the heart of a National Park, the Hoge Veluwe, a gorgeous place for a museum.
Helene Kröller-Müller bought these paintings and drawings at the beginning of the 20th century. The intense paintings of Vincent van Gogh appealed to her enormously. She recognized Vincent's quest and spirituality and saw him as an advocate of a new kind of art.
Her interest in van Gogh built a fantastic collection of van Gogh paintings and drawings, and we are fortunate to admire these masterpieces in that beautiful museum in Otterloo. So do yourself a favor and visit this museum because it is one of the better treats you can give yourself in The Netherlands.
If you truly love nature, you will find beauty everywhere
That is a fitting quote for the van Gogh collection in the Kröller-Müller Museum in National Park De Hoge Veluwe, where you will find the most beautiful art ever created in The Netherlands in the most beautiful nature of The Netherlands.
Frequently Asked Questions
What is the best van Gogh Museum in the Netherlands?
If you want to discover which van Gogh Museum in Holland is a must-see and which one you can skip, you can find a review of the 4 van Gogh Museums in the Netherlands elsewhere on this website.