Latest update: 24th March 2023
In the last two decades, wine quality in the Netherlands has increased tremendously. Thus, the Netherlands is slowly but surely becoming a wine country. As a wine enthusiast, I researched how wines made in The Netherlands have become so good and happily tried these Dutch wines myself.
Dutch wines have become so good due to new grape varieties better suited to the Dutch climate. In addition, the increasing experience of Dutch vintners significantly improved the quality of Dutch wines of traditional and new grape varieties.
Wine was already produced in The Netherlands for centuries, but It is a fascinating story of how winemaking in The Netherlands was reinvented in the last few decades. Food, in general, is not that important in Dutch culture, but good Dutch wines rapidly enhance Dutch cuisine.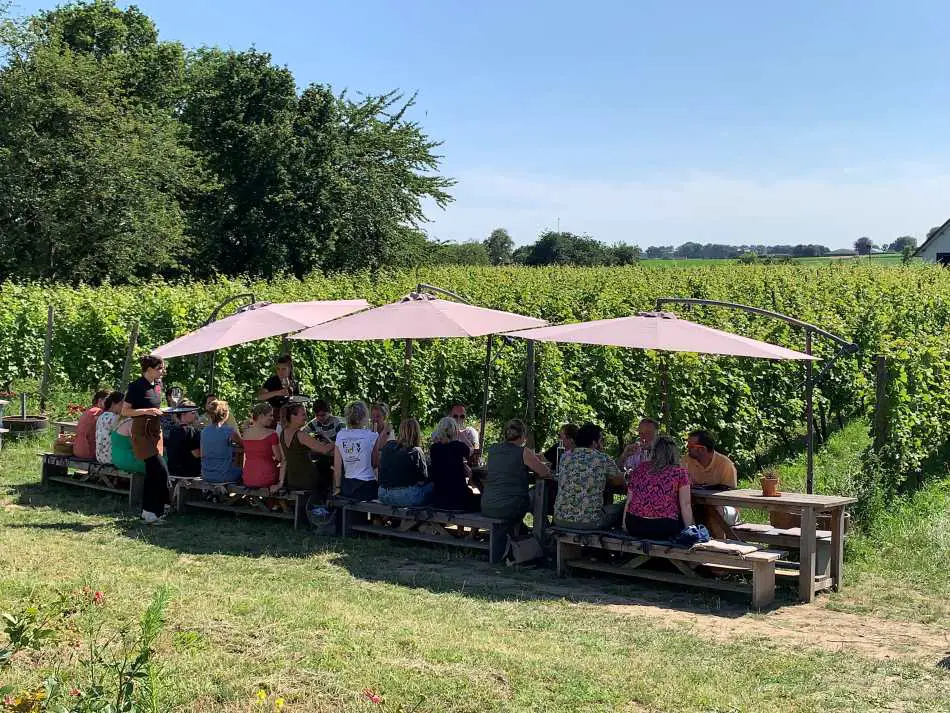 Do Grapes Grow In The Netherlands?
Many assume that the Netherlands is too cold, wet, and windy to grow grapes successfully and produce wine. However, that is a misunderstanding.
Grapes can grow in The Netherlands and have done so for centuries. However, the recent introduction of new grape varieties suited to the Dutch climate has made the cultivation of grapes in The Netherlands more attractive, and vineyard acreage increased 10-fold in the last two decades.
Grapes need an average yearly temperature between 10-20 °C to grow. The chart below shows that in 2019 virtually all of the Netherlands reached these annual minimum temperatures. Of course, 2019 was a hot year, but 2019 was not an exception anymore, considering that the last ten years have all been better than expected, probably due to climate change.
The highest average yearly temperatures are in the southeast and the southwest of the Netherlands. The southeast is a bit warmer because this part of the country is less under the influence of the North Sea and has less of a maritime climate.
That is important because the successful cultivation of grapes requires that the peak temperatures during the growing season are also sufficiently high.
The eastern part of The Netherlands enjoys much more peak summer days with temperatures above 25 °C than the western part of the country, even though the average yearly temperature in Zeeland is higher than in Limburg. That is an important reason that Limburg has more vineyards than Zeeland.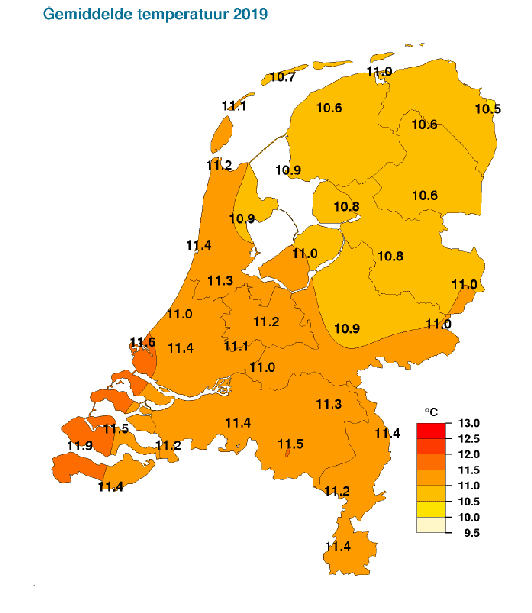 On the other hand, there are almost 300 hours more sunshine in Zeeland than in Limburg. Combined with its high average yearly temperature, the abundant sunshine in Zeeland allows one of the larger vineyards in The Netherlands, De Kleine Schorre, to exist and flourish in Zeeland.
The average hours of sunshine in the Netherlands is about 1640 hours annually. The overview below shows that the new grape varieties Solaris and Johanniter will do very well in the Dutch climate. Pinot Gris and Chardonnay will also do well in the Dutch climate if the weather in that year is good enough. On the other hand, Merlot will not do well in the Dutch climate.
Grape variety (sunshine hours needed to ripen)

Solaris (1200 hours)
Johanniter (1500 hours)
Pinot Gris (1600 hours)
Chardonnay (1700 hours)
Merlot (1900 hours)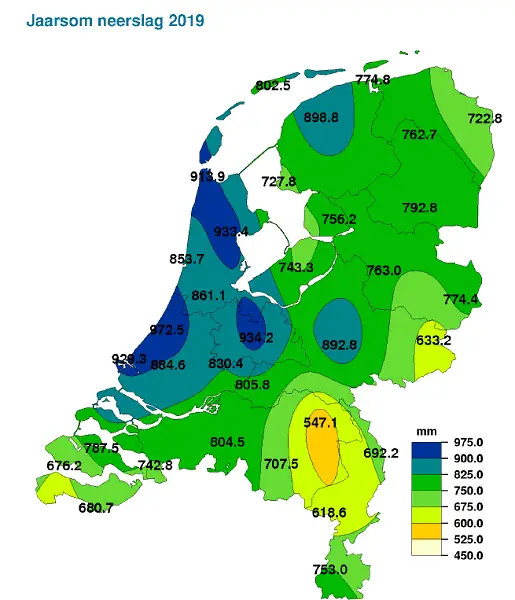 Temperature and sunshine are important but are not the only important factors in growing grapes successfully. The amount of rain is also crucial because grapevine diseases flourish in wet climates, and some parts of the Netherlands receive significantly more rain than other parts of the Netherlands.
Another reason most Dutch vineyards are located in the eastern part of the Netherlands is that the east part of The Netherlands is significantly less rainy than the west. A dryer climate is vital to avoid grapevine diseases like mildew or downy mildew. On the other hand, the western part is suitable for grass, cows, and producing Dutch cheese.
Which Grapes grow In The Netherlands?
The traditional grape varieties are primarily used in Limburg, the most southern province in The Netherlands. Most grape varieties are white grapes because the Dutch climate best suits white grapes. However, some brave souls planted pinot noir and produced pretty good wines.
Traditional grape varieties in The Netherlands

Auxerois (white)
Chardonnay (white)
Müller-Thurgau (white)
Pinot Blanc (white)
Pinot Gris (white)
Pinot Noir (red)
Since 2000, several new grape varieties better suited to the Dutch climate have become available. There are more red grapes among these new grape varieties. In particular, the Regent is used quite a lot in The Netherlands.
New grape varieties in The Netherlands

Johanitter (white)
Muscaris (white)
Solaris (white)
Souvigner Gris (white)
Regent (red)
Cabernet Cortis (red)
Rondo (red)
What Are The Best Dutch Wines?
Virtually all Dutch vineyards compete yearly in the Low Lands official Wine competition (Netherlands and Belgium). Professional wine experts test their wines and grade them according to their quality. The latest round occurred in October 2020. These wine experts selected the following wines as the best Dutch wines
3 Best Dutch white wines of 2020

Lingewit Sauvi 2019

(Betuws Wijndomein, Erichem)

Kerner 2019

(Wijngaard Steineberg, Mesch)

Würzer 2019

(Wijngaard Westerhoeve, Oostkapelle)
3 Best Dutch red wines of 2020

7 Zonden 2016 (Wijngaard St Martinus, Vijlen)
Cuvee Cabernet 2016 (Wijngaard St Martinus, Vijlen)
Turfstaeker 2018 (Wijndomein Kapelkeshof, Grashoek)
3 Best Dutch sweet wines of 2020

LingeWit Edelzoet 2019 (Betuws Wijndomein, Erichem)
LingeWit Ysbreker 2019 (Betuws Wijndomein, Erichem)
St Martinus Lief 2018 (Wijngaard St Martinus, Vijlen)
2 Best Dutch Rosé Wines of 2020

Sueterie Rose 2019 (Wijngaard Hof van Twente, Bentelo)
Pinot Rosé 2018 (Wijndomein de Planck, Slenaken)
What Are The 10 Best Dutch Vineyards?
According to the latest official count, approximately 170 commercial vineyards exist in The Netherlands, with a combined vineyard acreage of about 320 hectares. Most Dutch vineyards are located in the south of Limburg, the warmest region in The Netherlands and traditionally the best place to grow grapes.
At the end of the last century, these vineyards in Limburg used traditional grapes to produce outstanding wines. The oldest vineyard in The Netherlands, Apostelhoeve in Maastricht, was established in 1970.
Growing grapes in other parts of The Netherlands became possible by introducing new grapevine varieties around 2000. As a result, many new vineyards in the middle and eastern parts of the Netherlands were established after 2000.
Virtually all these new vineyards used these new grapevine varieties primarily. As a result, the vineyard acreage in The Netherlands has increased 10-fold in the last two decades. Approximately 1,3 million bottles of wine were produced in The Netherlands in 2022, of which 75% was white wine.
Despite this tremendous growth in vineyard acreage and wine production, The Netherlands is still a tiny wine country compared to a traditional winemaking country like France.
The Netherlands' vineyard acreage may have grown to 320 hectares, but that pales down to France's 792.000 hectares of vineyard. Even tiny Luxembourg has more than 1200 hectares of vineyards, four times as much as The Netherlands.
Where Are The 10 Best Dutch Vineyards?
You can find the location of the ten best Dutch vineyards on the map below.
Where Can I Buy Dutch Wines?
You can often buy Dutch wines directly at the vineyard because most will have a shop to sell their products directly to consumers. Some of the largest vineyards mentioned above even offer online ordering of their wines. Check out the links in the table above if you are interested in that option.
You will have a much wider choice of Dutch wines if you order online on the webshop of de Nederlandse Wijnwinkel. They offer a wide selection of wines from the very best Dutch winemakers.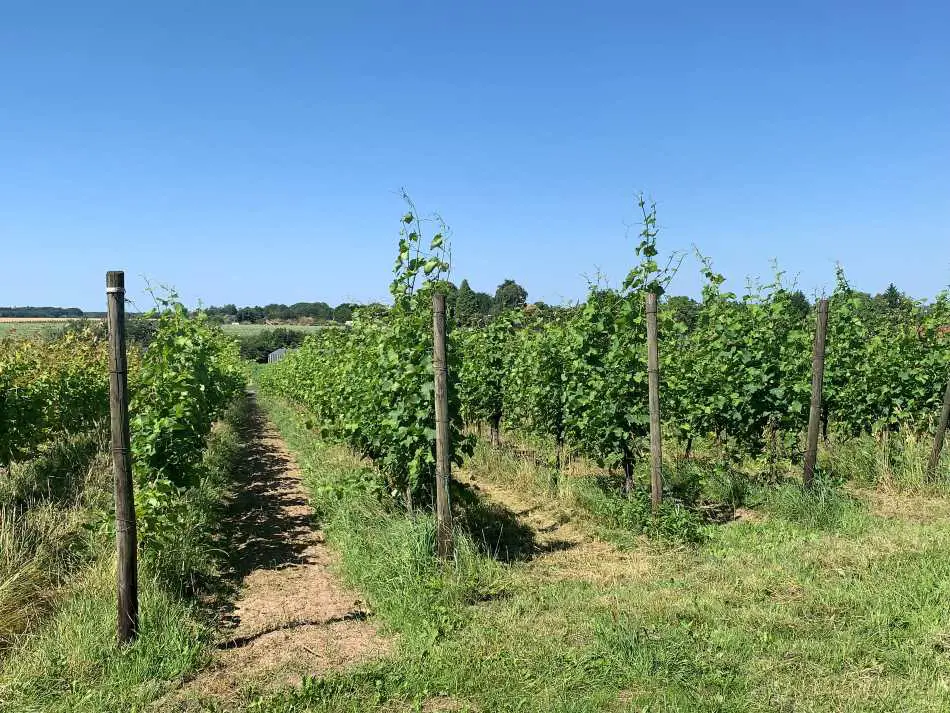 How To Say Wine In Dutch?
If you are adventurous or brave enough, you may want to order your wine in Dutch the next time you visit a Dutch restaurant. I have added a few Dutch translations of wine-related words to help you order the wine in Dutch.
| English word | Dutch Translation |
| --- | --- |
| wine | wijn |
| wines | wijnen |
| white wine | witte wijn |
| red wine | rode wijn |
| Dutch wines | Nederlandse wijnen |
| good | goed |
| a good Dutch wine | een goede Nederlandse wijn |
I fear pronouncing the Dutch word wijn is incredibly difficult for native English speakers because the letter combination ij is only used in Dutch and not in English.
How Do Dutch Wines Taste?
I took up the hard work of trying out Dutch wines and tried the following.
Tasting Notes Dutch Wines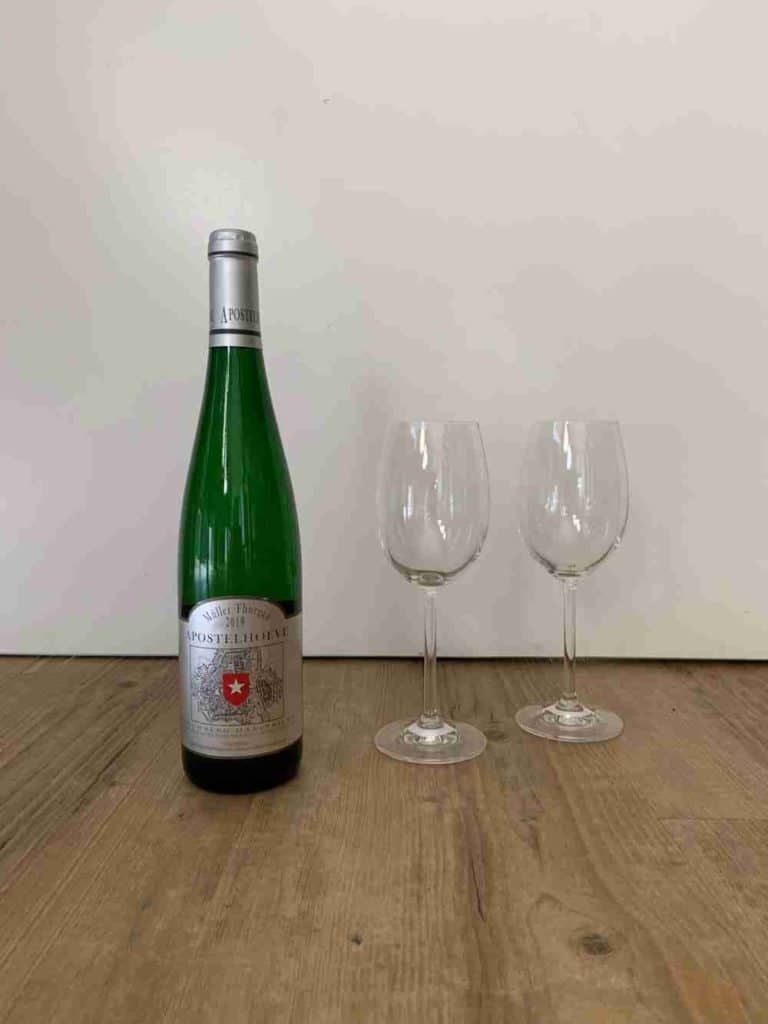 Apostelhoeve, Müller-Thurgau 2019
A delightful wine, fresh yet flirting with mild. Citrus fruits, peach, spring flowers, and a pinch of spices blend beautifully and are balanced in its aroma.
A complete wine, highly recommended.
Colonjes, Helios 2020
Winemakers do not often use Helios grapes, but the Colonjes Helios 2020 proves that Helios grapes can produce excellent wines in the Dutch climate.
This Helios wine is deliciously fresh with aromas of apples, peaches, and melon and a subtle, soft aftertaste, excellent for lazy sunny afternoons.
Colonjes Cuvée Circulé 2020
The Colonjes Cuvée Circulé is a blend of grapes that flourish in the Dutch climate; Cabernet Blanc, Helios, Souvignier Gris, Riesel, and Muscaris.
The Colonjes Cuvée Circulé has citrus, melon, peaches, and muscat aromas. It is a good wine with a broad bouquet and is nicely balanced.
Cleintje Colonjes 2018
This Cleintje is a dry red wine composed of three grape varieties, Cabernet Cortis, Cabernet Colonje, and Regent.
These three grape varieties have matured separately in wooden barrels for at least eight months.
Thorn Auxerrois 2019
The Thorn Auxerrois is a dry, fruity white wine with a creamy element and hints of citrus.
The wine contains melon, pear, grape, and blossom aromas and is excellent in combination with asparagus or oysters.