The first time I wanted to take the kids to the NEMO Science Museum in Amsterdam, I didn't know what to expect. This made me wonder whether NEMO would be fun for the kids because it could be too difficult.
I have now been to NEMO several times with the kids and can therefore give you a good idea with this review of the NEMO Science Museum what to expect in NEMO and whether your kids will like it.
Let's explore the NEMO Science Museum together.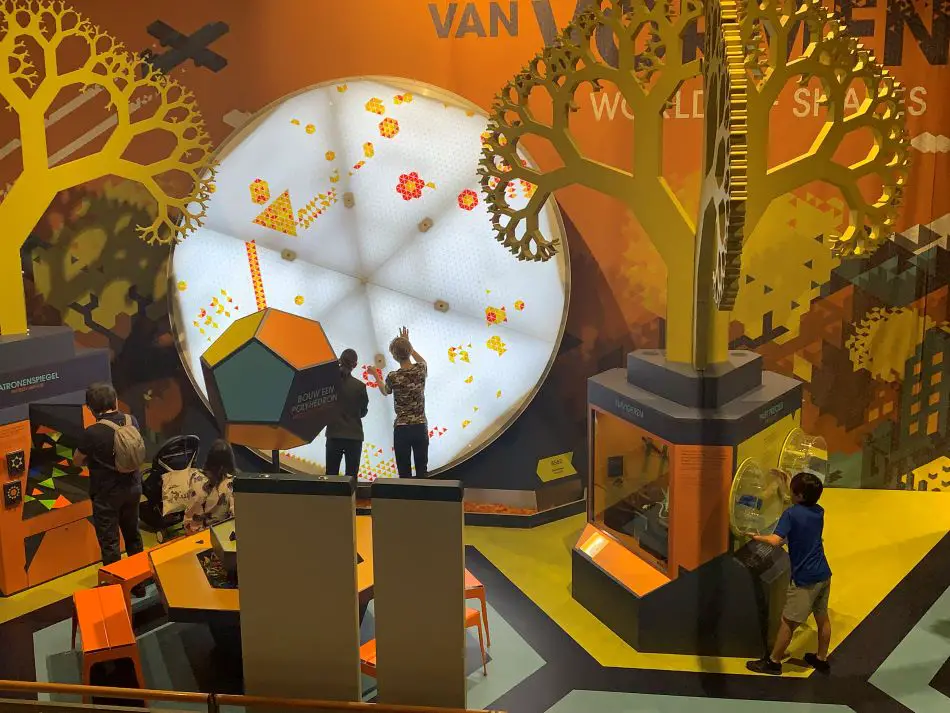 What Is The NEMO Science Museum?
Many people don't know what kind of museum the NEMO Science Museum is.
The NEMO Science Museum is a museum where children (and their parents) can discover the fun of science and technology.
Visitors discover the science behind everyday things such as electricity, light, sound, and gravity through the exhibits, demonstrations, experiments, and workshops at NEMO.
NEMO is full of remarkable things where children can do, listen, feel, and experience things for themselves. I have watched children run from attraction to attraction because NEMO offers enormous variety in what you can experience and witness.
Before you visit NEMO, you can check out the daily NEMO agenda to know what is available that day.
An important aspect to consider as a parent is what age of children NEMO is most suitable.
What Age Is NEMO Suitable For?
The NEMO Science Museum is one of the best museums for children in the Netherlands, but how much fun they will have depends on their age.
| Age (years) | Rating | Explanation |
| --- | --- | --- |
| 0-3 | 🙁 | Are still too young |
| 4-6 | 😊😊😊 | have a great time but understand little |
| 7-12 | 😊😊😊😊😊 | Have a great time & understand more |
| 13-17 | 😊😊😊 | only with other teenagers |
| Ouders | 😊😊😊 | Explain & enjoy the children |
You don't have to pay for admission to NEMO for children up to 3 years old, and I understand that because they are still too young for NEMO.
You should not take little ones of this age to NEMO anyway because it will be too overwhelming for them. After all, there are many other children, so it can be crowded.
You can take your children to NEMO from age 4, and they will have a great time. However, children aged 4-5 will only understand a little of NEMO's educational offerings. Much will still pass them by.
For a good reason, many NEMO workshops and activities have an age limit of 6 and up.
6-12 years is the ideal age to take children to NEMO
6-12 years is the ideal age to take children to NEMO because these kids will have a great time and learn a lot. Unsurprisingly, the largest group of children in NEMO is elementary school age.
This immediately makes NEMO somewhat less suitable for teenagers unless they are in a group, so they feel safe among those little ones. Educationally, NEMO is excellent for teenagers, but I have always seen relatively few teenagers in NEMO.
This is because most visitors to NEMO are much younger, and teenagers quickly dismiss even a lovely museum like NEMO as childish. You can overcome that by having them go to NEMO with a group of teenagers so they have each other.
Adults without children can better visit the NEMO Studio on the other side of the harbor
Is NEMO fun for adults?
I am often asked if NEMO Science Museum is also fun for adults.
NEMO is fun for adults when they go to this museum with their children because they can explain some of the experiments and enjoy their children's fun amusing themselves.
As an adult, I would not go to NEMO alone because you have to realize that NEMO is teeming with children. Indeed NEMO is an activity for children and their parents.
Adults without children can better visit the NEMO Studio on the other side of the harbor, specifically set up for adult audiences.
Things to Do And See in NEMO?
The NEMO Science Museum is divided into five departments, each on a different floor.
Phenomena – experience how science works
In Phenomena, visitors get more insight into the physics behind everyday things like sound, light, and gravity. Visitors can experiment with sound waves, optical illusions, and more and thereby discover how these things (phenomena) affect our daily lives.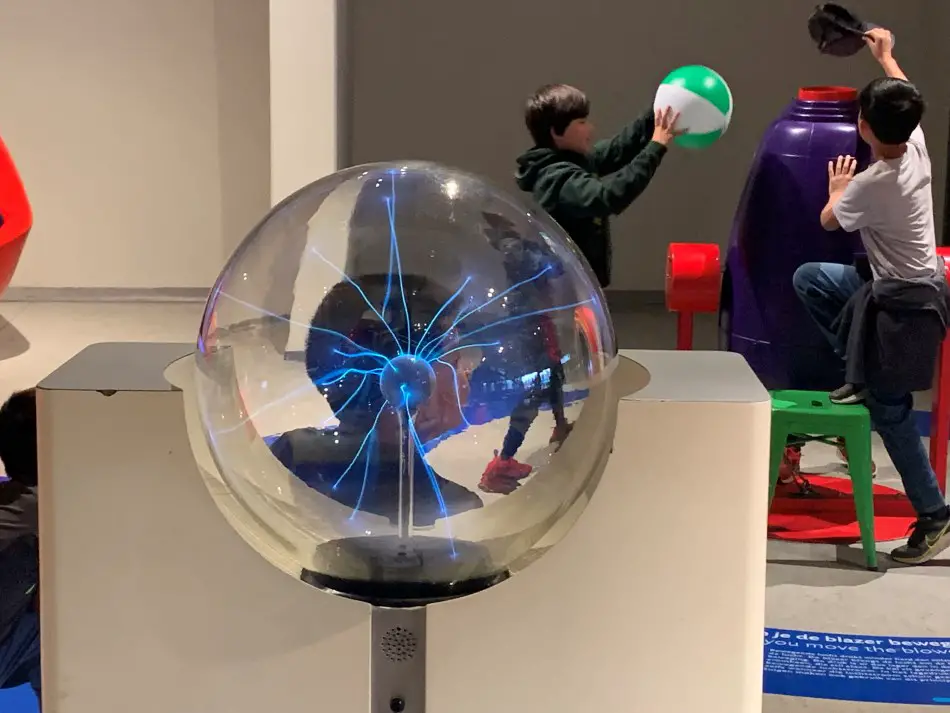 Technium – unravel the technology around you
In the Technium section, you will learn more about the technology around us. How do you build bridges, and why does the Netherlands not get flooded even though our country is mainly below sea level?
You can also help deliver online orders here. This is a very popular department with the kids.
Elementa – explore the building blocks of the cosmos
At Elementa, you will learn about life in the universe, atoms and stars, and the building blocks of our world and galaxy.
The absolute hit of Elementa is the chemistry laboratory, where kids can put on a white coat and do experiments as budding scientists; super fun!
Humania – discover who you are
On the fourth floor at Humania, you can discover more about yourself. My husband is a biochemist, and wished he had been here once as a child.
Humania is a lot harder than the other departments, so you see fewer children and more adults walking around here.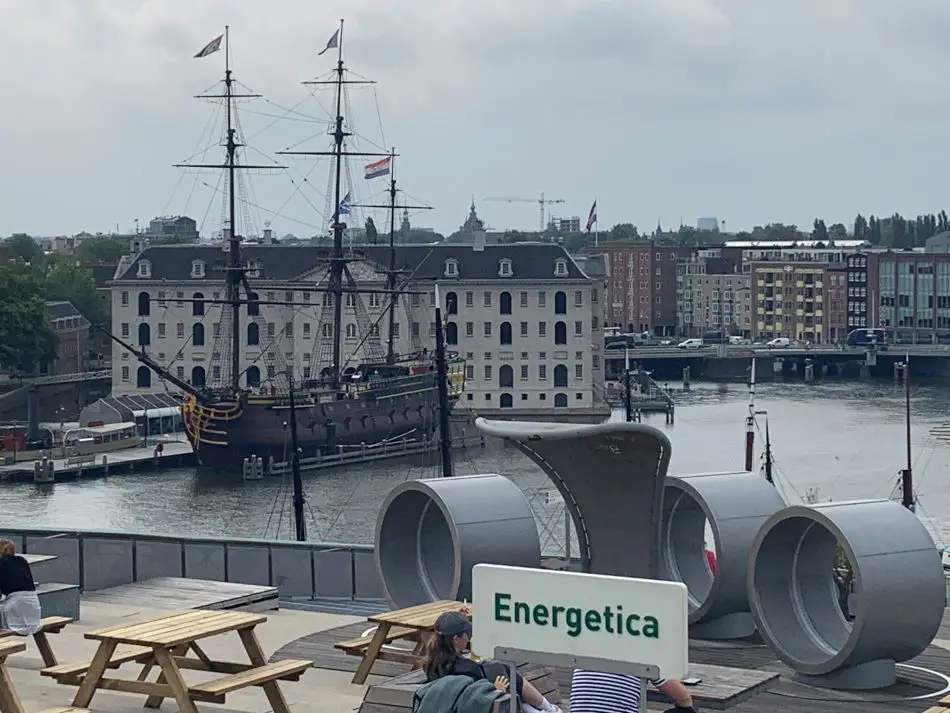 Energetica – Play with energy
Energetica is located on the roof terrace of NEMO and focuses on energy from sustainable sources.
The view of Amsterdam from this roof terrace is also fantastic, so you need to remember that part of the exhibition is here. For example, you can see the replica of the sailing ship Amsterdam from this roof terrace.
You can spend an entire day in NEMO but the children will be too tired after 4-6 hours
How Long Do You Need for NEMO?
A frequently asked question is how you need for a visit to NEMO.
You can spend an entire day in NEMO, but after 4-6 hours in NEMO, children are so tired that it is not fun anymore.
That's why it's so lovely to combine NEMO with a canal cruise so they can sit back and rest for a while. These kinds of combination tickets are also very reasonably priced too.
Other Activities In Amsterdam Near NEMO?
NEMO is very close to one of the prettiest museums in the Netherlands, the National Maritime Museum and you can even look out from the roof terrace of NEMO on the replica of the sailing ship of this musum, the Amsterdam.
Still, I would not quickly combine a visit to NEMO with a visit to the National Maritime Museum because I think two museums in one day is one museum too many for most children.
NEMO is also very close to Artis, undoubtedly one of the most beautiful zoos in the Netherlands. Still, I wouldn't quickly combine NEMO with a visit to Artis because the kids will probably collapse and be too tired to enjoy Artis anymore.
I choose a canal cruise through the Amsterdam canals so the kids could sit and rest from their visit to NEMO
I choose a canal cruise through the Amsterdam canals so the kids could sit and rest from their visit to NEMO. That is one of the very best tourist activities possible in Amsterdam.
You can choose from various canal cruises in Amsterdam (overview of Amsterdam canal cruises), including cruises with unlimited pancake eating. We found that to be the icing on a day out in Amsterdam with the kids.
Frequently Asked Questions
How do you get to NEMO?
NEMO is a 10-15 minute walk from Amsterdam Central Station, making it easy to reach by public transport.
The closest parking garage is Oosterdok parking garage, 400 meters away from NEMO, and on the Oosterdok parking garage website, you can find that you get a discount if you reserve a parking spot for the day there in advance.
What does the abbreviation NEMO stand for?
NEMO is the abbreviation for New Metropolis. That is English and means New City. The word metropolis also exists in Dutch, and a metropolis is a huge city.
How long has NEMO existed?
The first predecessor of NEMO was the Museum of Labor, founded in 1923 by the painter Herman Heijenbrock. With his paintings and devices, he wanted to show how modern machines and factories were put together. He also wanted to convey his enthusiasm for technology to children.
From 1952, this museum was called the Netherlands Institute of Industry and Technology (NINT) and was to get children excited about shipping, automotive engineering, metal, and petroleum. The hope was to get children to choose a technical education, thereby encouraging reconstruction and prosperity in the Netherlands.
In 1997, the new building on the Oosterdok was opened, and NEMO was given its current interpretation. With the opening of Humania in 2019, more attention will be paid to other (human) sciences.