Johannes Vermeer was a famous Dutch painter who lived in Delft. It was in Delft that he painted his exceptional masterpieces. As a lifelong Vermeer admirer living next to Delft, I wanted to answer the 11 most asked questions about Vermeer's life and work in his home town Delft.
Why is Vermeer famous?
Where did Vermeer find his inspiration?
Why is the girl with the pearl earring famous?
Where in Delft did Vermeer live?
Where in Delft is Vermeer's Little Street?
Where did Vermeer paint his view of Delft?
How many paintings of Vermeer exist?
What to expect in the Vermeer Center in Delft?
Where to see Vermeer's paintings online?
Which Dutch museums exhibit Vermeer's paintings?
Where in Delft is Vermeer buried?
Read on to learn more about Vermeer's fascinating life and work in Delft or scroll down to the question that interests you most.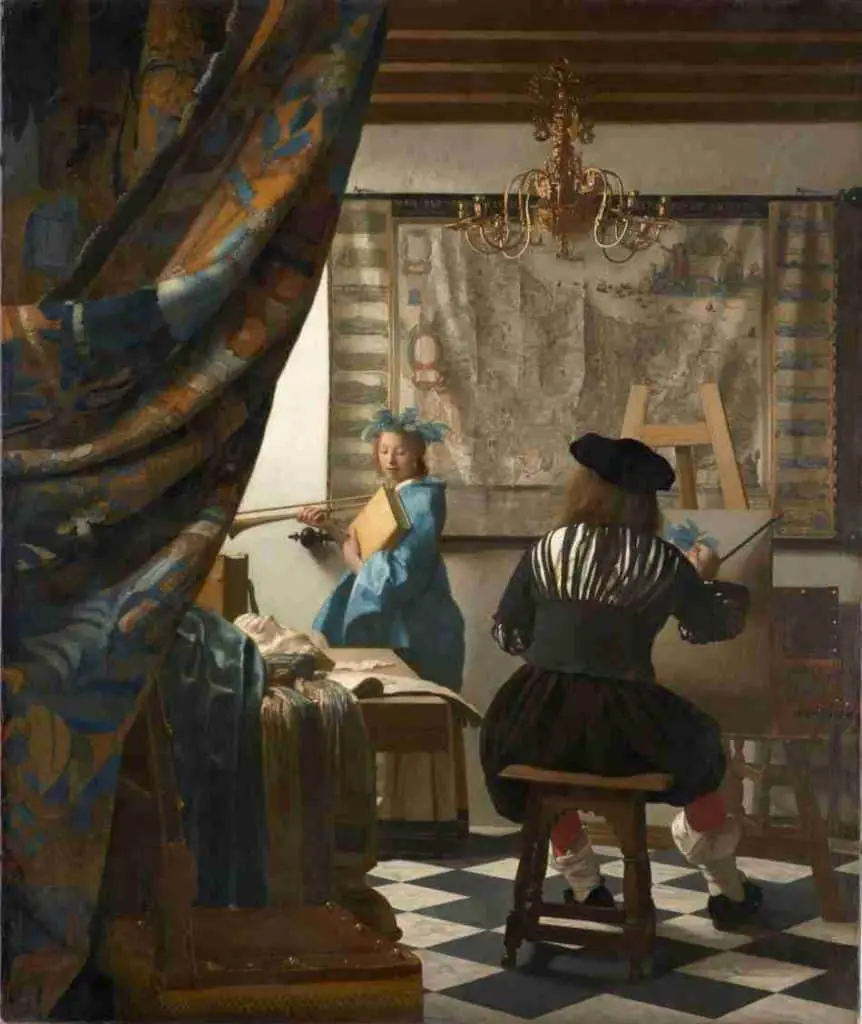 1. Why Is Vermeer Famous?
Vermeer is often mentioned as the best painter who lived and worked in The Netherlands. So that begs the question, "Why did Vermeer become so famous"?
Johannes Vermeer was not famous during his life. He was not a star like his contemporary, Rembrandt. Vermeer lived and worked his entire life in the small quaint town of Delft. He painted probably less than 60 works, of which 36 are known. His paintings' subtlety was at odds with the Baroque period in which he lived, and he seemed to be just one more painter of everyday life in a provincial town.
Vermeer's paintings with extraordinary realism show us daily life in The Netherlands in the 17th century. Almost everything Vermeer painted was a genre painting, a tranquil indoor scene of everyday life. He painted these domestic scenes subtly and understatedly but with great warmth. Vermeer was a genius in grasping that fleeting moment in people's quiet existence, often women, with a distinct tone and psychology.
Vermeer is famous because he showed exceptional mastery in combining tranquil domestic scenes with the rendering of light and shadow. Vermeer's work is about connecting the world and our existence and shows that the existence and actions of humans create the world.
Vermeer invites you in and keeps you out simultaneously, providing an enigmatic feeling. You feel that his paintings are much more than simple domestic scenes. They all have a sense of harmony and suggest a balance between humans and their surroundings. Vermeer shows you that you can find beauty in your own house.
You want to understand the narrative behind his paintings, but this is where the genius of Vermeer keeps you out, leaving you behind with that enigmatic feeling. That feeling will repeatedly bring you back to Vermeer's paintings.
Vermeer is the ultimate master of light, and the ethereal evocation of light makes his paintings unique. Vermeer is revered for silhouetting figures against white walls, allowing him to paint shadows' nuanced play. In addition, Vermeer had an incredible eye for details; nothing was beneath observation. The unique combination of precision and softness makes his work unforgettable.
I recommend watching the video below to understand Vermeer and his work better.
This documentary Vermeer: Master of Light, narrated by Meryl Streep, has been viewed ± 950.000 times on Youtube. Several world-renowned Vermeer experts discuss his most famous paintings with contagious enthusiasm and explain why Vermeer is as renowned as he is.
2. Where Did Vermeer Find His Inspiration?
You may wonder where in Delft did Vermeer find his inspiration?
Vermeer found his inspiration in his native Delft and domestic and social life. Vermeer's work is about the connection between our existence and the world. Vermeer wanted to show that the mystery of our existence is that humans can make the world beautiful.
Vermeer was a fantastic painter with exceptional technique. He was a genius at rendering light and shadow, which gives his paintings great warmth. The combination of precision and softness is outstanding.
3. Why Is The Girl With The Pearl Earring Famous?
The Girl with the Pearl Earring is an iconic masterpiece of Vermeer and one of the most famous paintings in the world. The Girl with a Pearl Earring is a simple yet delightful painting.
The Girl with the Pearl Earring is famous because it is a painting of sublime beauty. The girl looks at us with such intimacy that it becomes very seductive. You feel you have known her for a long time, yet she remains a mystery. The girl has the magical quality of being incredibly open while remaining mysterious simultaneously.
The Youtube video below has been viewed more than 4 million times. I strongly recommend viewing it because it clearly explains why this famous painting of Vermeer is so captivating and is a joy to watch.
The publication of the best-selling novel Girl with a Pearl Earring by Tracy Chevalier in 1999 brought this magnificent painting of Vermeer to worldwide attention.
The book's movie, starring Scarlett Johanson and Colin Firth, was nominated for three Oscars, and you can experience what Vermeer's life looked like. In addition, this movie's trailer has been viewed almost 1,7 million times on Youtube.
4. Where in Delft Did Vermeer Live?
Vermeer lived in three different houses in Delft during his life.
Vermeer was born above the Flying Fox Inn at Voldersgracht 25 in 1632.
At 9, Vermeer's family moved to a much larger inn, Mechelen Inn, overlooking the market square.
After his marriage in 1653, Vermeer moved in with his mother-in-law, who lived at the Oude Langendijk.
You can find the location of these three different houses on the map below (numbers 1, 2, and 3).
Johannes Vermeer was born in 1632 as the son of Reynier Jansz and Digna Baltens. His father was originally a silk weaver who went on to become an art dealer and ran an inn called "De Vliegende Vos" ("The Flying Fox") at Voldersgracht 25.
The Vermeer family lived above the inn De Vliegende Vos, and historians believe that Johannes Vermeer was born there.
Business must have been going well for Vermeer's father because, in 1641, he bought a much larger inn, the Mechelen Inn, overlooking the market square. Mechelen Inn was a huge house, probably one of the largest bordering the market square, and one could even rent a room in Mechelen Inn.
Mechelen Inn was in the heart of Delft and an ideal meeting place for the citizens of Delft. Johannes Vermeer lived above Mechelen Inn from age nine until he married Catharina Bolnes when the couple moved in with his mother-in-law, Maria Thin, who lived across the market square.
Maria Thin's house was at the Oude Langendijk on the corner with the Molenpoort, now called the Jozefstraat. At the time, there were no houses opposite this house, and Vermeer had a studio on the first floor with a view of the Market and Mechelen Inn, his previous home. Johannes Vermeer lived in this house at the Oude Langendijk until he died in 1675.
This house at the Oude Langendijk has been reconstructed by historians in 3-D (see below), and you can judge how large this house was, certainly for those days. Vermeer's studio was on the first floor with northern light, coveted by painters.
You can find this 3-D reconstruction of Vermeer's house here.
5. Where In Delft Is Vermeer's Little Street?
One of Vermeer's most famous paintings is The Little Street. The Little Street is a painting of two houses with two adjoining doorways. Two women are busy with daily chores, and two children play on the street in front of the houses.
Over the years, about half a dozen locations were proposed as the source of Vermeer's inspiration in The Little Street. Finally, in 2015, professor Grijzenhout of the University of Amsterdam published new conclusive evidence about the location of the little street in Delft.
The location of The Little Street in Delft is Vlamingstraat 40-42, 150-200 meters behind The Nieuwe Kerk.
The house that Vermeer painted with exquisite precision belonged to his widowed aunt, Ariaentgen Claes van der Minne, or Ariaantje. The Little Street houses were less than 200 meters from where he was born.
This finding offered a new perspective on Vermeer and what inspired him. After marrying Catharina Bolnes, Vermeer moved to a much more affluent neighborhood and higher social circles. Following his marriage, Vermeer seemed to have distanced himself from this family since he named none of his fifteen children after his father and mother.
However, in selecting his aunt's house as the inspiration for The Little Street, Vermeer returned to his youth. The serenity and warmth of the painting show us that Vermeer did not renounce his background at all. Instead, he lovingly painted the world of his childhood; he was coming home.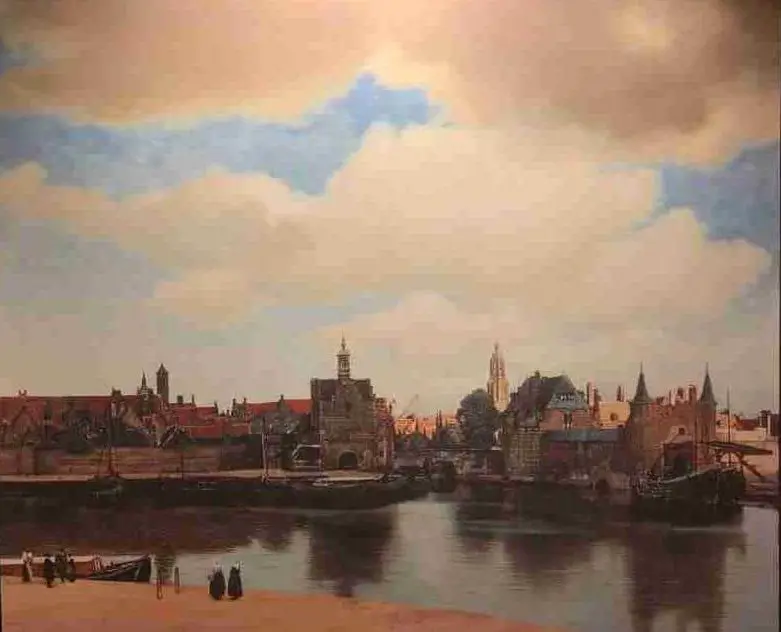 6. Where Did Vermeer Paint His View Of Delft?
Vermeer's fabulous technique and the poetic atmosphere he evokes have an overwhelming impression on many. It is as if you can almost hear the silence of his paintings. Marcel Proust found Vermeer's View of Delft, the most beVermeer'sainting in the world.
The overwhelming effect of View of Delft is not created by a representation of reality. Instead, Vermeer painted the suggestion of it.
If you stand at the Hooikade, where Vermeer painted his View of Delft, you will notice that the skyline of Delft is smaller in reality (see above) than in the painting. This is because Vermeer presented an image of the world without an opinion. It is up to you, the viewer of this painting, to bring it to life with your existence and activities.
Vermeer's work is about connecting the world and our meaningful existence. The existence and actions of humankind, not God, create the world. That was, of course, a revolutionary thought at the time. The message of the View of Delft is that humans have to create their world and reality.
Therefore, it is fitting that the view of Delft, painted by Vermeer, was also the view of the Pilgrims traveling from Leiden to Delfshaven a few decades earlier. The Pilgrims were going to the New World to create their new world and reality. That was an excellent example of how the actions of humans change the world.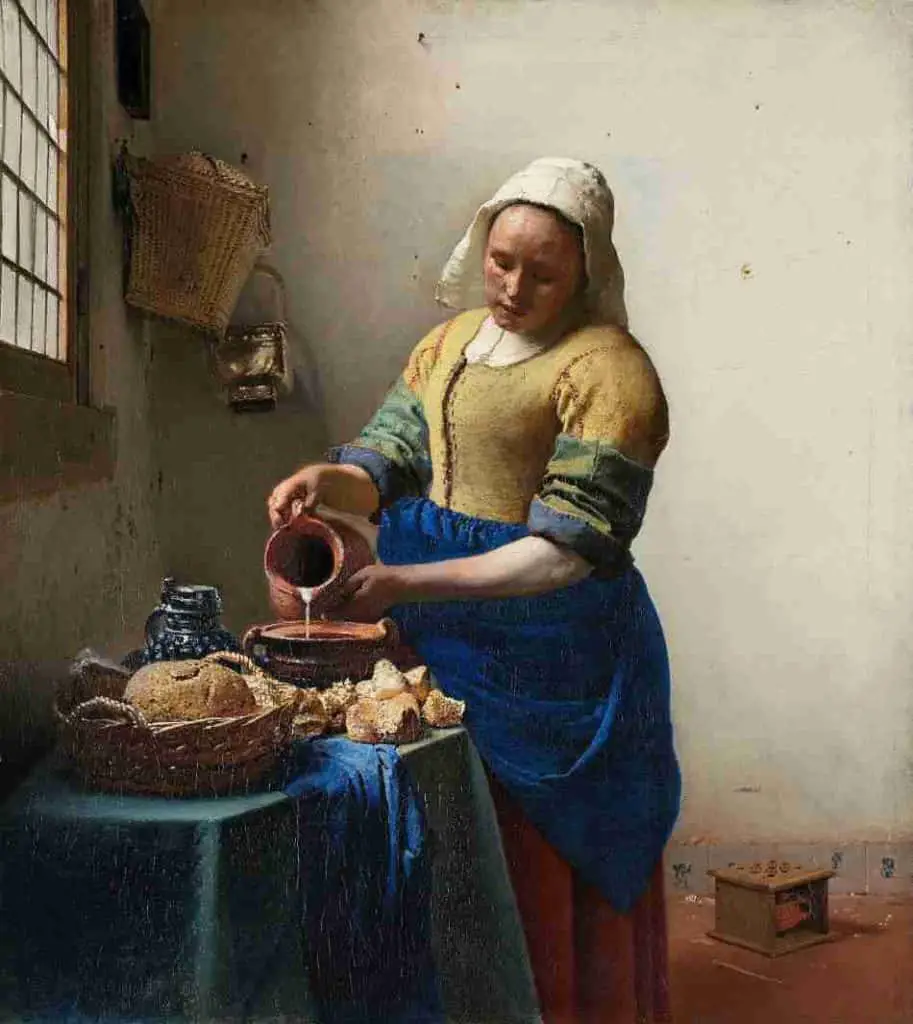 7. How Many Paintings Of Vermeer Exist?
Johannes Vermeer painted probably less than 60 paintings in his life, of which 36 paintings survived. In the table below, I have listed the 36 paintings Vermeer experts are confident that Johannes Vermeer himself created them.
| Nr. | Painting | Year |
| --- | --- | --- |
| 1 | Diana and her companions | 1653 – 1656 |
| 2 | Christ in the House of Martha and Mary | 1654 – 1656 |
| 3 | The Procuress | 1656 |
| 4 | A Maid Asleep | 1656 – 1657 |
| 5 | Girl Reading a Letter at an Open Window | 1657 – 1659 |
| 6 | Officer and Laughing Girl | 1657 – 1660 |
| 7 | The Milkmaid | 1657 – 1661 |
| 8 | Girl Interrupted in her Music | 1658 – 1661 |
| 9 | The Glass of Wine | 1658 – 1661 |
| 10 | The Little Street | 1657 – 1661 |
| 11 | The Girl with a Wine Glass | 1659 – 1662 |
| 12 | View of Delft | 1660- 1663 |
| 13 | The Music Lesson | 1662 – 1665 |
| 14 | Woman with a Lute | 1662 – 1665 |
| 15 | Young Woman with a Water Pitcher | 1662 – 1665 |
| 16 | Woman in Blue Reading a Letter | 1662 – 1665 |
| 17 | Woman with a Pearl Necklace | 1662 – 1665 |
| 18 | Woman Holding a Balance | 1662 – 1665 |
| 19 | The Concert | 1663 – 1666 |
| 20 | A Lady Writing | 1662 – 1667 |
| 21 | The Art of Painting | 1662 – 1668 |
| 22 | Girl with a Pearl Earring | 1665 – 1667 |
| 23 | Girl with a Red Hat | 1665 – 1667 |
| 24 | Mistress and Maid | 1666 – 1666 |
| 25 | Girl with a Flute | 1665 – 1670 |
| 26 | Study of a Young Woman | 1665 – 1672 |
| 27 | The Astronomer | 1668 |
| 28 | The Geographer | 1668 – 1669 |
| 29 | The Love Letter | 1667 – 1670 |
| 30 | A Young Woman Seated at the Virginals | 1670 |
| 31 | The Lacemaker | 1669 – 1671 |
| 32 | The Guitar Player | 1670 – 1673 |
| 33 | Lady Writing a Letter with her Maid | 1670 – 1671 |
| 34 | A Lady Standing at a Virginal | 1670 – 1674 |
| 35 | A Lady Seated at a Virginal | 1670 – 1675 |
| 36 | Allegory of Faith | 1670 – 1674 |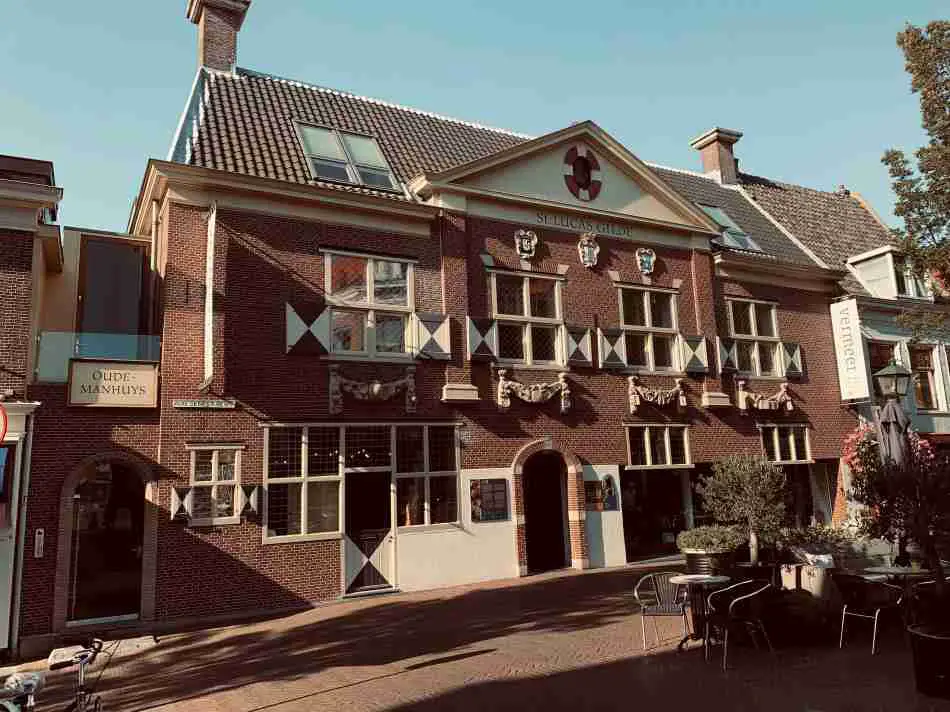 8. What To Expect In The Vermeer Center in Delft?
The Vermeer Center in Delft shows the life and work of Vermeer in great detail. The Vermeer Center is between Vermeer's birth house and Mechelen Inn, where he lived during his childhood. So you can't get closer to Vermeer's life and work in Delft than in the Vermeer Center.
The Vermeer Center exhibits reproductions of all his paintings with extensive explanations of why Vermeer made some choices. In addition, you learn how Vermeer played with light. The Vermeer Center is not a classical museum because it does not have genuine paintings of Vermeer. However, it is still fascinating to understand Vermeer in more detail.
You can find more information about the Vermeer Art Centre online here.
9. Where To See Vermeer's Paintings Online?
The best way to admire Vermeer's phenomenal paintings is in a museum. Unfortunately, Vermeer's paintings are exhibited in museums worldwide, making it difficult to see them all.
You can also watch Vermeer's entire oeuvre on the internet.
Watch Vermeer's Complete Works Online In Augmented Reality
Vermeer's complete work can now be admired online in augmented reality. This online virtual exhibition exhibits all of Vermeer's known paintings. I love this initiative and highly recommend it.
In addition to the online Vermeer gallery on this website, there are additional articles by various Vermeer experts, guided tours of his most famous works explaining his techniques, and contemporary interpretations of Vermeer's paintings.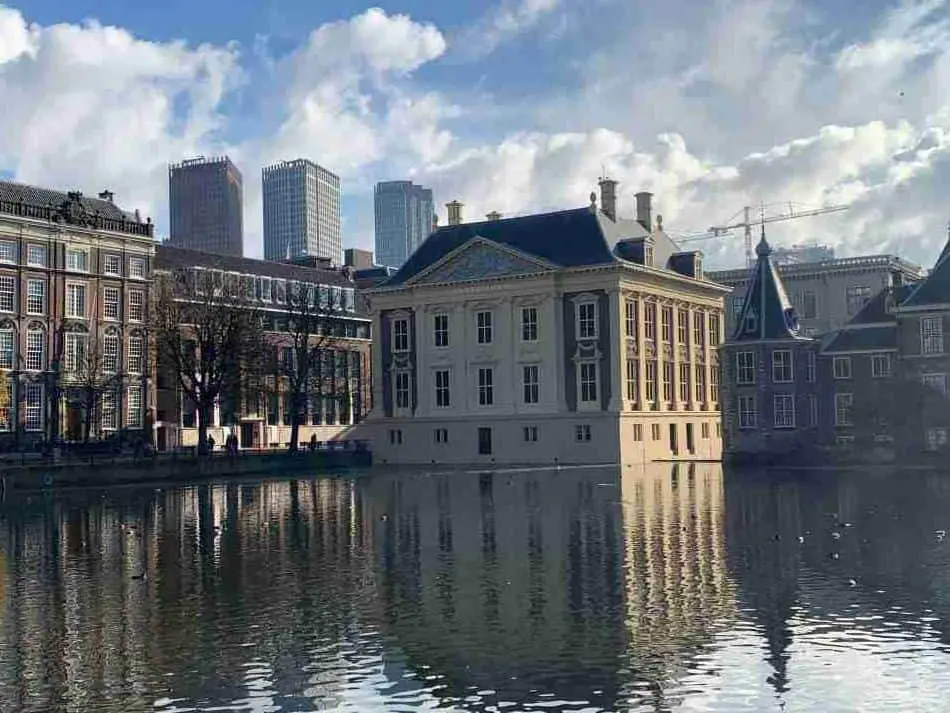 10. Which Dutch Museums Exhibit Vermeer's Paintings?
Seven out of Vermeer's 36 known paintings are exhibited in The Netherlands.
The two Dutch museums that own Vermeer paintings are:
The Mauritshuis in The Hague (3 Vermeer paintings)
The National Museum in Amsterdam (4 Vermeer paintings)
A. The Mauritshuis Museum in The Hague
The Mauritshuis in the center of The Hague is a unique museum in The Netherlands.
The Mauritshuis in The Hague owns three of the most famous Vermeer paintings:
The girl with the pearl earring
View on Delft
Diana and her nymphs
The Hague is very close to Delft, and a combined visit to Vermeer's Delft and the Mauritshuis is an excelVermeer'sination for a day trip.
B. The National Museum In Amsterdam
The National Museum has the most extensive collection of eight centuries of art in The Netherlands. In addition, this Museum displays many of the best-known art and paintings of our most famous Dutch painters.
The National Museum in Amsterdam owns four Vermeer paintings:
The Milkmaid
The Little Street
Woman Reading a Letter
The Love Letter
Among the collection of the Rijksmuseum are also masterpieces by Rembrandt and Frans Hals.
11. Where In Delft Is Vermeer Buried?
Johannes Vermeer died in December 1675 after an illness of two days, probably a stroke or heart attack.
Johannes Vermeer was buried in a family grave in the Oude Kerk in Delft. However, in the 19th century, all graves in the Oude Kerk were cleared: including Vermeer's family grave. The small tombstone was placed in 1975 after Vermeer had become famous, and people wanted to visit his grave.
The large tombstone was placed in 2007 in remembrance of Delft's native son, who had become world-famous after his death.
Even though the tombstones do not indicate his grave's exact location, Vermeer was undoubtedly buried in the Oude Kerk.