We live near Delft, and we often walk to the city center on the weekends to enjoy this charming city. We always see many tourists walking around. What makes Delft so charming that everybody loves this city?
Delft is a charming Dutch city because it is a compact city with a fascinating history, beautiful architecture, and lively terraces. This mix of the Netherlands' history with a compact historical city center with many young people makes Delft a lively and vibrant Dutch city.
Read on to find out more about one of the prettiest towns in The Netherlands.
Is Delft Worth Visiting?
Delft is absolutely worth visiting. Delft played an essential role in the Netherlands' history as the home of William of Orange, the Netherlands' founder. William of Orange lived for many years in The Prinsenhof, now a museum you can visit. Delft was also the home of Johannes Vermeer, one of the world-famous Dutch painters of the 17th century.
Delft has many charming canals and historic houses, just like Amsterdam, but with a fraction of the tourists of Amsterdam. Visiting the quaint city of Delft is one of the best day trips from Amsterdam. If you kop on a train in Amsterdam, you will arrive in Delft in less than one hour.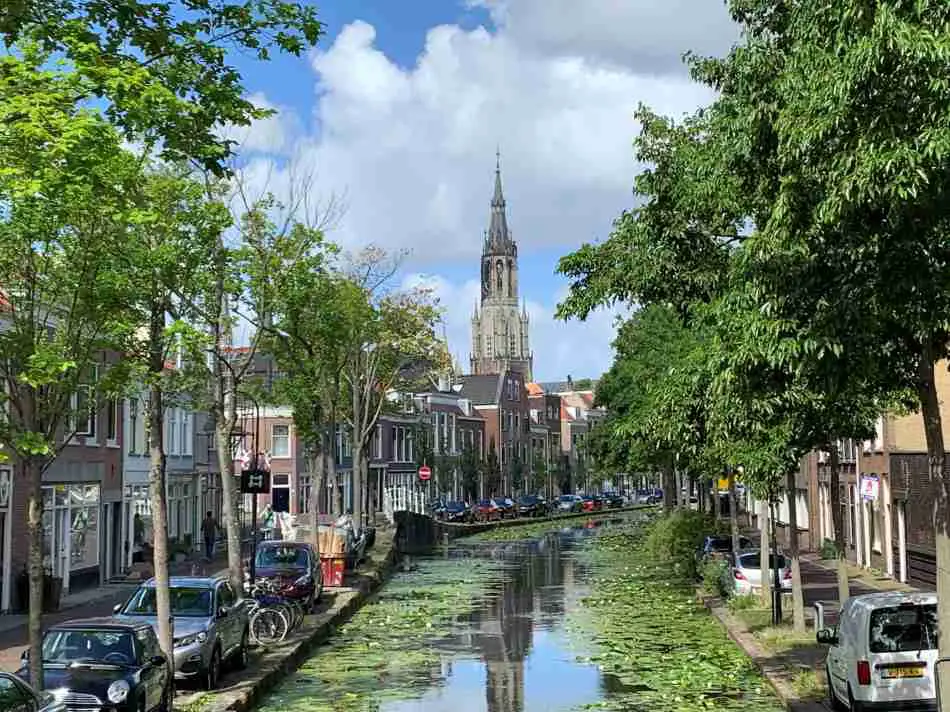 What Are Famous Highlights In Delft?
In the interactive map below, you can find the most famous highlights in Delft. If you click on the numbers, you can find more information and access their websites if they have any.
There are many things to do in Delft that are both interesting and fun.
How To Best Explore Delft?
I recommend a guided city walk to explore Delft because it is such a compact city that you can get an excellent overview of Delft in just a 1-2 hour walk. Walking through Delft is like walking through a museum, and a guide will be able to paint a complete overview of this city for you.
This (English) internet page provides the best overview of guided tours, and you should check it out because not all guided tours are open all year. Some are only available in the period from March until November and will be closed during wintertime.
Combining a guided city walk with a guided trip with a boat through the canals offers the best value for money and will give you the best impression of Delft you can get. You can find information about this combination in English here.
I have cruised through the canals of many historical Dutch cities by boat, and it continues to strike me how different any town looks from the water compared to walking around. At the very least, you have to experience that once in your life, and why not in Delft…..?
Another Dutch activity we like is a bicycle tour through Delft with a guide. Cycling is a very Dutch thing, and foreigners are often amazed by the massive number of people cycling throughout our cities. So if you want to feel Dutch and mingle with the Dutch, rent a bike and try it out without a guide.
Of course, you may also want to explore Delft on your own. In that case, we recommend you drop by the VVV Tourist Office at Kerkstraat 3, next to the New Church, where they will have maps available for city walks. You may also want to download this free city map if you're going to walk around Delft and enjoy the city.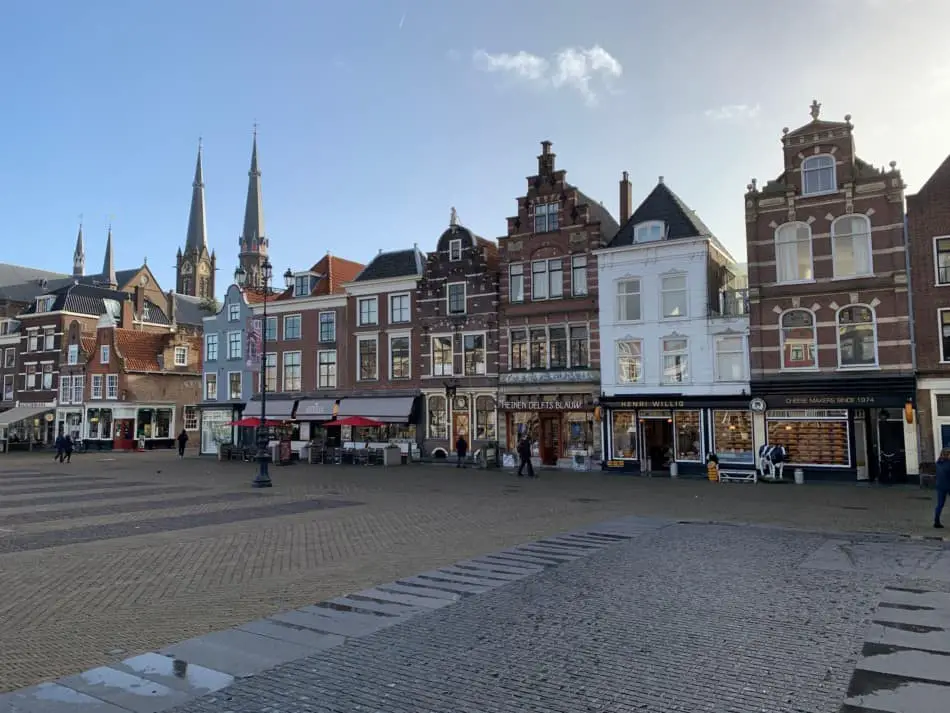 The Markt
The city's heart is, without a doubt, the "Markt" (the Market Square), with the old City Town Hall and New Church on either side of the square. The market square is surrounded by lively restaurants, bars, and shops for tourists. In addition, there is a market on this square every Thursday, so check it out if markets are your thing.
What Is The Nieuwe Kerk (New Church) Famous For?
The Nieuwe Kerk is a magnificent, large church in Delft with great historical value to The Netherlands. The Nieuwe Kerk is the last resting place of important Dutch persons, such as William of Orange, Maarten Tromp, Queen Wilhelmina, and King Wilhelm I. Today, the Nieuwe Kerk is the last resting place of the Royal House of The Netherlands, The House of Orange-Nassau.
It is possible to visit the Nieuwe Kerk, and we highly recommend that because it feels like the historic heart of The Netherlands, given that it is the burial place of its founder, William of Orange. You can find more information about the opening hours, the house rules, and ticket prices here.
The Historic Town Hall of Delft was built in the early part of the 17th century by the famous architect Hendrik de Keyser when Delft was still one of the most important cities in The Netherlands. It reflects the Golden Age's grandeur and is still one of the most dominant landmarks of Delft.
In addition to these historical landmarks, check out the many restaurants, terraces, and souvenir shops with plenty of typical Dutch souvenirs. For example, I am very enthusiastic about a shop called "Heinen Delfts Blauw" with Delft Blue, a form of blue-and-white pottery that Delft is known for worldwide.
If you enter this shop, ask for the "real thing", the genuine Delfts Blauw pottery, made in Delft and painted by hand because they also sell pottery made in China with printed drawings. It will be a pity if you come from China to visit Delft and go home with souvenirs made in China….!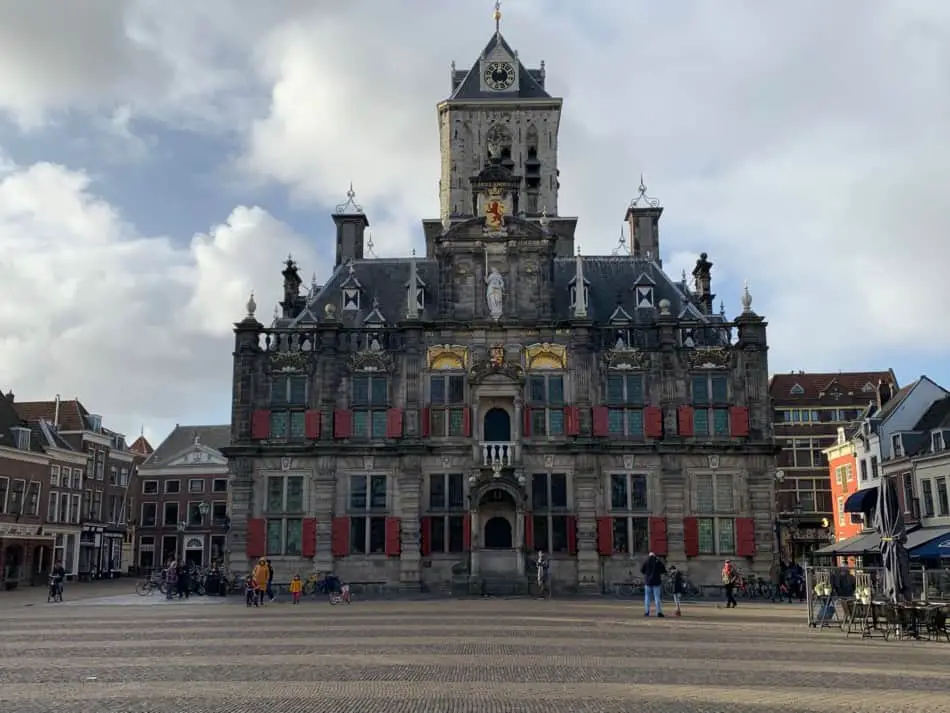 Why Is Delft Blue Pottery Named After Delft?
Delft blue was developed to imitate Chines porcelain, brought to the Netherlands by merchant ships that traveled worldwide. However, the type of clay used by the Chinese to produce porcelain was not available in the Netherlands. So instead, the Dutch used clay from their rivers to make their own much cheaper porcelain versions.
Delft, and not other Dutch cities, emerged as the leading pottery city in the Netherlands due to a combination of three factors:
Delft was located next to the river Schie and well connected with Dutch rivers, where the clay for their pottery could be sourced.
Delft was also well connected to Dutch harbors, from which their pottery was exported worldwide.
Finally, Delft welcomed Antwerp's best potters when they fled from their city after the Dutch blocked access from Antwerp to the sea.  
Between 1600-1700, the Delft Blue industry flourished, and, at its peak, there were about 30 factories in and around Delft.
Today, there is only a single Delft Blue factory in Delft, the Royal Delft Blue. Fortunately, the Royal Delft Blue factory can be visited and I described this museum in another article on this website.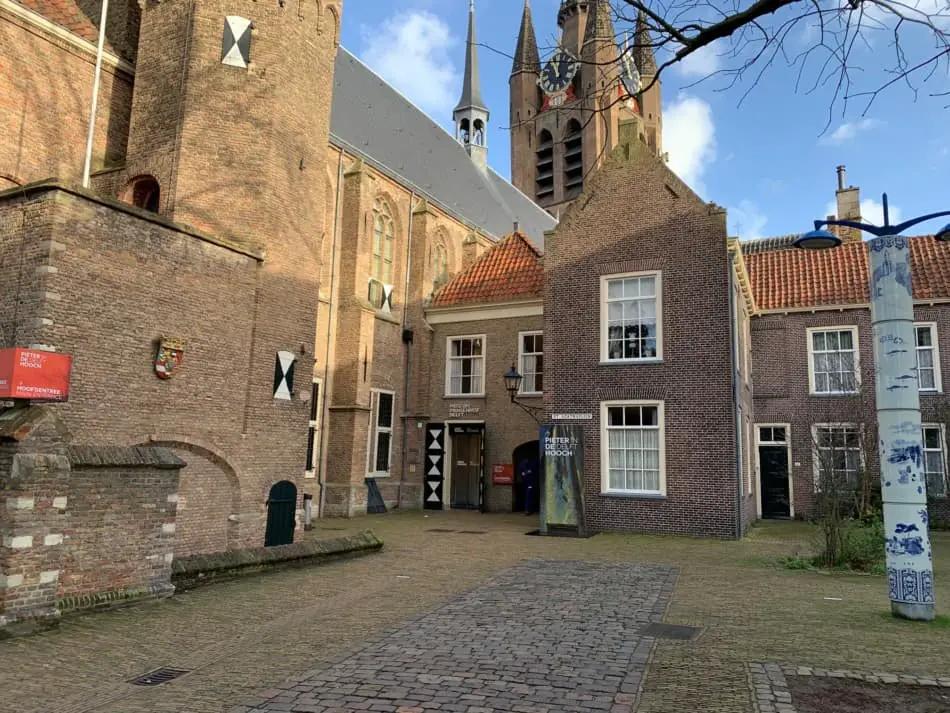 Where In Delft Was William Of Orange Murdered?
The Prinsenhof Museum is a beautiful museum located centrally in Delft, which was the home of William of Orange. One of the most important events in Dutch history occurred in the Prinsenhof. On 10 July 1984, Prince William of Orange was murdered in The Prinsenhof by Balthasar Gerards. Balthasar Gerard's bullet hit Prince William of Orange in his chest, and he died later of his injuries. The bullet hole can still be seen in the wall today.
This bullet hole is by no means the only thing the Prinsenhof museum offers in terms of historical value. You can also learn more about famous people from Delft, such as the painter Johannes Vermeer and the scientists Antoni van Leeuwenhoek and Hugo De Groot, who were world-famous in their days.
Up-to-date information about opening hours and exhibitions in The Prinsenhof Museum can be found on their website.
The Oude Kerk (Old Church)
The Oude Kerk is one of the two large old churches in Delft. The other large old church in Delft is the Nieuwe Kerk (see above).
The Old Church dates from 1246 and is the oldest church in Delft. The tower of the Old church leans heavily to one side. The interior of the Oude Kerk is sober but impressive. I was unaware that there were more than 400 graves in the Oude Kerk. Graves occupy large parts of the floor.
There are many famous Dutch people buried in the Oude Kerk such as the naval heroes Piet Hein and Maarten Tromp, the scientist Anthonie van Leeuwenhoek and the painter Johannes Vermeer.
The Oude Kerk is still a church but is open to visitors when there are no services.
Why Is The Painter Johannes Vermeer Famous?
The Dutch painter Johannes Vermeer lived from 1632 to 1675, and Vermeer lived and worked his entire life in Delft. Vermeer mainly painted interiors, which were composed almost mathematically. Unfortunately, only a small number of paintings by Johannes Vermeer are known.
Because of his desire for great perfection, and his death at a relatively young age, Vermeer's work resulted in an oeuvre of only 35 paintings. Out of these 35 paintings, only two were non-interior paintings.
Johannes Vermeer is famous for rendering light and shadow, which gave his painting great warmth. Vermeer also had a fabulous painting technique. The combination of technical precision and softness made Vermeer an exceptional painter and one of the best Dutch painters ever.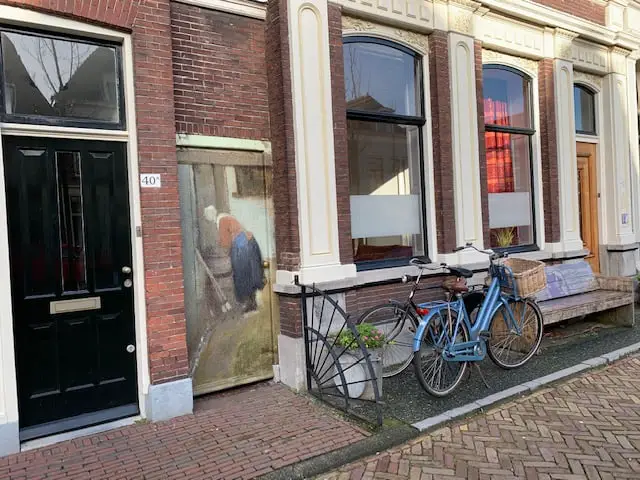 Where In Delft Is Vermeer's Little Street?
The painting "Straatje van Vermeer" (Little Street of Vermeer) has become one of his most famous paintings.
This street's location in Delf has been a matter of intense debate. Over the years, several possible sites on several different streets have been suggested. Finally, in 2015, professor Grijzenhout presented compelling evidence that the most likely location where Vermeer painted his Little Street was the tiny alley between Vlamingstraat 40-42.
If you want to verify it, please check it out because this location is just 100-200 meters behind The Nieuwe Kerk.
Where in Delft Did Johannes Vermeer Paint His View of Delft?
Vermeer painted his view of Delft from the first floor of a house on the Hooikade, on the center's south side. If you stand there yourself, you will notice immediately that Vermeer's view of Delft was not realistic but that he painted the suggestion of it. The skyline of Delft is much smaller in reality than in the painting.
Vermeer painted an image of the world with his View Of Delft, without an opinion. It is up to the viewer to bring this painting and this world to life with his existence and activities. That was a revolutionary idea in Vermeer's time, but Vermeer's paintings are all about the mystery of our existence and that humans have to create their world and reality.
What Is The Best Place in Delft To Go Out?
The Beestenmarkt is a square located in the center of Delft, about 200 meters to the north of the Grote Markt, where many lovely restaurants and bars are located. The entire Beestenmarkt will be occupied entirely with terraces on days with beautiful weather, making it a wonderful place to sit and relax.
The Beestenmarkt is my favorite spot in Delft because it is always packed on beautiful sunny days.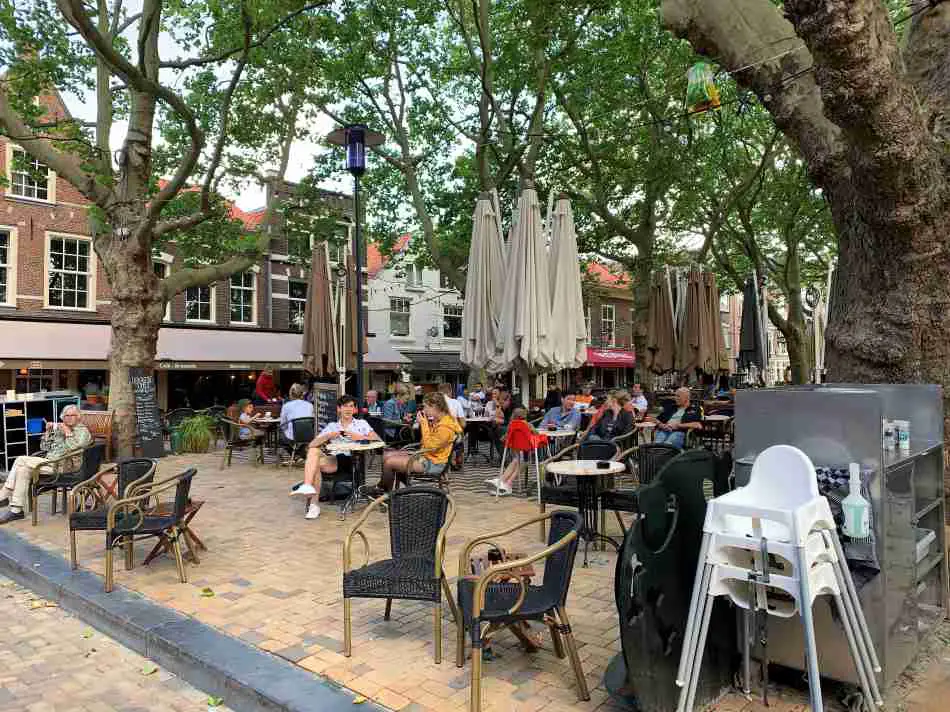 There is a wide variety of restaurants and bars. Kobus Kuch is a café I can highly recommend from personal experience. They sell more than 60 thousand homemade cakes yearly, so it must be good…..!
Another attractive option to visit is the Beer Factory, just around the corner of the Beestenmarkt at the Burgwal 45-49. The Beer Factory allows you to taste their homemade beers, which you can tap at your table in the bar. That is fun and something I haven't seen at any other restaurant. Of course, you can combine this with tasty meals if you feel so inclined.
Delft Today
Delft was granted city rights by Count William II in 1246. As such, it is one of the oldest Dutch cities. Delft is also one of the most important cities in The Netherlands' history due to its most famous inhabitant, William of Orange, considered the founder of The Netherlands.
Today, Delft is a city with a population of just 100.000 inhabitants, and Delft is the home of one of the three Technical Universities in the country. Consequently, many of its inhabitants are students making Delft a city that will stay eternally young.
This mix of the Netherlands' history with a compact historical city center with many young people makes Delft a charming and vibrant Dutch city.
Reviews Of Other Dutch Cities