Grocery shopping will be high on your to-do list if you arrive in the Netherlands and intend to stay for more than a few days. So I sat down with my fellow Dutchmen to discuss which 11 supermarket chains in The Netherlands are the best and explain why we believe they are the best.
There are 26 different supermarket chains with ± 6100 shops in The Netherlands, so a supermarket will always be nearby. Therefore, you will have plenty of supermarkets to choose from if you know what to look for.
What Are The 11 Best Dutch Supermarkets?
Most of the 11 best Dutch supermarket chains have shops all over The Netherlands, although some supermarkets have concentrated their shops in the western part of The Netherlands.
However, the 11 best Dutch supermarkets have shops in residential areas of Dutch cities with large expat populations like Amsterdam, Rotterdam, The Hague, Utrecht, and Eindhoven.
| Nr. | Supermarket | Nr. shops | Coverage |
| --- | --- | --- | --- |
| 1 | Albert Hein | ± 1000 | National |
| 2 | Jumbo | ± 700 | National |
| 3 | Aldi | ± 500 | National |
| 4 | Spar | ± 450 | National |
| 5 | Lidl | ± 420 | National |
| 6 | PLUS | ± 270 | National |
| 7 | Poiesz | ± 70 | North |
| 8 | Dirk | ± 125 | West |
| 9 | Hoogvliet | ± 70 | West |
| 10 | Ekoplaza | ± 80 | National |
| 11 | Nettorama | ± 32 | West + South |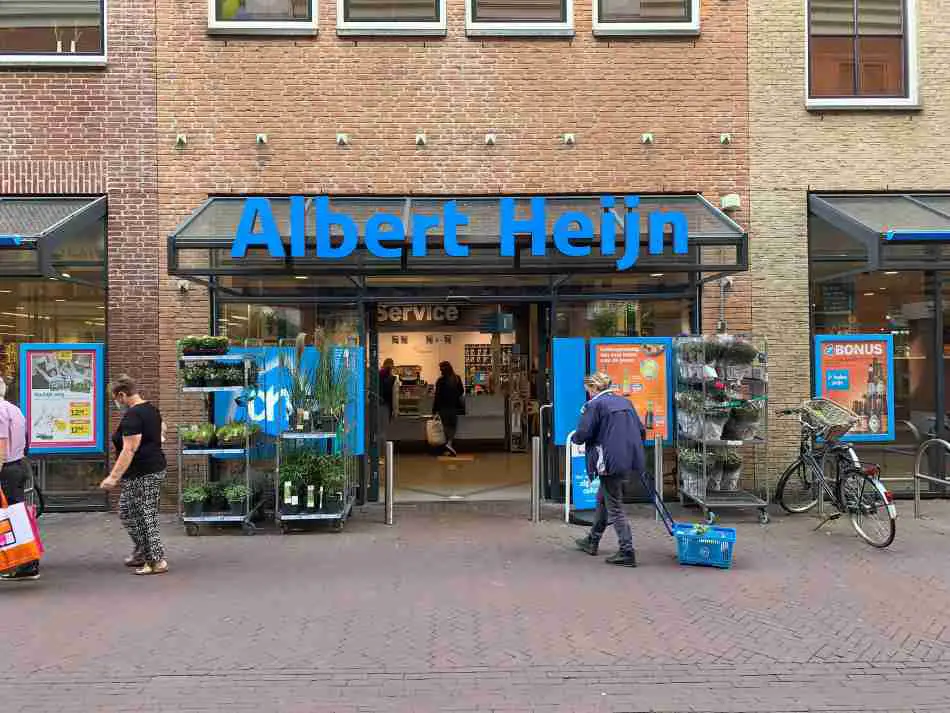 What Are The 11 Best Dutch Supermarkets?
1. Albert Hein
Albert Hein is the largest premium supermarket in The Netherlands, and its supermarkets come in different shapes and forms. For example, there are large XL Albert Hein hypermarkets with extensive ranges of products but also small convenience stores in train stations.
Albert Hein is a premium supermarket chain with high-quality products and higher prices than other chains. However, Albert Hein also has an extensive range of private-label productre to get yourself an e-bonus card (on your phone) to profit from attractive discounts.
2. Jumbo
Jumbo is another premium supermarket chain and a formidable competitor of Albert Hein. I shop at Jumbo and Albert Hein and find it hard to see material differences between supermarket chains. Jumbo may have the reputation of a number two in quality and price, but I find the difference minimal.
However, Jumbo claims to be cheaper than Albert Hein and other supermarkets and guarantees the lowest prices. Therefore, Jumbo is an excellent choice as a supermarket, and you are lucky if you have a Jumbo supermarket near you.
3. Aldi
Aldi is a supermarket chain with a limited range of basic food and household products at low prices. If you have to live on a budget, Aldi will be the supermarket of your choice. There is a market for them in The Netherlands since there are approximately 500 Dutch Aldi stores. Aldi is popular because it is cheap. That is good if you don't expect an extensive range of high-quality products.
4. SPAR
SPAR supermarkets may be familiar to you because SPAR supermarkets are present in 44 countries. The SPAR supermarket chain started in The Netherlands but expanded internationally when its middle-of-the-road supermarket concept became successful. Like Albert Hein's, SPAR supermarkets come in different shapes and forms. For example, there are larger SPAR supermarkets in residential areas and convenience stores in petrol stations, university campuses, or vacation resorts.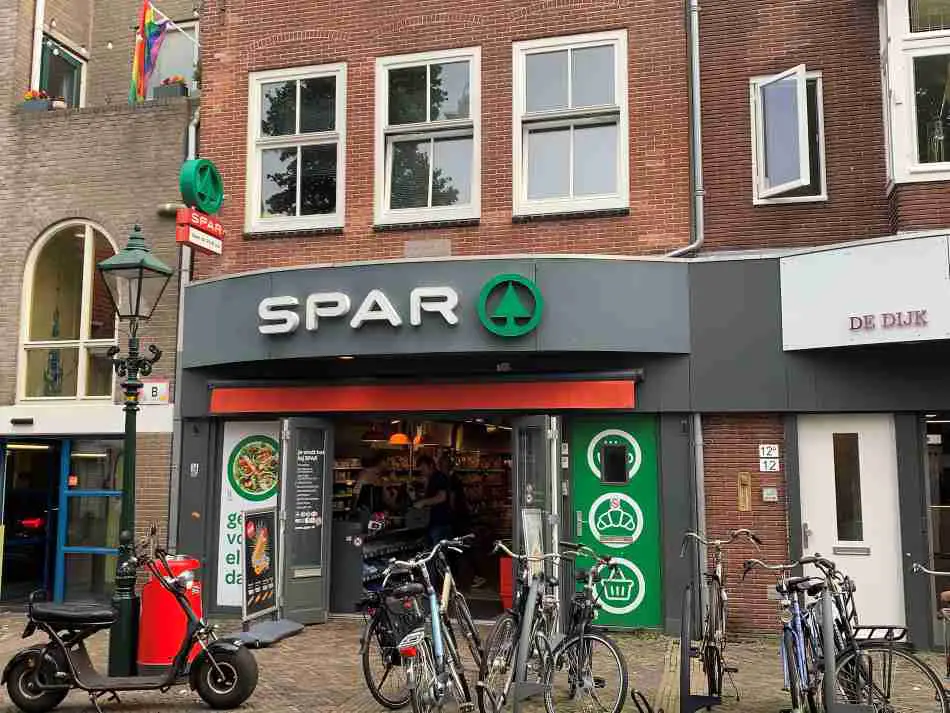 5. Lidl
Lidl is a supermarket very much like an Aldi supermarket with its limited range of products and super low prices. Lidl will do what it can to stay a low-cost, no-frills supermarket and offer super low prices. For example, products are still in their boxes while on the shelves. That is too efficient for me, but I understand that every penny counts for these discount supermarkets. Lidl supermarkets also offer discounted non-food products.
A strong point of Lidl is that they win almost every year the award for the supermarket chain with the best range and quality in fruit and vegetables. They also ranked #2 in overall customer appreciation in mid-2002 customer surveys. Many Liddl supermarkets also have in-store bakeries offering the lowest-cost buns and croissants in the country.
6. PLUS
The PLUS supermarket chain is the rising star among Dutch supermarket chains, and PLUS supermarkets even scored the highest of all Dutch supermarkets in mid-2022 customer surveys. Due to many acquisitions, PLUS has grown rapidly over the last 20 years but maintained its high quality.
Recently, PLUS announced its intention to merge with Coop supermarkets to become the third-largest supermarket chain in The Netherlands. This merger will probably happen in 2022 and significantly increase the number of PLUS supermarkets. That is a good thing because PLUS is one of the better Dutch supermarket chains.
7. Poiesz
Poiesz is a smaller (regional) supermarket chain with ± 70 supermarkets located in the north of The Netherlands. Poiesz is regarded as the best regional supermarket chain in the Netherlands by Dutch customers.
Poiesz is not among the cheapest supermarkets, but its shops are charming, and Poiesz offers a wide range of quality products for reasonable prices. Poiesz is a good example of a smaller supermarket chain that can deliver excellent value.
8. Dirk
Most of the Dirk supermarkets are in the Randstad, and you will find a Dirk supermarket in the larger Dutch cities where many expats reside. Dirk supermarkets focus on cost-conscious customers differently than discount supermarkets like Aldi and Lidl. As a result, Dirk supermarkets have an extensive range of private-label products that are much cheaper than A-brands.
Of course, A-brands are available at Dirk supermarkets, but you will have an abundant choice of private-label alternatives and save a lot of money on groceries if you want to. That is an attractive combination and an important reason I added Dirk to the list of best Dutch supermarkets.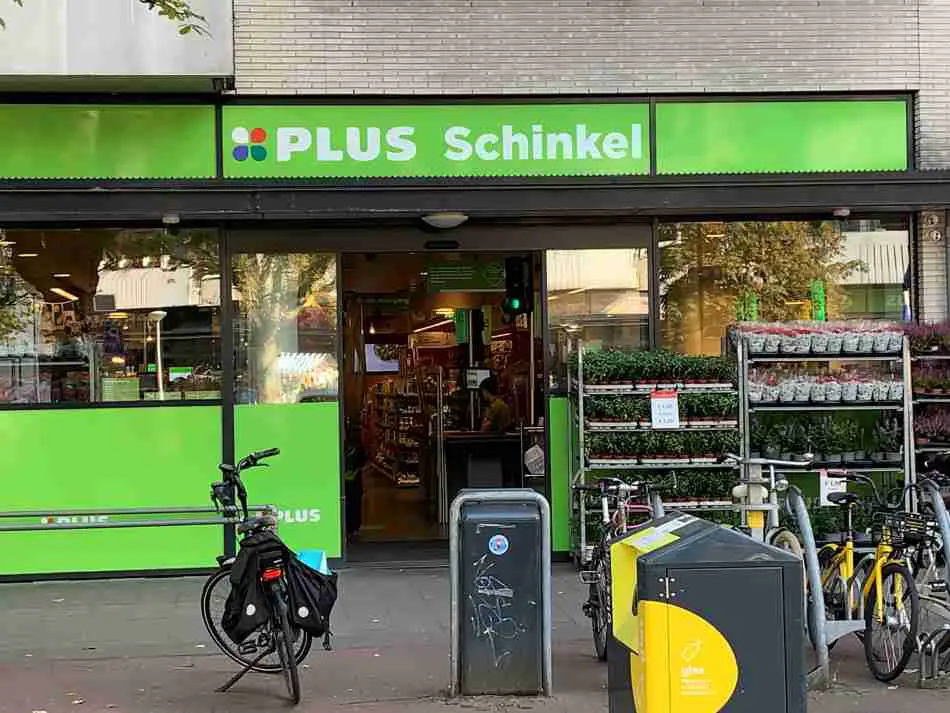 9. Hoogvliet
Hoogvliet is a family-owned supermarket chain that aims to market itself, focusing on responsibility and sustainability. But, in all honesty, I have never seen that in the Hoogvliet supermarkets, and I don't think they need this kind of marketing hyperboles.
They come nowhere close to Ekoplaza when it comes to sustainability. But on the other hand, Hoogvliet supermarkets offer high-quality groceries for a reasonable price as they should and are among the best supermarkets in the country.
10. Ekoplaza
Ekoplaza is a different supermarket chain because Ekoplaza stands for organic, biological, and vegan. You can find Ekoplaza in all major Dutch cities where expats usually reside. People shop at Ekoplaza because they want to live healthily and eat healthy food. Ekoplaza has beautiful ideals to stop exhausting our planet and make the world a better place.
Ekoplaza focuses on offering healthy, tasty products full of nutrients and rich in flavor, without synthetic fragrances, colors, flavors, or preservatives. As a result, they are more expensive than other supermarket chains because they offer farmers and producers honest prices.
11. Nettorama
Nettorama deserves a place in this review even though it is one of the smaller supermarket chains in the country. Nevertheless, the Dutch still find Nettorama one of the best smaller supermarket chains because Nettorama is significantly cheaper than other supermarkets.
Average prices in Nettorama supermarkets are low due to private labels, and their supermarkets are primarily located in the southern and western parts of The Netherlands.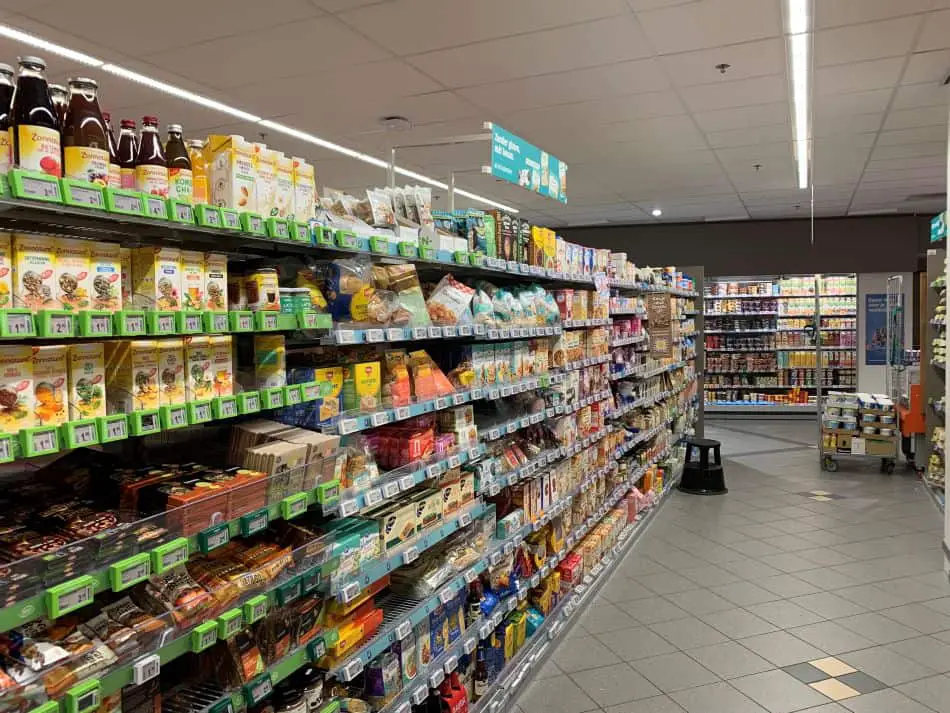 How Expensive Are Dutch Supermarkets?
Prices in Dutch supermarkets vary significantly between different supermarket chains. If you are cost-conscious or on a budget, you better not shop at premium supermarkets like Albert Hein or Ekoplaza. The price differences are not due to differences in prices between A-brands. A-brands' prices do not vary much between supermarket chains, although some, like Jumbo, claim to be cheaper. I would take those claims with a grain of salt.
However, prices of private label brands are significantly lower than A-brands. Some supermarkets (like Dirk and Nettorama) focus heavily on private-label products to offer lower-cost shopping. Discount supermarkets like Lidl and Aldi provide low prices by providing a limited range of high-volume budget products.
On the other side of the pricing spectrum, Albert Hein and Ekoplaza offer a wide range of high-quality (organic) premium products which are more expensive. However, in all fairness, biological organic products at Albert Hein are also more costly than their regular premium products.
I have summarized how expensive Dutch supermarkets are in the table below.
| # | Supermarket | Expensive |
| --- | --- | --- |
| 1 | Albert Hein | +++ |
| 2 | Jumbo | ++ |
| 3 | Aldi | + |
| 4 | Spar | ++ |
| 5 | Lidl | + |
| 6 | PLUS | ++ |
| 7 | Poiesz | ++ |
| 8 | Dirk | + |
| 9 | Hoogvliet | ++ |
| 10 | Ekoplaza | +++ |
| 11 | Nettorama | + |
The Dutch National Bureau of Statistics compared vegetables, fruit, and meat prices in Western-European supermarkets in 2018 (source). As a whole, prices in Dutch supermarkets were above the Western-European average. In contrast, supermarkets in Eastern Europe were significantly cheaper than in The Netherlands (not shown).
Country
Vegetables/fruit Prices
(EU average = 100)
Vegetables/fruit Prices
(EU average = 100)
The Netherlands
102.2
123.4
France
126.8
130.9
Germany
105.3
105.9
Spain
98.8
89.2
Italy
107.0
119.5
Austria
126.2
145.7
What Is The Cheapest Supermarket In The Netherlands?
I am often asked what the cheapest supermarket in The Netherlands is. There is no clear winner of the title of cheapest supermarket in The Netherlands, but three supermarkets are significantly cheaper than the others.
| Supermarkets in The Netherlands | Why is this supermarket cheap? |
| --- | --- |
| Aldi | Price discounter; low prices for the entire product range |
| Lidl | Price discounter; low prices for the entire product range |
| Nettorama | Wide range of affordable private label brands |
Aldi, Lidl, and Nettoroma are the three cheapest supermarkets in The Netherlands. Aldi and Lidl are price discounters focusing heavily on low prices for their entire product range. Nettorama has a wide range of affordable private label brands.
Dutch Supermarkets with Online Ordering and Delivery
All premium supermarkets now offer online ordering of groceries and at-home delivery. However, discount supermarkets have not yet made that step, and it remains to be seen if they ever will.
Overview of Dutch supermarkets that offer online ordering and at-home delivery.
Online Supermarkets And Meal-Kit Providers
In addition, there is a new online supermarket called Picnic that only delivers at home. Picnic is rapidly becoming more popular, and their little electric delivery trucks are becoming a regular sight in Dutch cities.
Other alternatives for online grocery shopping in the Netherlands are meal-kit providers like HelloFresh and Marley Spoon. These companies offer pre-prepared meal kits with fresh ingredients and accompanying recipes for (rapidly) cooking your meals at home. I am a big fan of these meal-kit providers because their meals are easy to prepare and boost your creativity in cooking.
The latest development in at-home grocery deliveries in the Netherlands is a company like Gorillas, claiming that they can deliver your groceries within 10 minutes after your online ordering. Their service is available in all major Dutch cities where many expats live.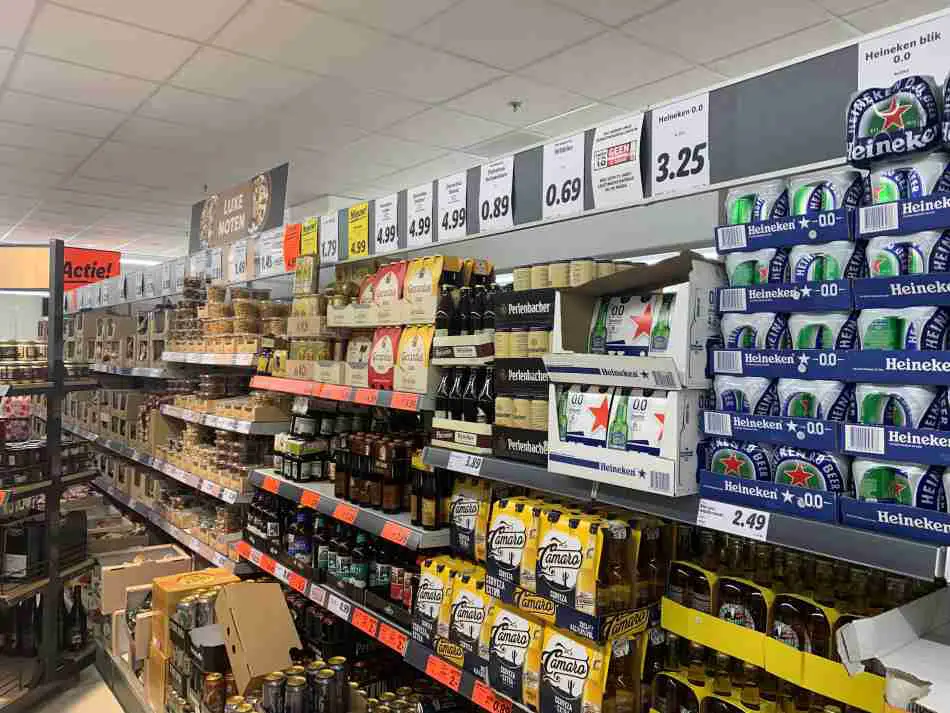 Can You Pay With A Credit Card in Dutch Supermarkets?
Whether you can pay with a credit card in Dutch supermarkets is important because it can cause unnecessary anxiety if you are used to paying for your groceries with a credit card and can't do that in The Netherlands.
You can only pay with a credit card in a few Dutch supermarkets (Jumbo, Dirk, Aldi, Lidl). American Express cards are usually not accepted. However, debit cards and cash are accepted by all Dutch supermarkets and are the preferred payment methods by the Dutch.
So the best advice I can give you is to get yourself a debit card asap or carry enough cash when you get shopping. That will allow you ample opportunity to determine if and where you can still pay with a credit card.
What Else Do You Need To Know About Dutch Supermarkets?
Your groceries will not be bagged at Dutch supermarkets. Plastic bags are available for € 0,50, but the Dutch bring their shopping bags from home and (rapidly) bag their groceries themselves.
Don't expect many parking places near supermarkets. Instead, you better use your bike for shopping, online ordering, and at-home delivery.
You must pay a refundable deposit when you purchase anything in plastic bottles. All supermarkets have automated plastic bottle returns to collect this deposit upon returning the plastic bottles.