Thousands of expats move to the Eindhoven region annually to work for international technology companies like ASML. I was born in Eindhoven and lived in the Eindhoven region for almost 20 years. So, I sat down with my family members who still live in the Eindhoven region to discuss which neighborhoods in the Eindhoven region are best for expats.
The 11 best neighborhoods in Eindhoven for expats are:
| Nr. | Neighborhood / Village in or close to Eindhoven | Neighborhood / Village |
| --- | --- | --- |
| 1 | Meerhoven | neighborhood |
| 2 | Strijp-R (new part of Drents Dorp) | neighborhood |
| 3 | Strijp-S | neighborhood |
| 4 | Elzent-Noord | neighborhood |
| 5 | Schrijversbuurt | neighborhood |
| 6 | Poelhekkelaan | neighborhood |
| 7 | Kortonjo | neighborhood |
| 8 | Son en Breugel | village |
| 9 | Nuenen | village |
| 10 | Geldrop | village |
| 11 | Waalre | village |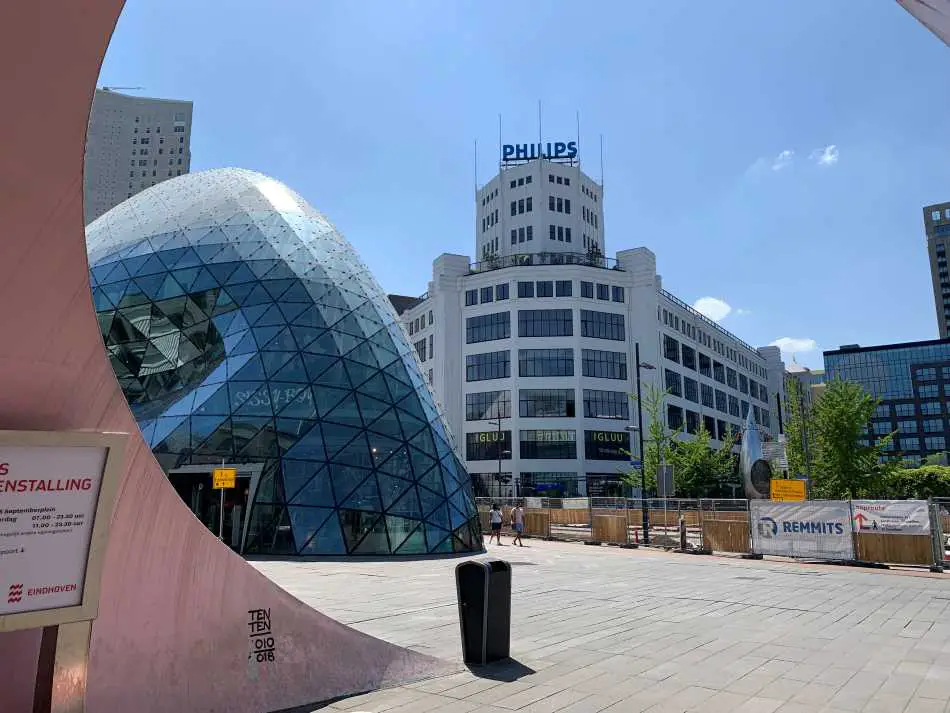 Eindhoven is the fifth largest city in The Netherlands, with ± 240,000 inhabitants in 2021. Eindhoven is much smaller than Amsterdam and Rotterdam but is home to as many expats as Rotterdam. At present, ± 50.000 expats live and work in the Eindhoven region.
The region around Eindhoven is known as the 'Brainport Region' because of its many technology companies like Philips, ASML, NXP, and countless others. These companies enjoy explosive growth and need highly skilled knowledge workers to grow.
As a result, an additional 70,000 highly skilled job openings will become available in the next 20 years, making the Brainport Region one of the most attractive areas in the Netherlands if you are looking for exciting and well-paying jobs.
Eindhoven has recently been selected as one
of the most livable cities in Europe
Eindhoven has recently been selected as one of the most livable cities in Europe, ranking higher than other Dutch cities. The neighborhoods in Eindhoven are a mixture of old and brand-new areas.
In the first part of the 20th century, the older neighborhoods were built when Philips Electronics attracted thousands of workers to work in its factories in the Strijp-S area. The new neighborhoods were built in the last 20 years and blended magnificently.
You will soon feel at home in the Eindhoven region if you find the right neighborhood or municipality to live in. Let me help you find the very best areas in and around Eindhoven.
Eindhoven is a good place to live.
If you are still unsure if you want to move to The Netherlands, you may be interested in reading more about the advantages and disadvantages of living in the Netherlands first.
Where To Live In Eindhoven?
Keep these three factors in mind when selecting a neighborhood in Eindhoven.
1. Where are the international schools in Eindhoven?
There are two large international schools in and around Eindhoven, and their locations are important if you want to send your children to an international school. It is common in the Netherlands for children to bike to school, and living within biking distance of a school will considerably improve your quality of life.
2. How Good Is Public Transportation In Eindhoven?
Public transportation in and around Eindhoven is below average compared to other Dutch cities. Eindhoven is much smaller than these other Dutch cities, and dense public transportation infrastructure is unnecessary.
You can cross Eindhoven on your bike in 30-60 minutes, and you will notice that using bicycles in Eindhoven is widespread.
On the other hand, Eindhoven has superb highway infrastructure around the city, making commuting in and out of Eindhoven by car relatively easy. As a result, traffic jams are not as big of a problem as in the West, although the traffic problem is increasing.
3. Where Does The Expat Community in Eindhoven Live?
The expat community in and around Eindhoven has understood the rationale above very well.
Expat housing in Eindhoven is increasingly concentrated in neighborhoods close to international schools and easy access to highways and train stations.
The Meerhoven expat housing situation is a good example of an excellent expat housing in Eindhoven. In some neighborhoods like Meerhoven, more than 50% of the population are expat families.
For expats, Meerhoven is the best area to buy a house in Eindhoven.
Is Living In Eindhoven Expensive?
At the end of Q2-2022, the average house price in the Netherlands was € 448.000, with an increase of 10.6% in the last 12 months. The housing mania in The Netherlands is cooling down a little even though houses are sold on average in 33 days. Furthermore, 80% of all houses are sold 5-10% above the asking price. The housing market in The Netherlands is still very much overheated, and more cooling down is required.
A recent study by NRC Handelsblad showed that average house prices in and around Eindhoven increased by ± 35% between 2017 and 2020. Since then, the growth in house prices has continued unabated, and annual increases of 10-20% have become standard.
However, another recent study showed that Eindhoven is not as expensive as Amsterdam, The Hague, or Rotterdam, although house prices in Eindhoven are rapidly catching up. House prices in Amsterdam and The Hague are increasing less quickly, while house prices in Eindhoven are still increasing more than in other Dutch cities. The latest data confirm that price increases of houses in the Eindhoven region were a stunning 20 % in 2021.
| Dutch City | Average house prices in the cheapest and most expensive neighborhoods |
| --- | --- |
| Amsterdam | € 260.000 – € 1.125.000 |
| The Hague | € 205.000 – € 865.000 |
| Rotterdam | € 195.000 – € 470.000 |
| Utrecht | € 335.000 – € 570.000 |
| Eindhoven | € 270.000 – € 445.000 |
The ranges in the table above are still wide and do not provide much insight into the diversity of house prices in the Eindhoven region. Therefore, I prepared the table below to help you with the first assessment of house prices in Eindhoven.
For more detailed information about house prices, I advise using the Funda website, which has the best overview of available properties in The Netherlands (see below: The Best Way To House Hunt In Eindhoven?).
| Nr. | Neighborhood | Expensive |
| --- | --- | --- |
| 1 | Meerhoven | ++ |
| 2 | Strijp-R | ++ |
| 3 | Strijp-S | ++ |
| 4 | Elzent-Noord | +++ |
| 5 | Schrijversbuurt | ++ |
| 6 | Poelhekkelaan | ++ |
| 7 | Kortonjo | ++ |
| 8 | Son en Breugel | ++ |
| 9 | Nuenen | ++ |
| 10 | Geldrop | ++ |
| 11 | Waalre | +++ |
None of the better family neighborhoods/villages in and around Eindhoven can be called cheap. The Netherlands is a crowded country, and housing is in short supply. So you will have to pay for quality housing in a good neighborhood.
On the other hand, house prices in Eindhoven are still low compared to popular expat cities like Amsterdam, Londen, or New York City. Moreover, as an expat, you will have a favorable income tax regime for your first five years in The Netherlands, which will help you bid for an attractive house.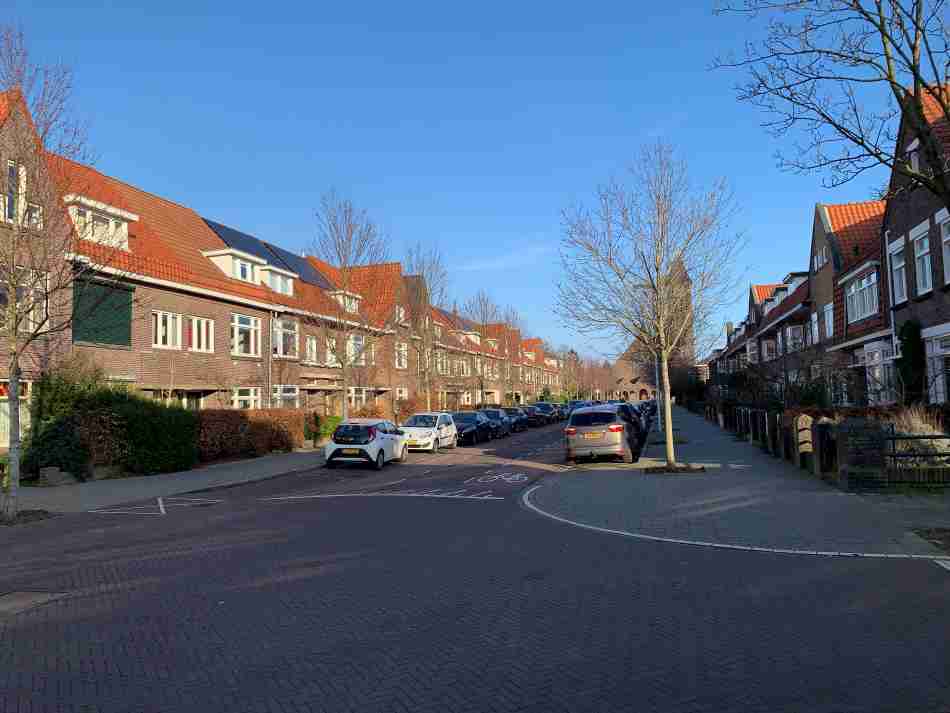 How To Find The Best Areas To Buy A House In Eindhoven?
Funda is the best website in The Netherlands to look for housing is Funda, and I strongly advise you to use this website to orient yourself to the Dutch housing market.
I have looked at Funda for decades and have been searching for houses in several Dutch cities. However, what struck me in Eindhoven was the low number of homes for sale. I believe that this reflects the tight housing market in and around Eindhoven.
Check out the Funda link below to overview all houses for sale in and around Eindhoven.
Check this Funda link if you want a rental property in and around Eindhoven.
Map Of The 11 Best Neighborhoods In Eindhoven?
You can find the best areas to live in Eindhoven on the map below.
11 Best Neighborhoods In Eindhoven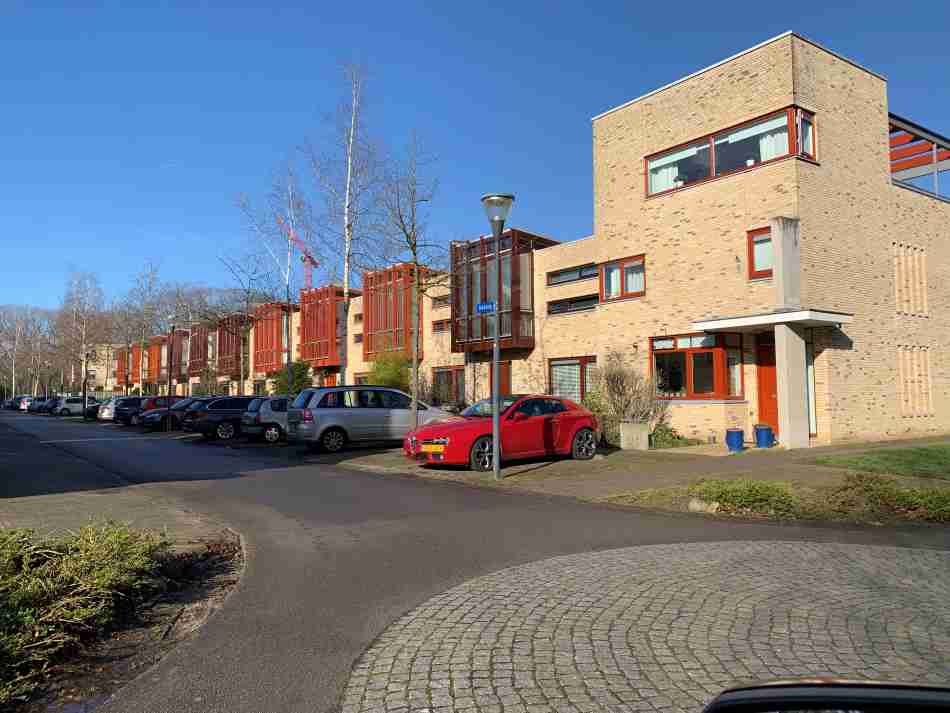 1. Meerhoven
Meerhoven is a neighborhood on the western edge of Eindhoven, built in the late 1990s. Meerhoven is a modern, friendly neighborhood characterized by wide streets with plenty of trees, spacious single-family homes in warm colors, and a vast park in the middle.
Meerhoven is the ultimate expat neighborhood in Eindhoven because more than 50% of its population is already of foreign origin, and 80% of its houses are sold to expats.
The interest of expats in Meerhoven is understandable because the houses are all new, and the location of Meerhoven is fantastic, in between large technology employers like ASML, the International School, Eindhoven airport, and with excellent highway access.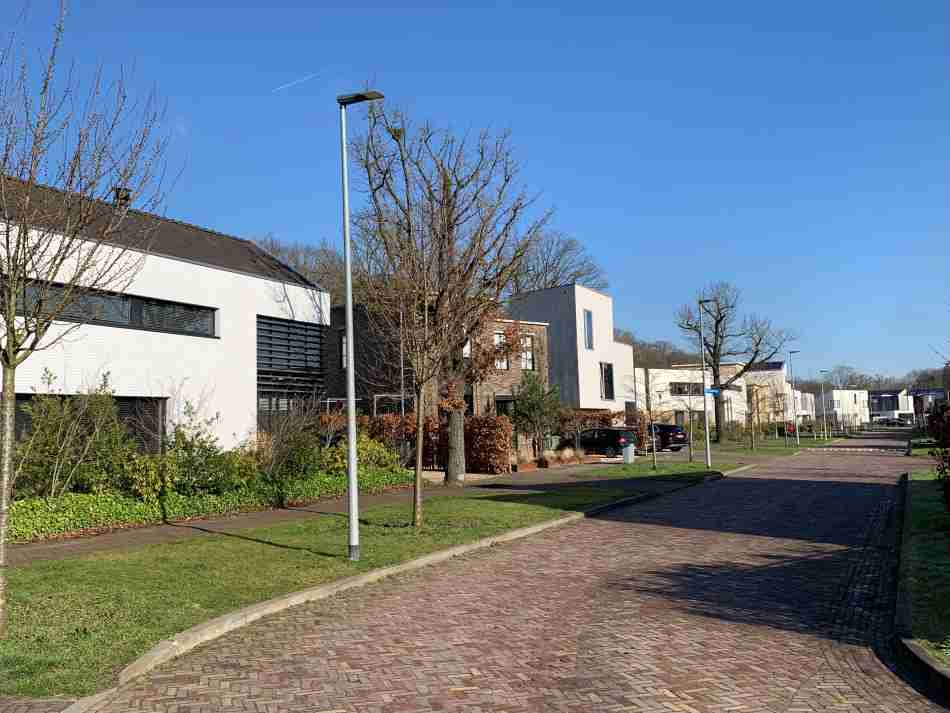 2. Strijp-R
Another brand new neighborhood in this corner of Eindhoven is the new part of Drents Dorp, sometimes referred to as Strijp-R. These houses were built in the last few years and are close to the International School.
Strijp-R lies next to beautiful parks (Philips de Jong Park and the Wielewaal) and is within walking distance of the Strijp-S railway station. Access to the highways is also fantastic.
Strijp-R is adjacent to the Strijp-S neighborhood, the hippest area in Eindhoven (see below), with plenty of cultural and gastronomic opportunities. Strijp-R is a perfect neighborhood for expat families looking for a modern house.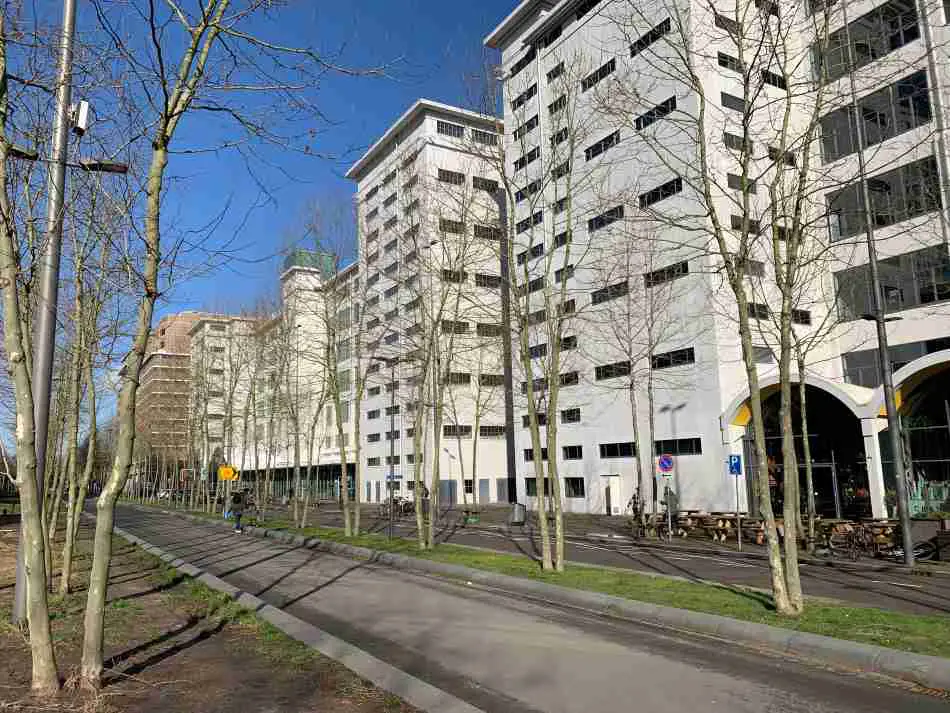 3. Strijp-S
In the previous century, Strijp-S was an area filled with factories of Philips Electronics, the largest employer in Eindhoven at the beginning of the last century. However, this formerly industrial area has been completely renovated and is now home to numerous creative entrepreneurs, cultural activities, and plenty of food and beverage outlets.
For example, the former Philips Research Laboratory (where my father started his career in 1953) has become a restaurant and cinema. Strijp-S lies next to the center of Eindhoven but still has a railway station.
Strijp-S is a fantastic trendy area for young expats in Eindhoven, but the drawback is the ongoing building and renovations everywhere. For those interested, the football stadium of PSV Eindhoven is within walking distance.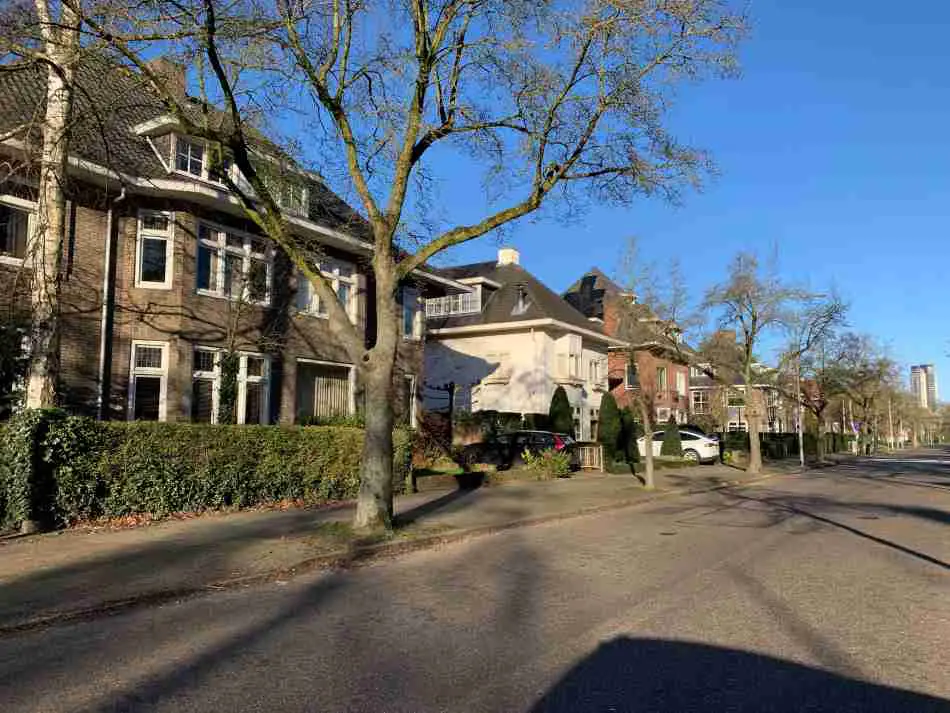 4. Elzent
Elzent is a gorgeous residential area with stately villas in a chic park-like setting with a monumental yet residential atmosphere. The Elzent-Noord neighborhood has wide streets, extensive front gardens, and lovely parks. The Elzent-Zuid area is also excellent and even closer to the city parks.
The Dutch love this style of architecture, but be aware that most houses are about 100 years old and will require significant maintenance. The center of Eindhoven is within walking distance, but access to the highways is not easy. Elzent is one of Eindhoven's best and most expensive residential areas.
5. Schrijversbuurt
The Schrijversbuurt is a more affordable, quiet neighborhood in the Gestel district, adjacent to Elzent-Noord but on the other side of the Dommel River. The good part is that the Schrijversbuurt borders the same parks as Elzent-Noord and Elzent-Zuid, providing a green getaway for those living there.
The Schrijversbuurt is a balanced mixture of detached houses, single-family homes, and apartment blocks. Schrijversbuurt is less stately and as inner-city as it gets in Eindhoven, but prices are still reasonable. In addition, the Eindhoven city center is within biking distance, and highways are relatively easy to reach.
The Schrijversbuurt earned a well-deserved top 10 spot in the prestigious "best neighborhoods of The Netherlands" competition in 2022.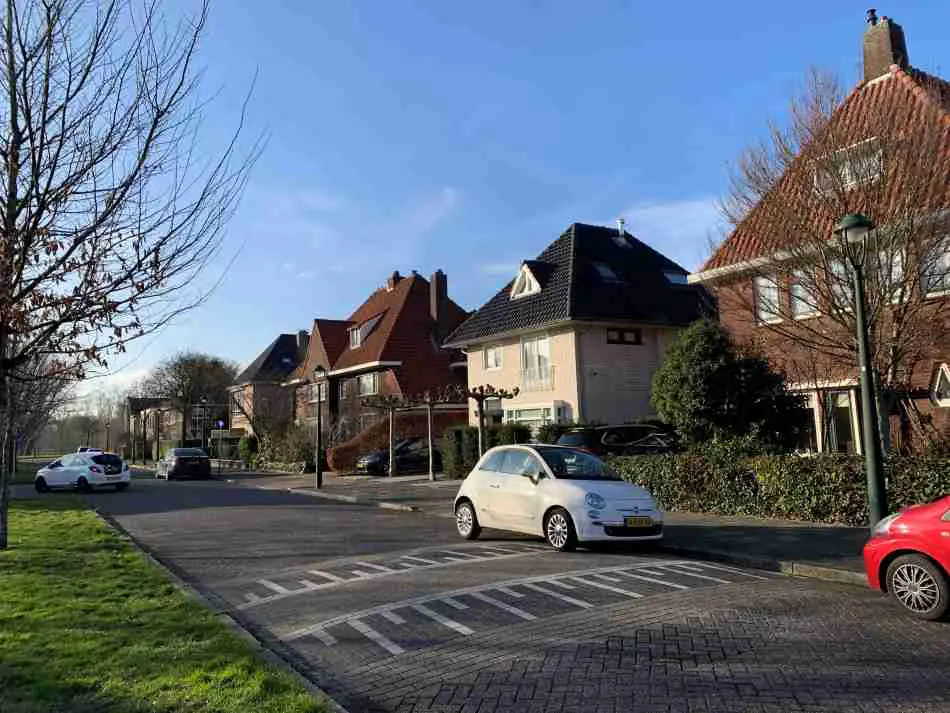 6. Poelhekkelaan
The neighborhood around the Poelhekkelaan is built in an architectural style deeply beloved by the Dutch. On a personal note, this is the neighborhood where I was born. The Poelhekke area belongs to the Stratum district between the Technical University Eindhoven and the High Tech Campus.
The Poelhekke neighborhood is a mixture of single-family homes and detached villas. Look at the other (eastern) side of the Aalsterweg around the Gerardus church if you want to live in this area but are looking for more budget-friendly housing.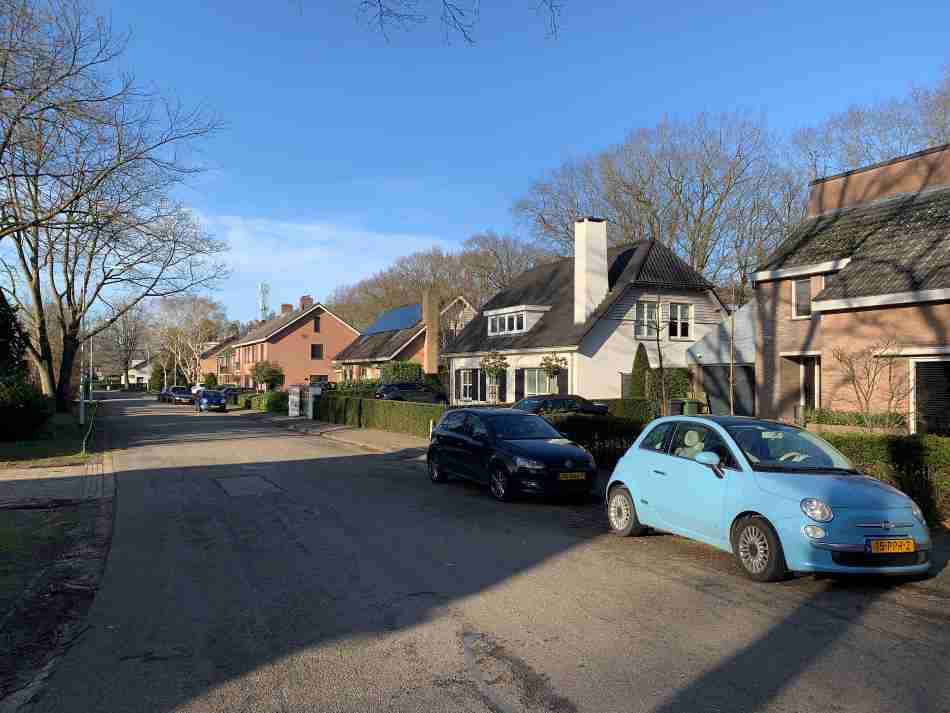 7. Eikenburg & De Roosten
Eikenburg en de Roosten are two adjacent neighborhoods located a little bit more to the south, and these two neighborhoods are among the best neighborhoods of Eindhoven, with wide streets and plenty of green.
De Roosten, in particular, is an interesting option for expat families with its charming villas and quiet green streets. Children can play on the street here without constant fear of cars. Eikenburg is a little more affordable but still very green, quiet, and excellent for expat families.
The High Tech Campus and ASML are within biking distance, and highway access is easy. Therefore, Eikenburg & De Roosten are excellent neighborhoods for expat families.
8. Aalst-Waalre
Aalst-Waalre is a gorgeous municipality surrounded by forests and heathlands but still very close to Eindhoven. As a result, Aalst-Waalre comes as close to outdoor living as you can get in the Eindhoven region.
Unfortunately, the local amenities are limited in Waalre, and you must shop in Aalst. Ekenrooi is one of the most attractive and affordable neighborhoods in Aalst-Waalre.
Access to highways is somewhat difficult, and Aalst-Waalre has no train station, but that is what you want if you decide to live in Aalst-Waalre. Living in Aalst-Waalre is an excellent option if you work at or near the High Tech Campus because you only need a commute of 15 minutes on your bike.
You can also check out Valkenswaard, a much larger municipality south of Waalre, if you want to live in this part of the Eindhoven region.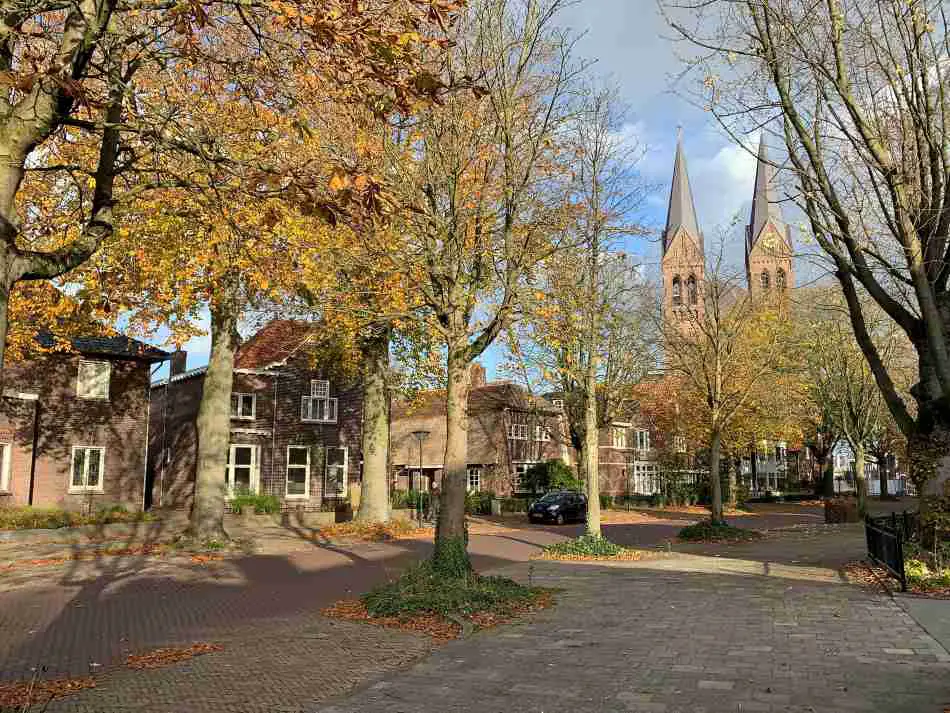 9. Geldrop
Geldrop is a charming municipality on the southeast side of Eindhoven with easy access to the highway, and only a 10-minute train ride away from the center of Eindhoven. Geldrop has incorporated elegant architecture into its quaint center and is a favorite among expats due to its many amenities.
If you hop on your bike, you are minutes away from forests and heathland. In addition, the High Tech Campus and ASML are easy to reach by car, while the Technical University is also within biking distance.
There are several attractive neighborhoods in Geldrop for expats. Therefore, I highly recommend investigating Geldrop as a possible location for your new home in the Eindhoven region.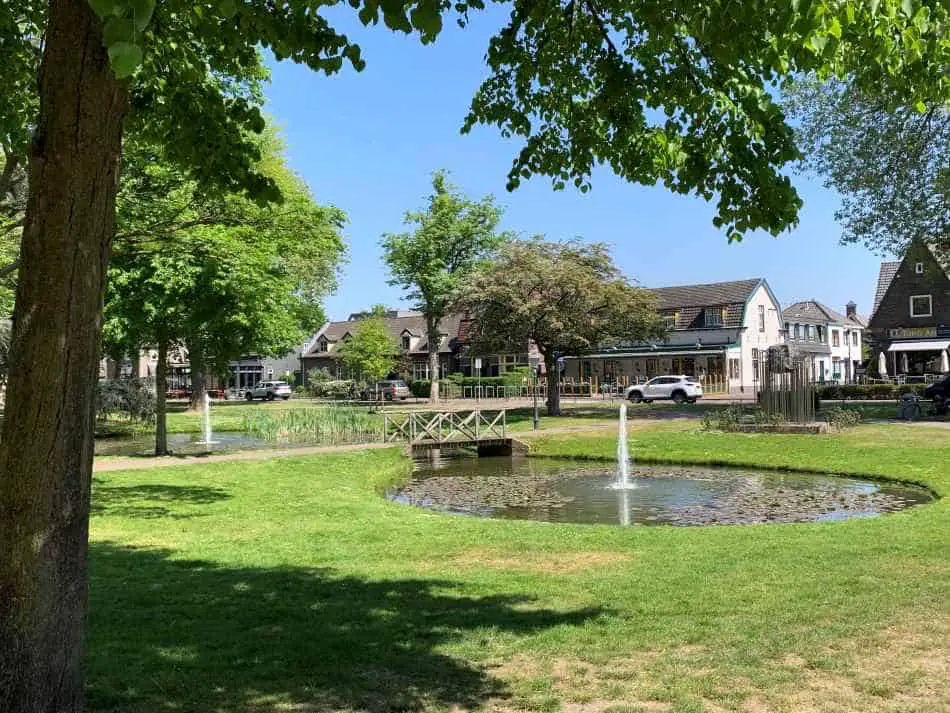 10. Nuenen
Nuenen was once the home of the world-famous Dutch painter Vincent van Gogh, who painted his masterwork The Potato Eaters in Nuenen. Nuenen is proud of its heritage but has developed into a modern village with many up-to-date local amenities.
Nuenen has a charming village center with many restaurants, including De Lindehof, with 2-Michelin stars. Although Nuenen is a lovely village to live in, reaching the High Tech Campus or ASML in Veldhoven from Nuenen is not easy.
Therefore, Nuenen is more suitable for those working or studying at the Technical University Eindhoven.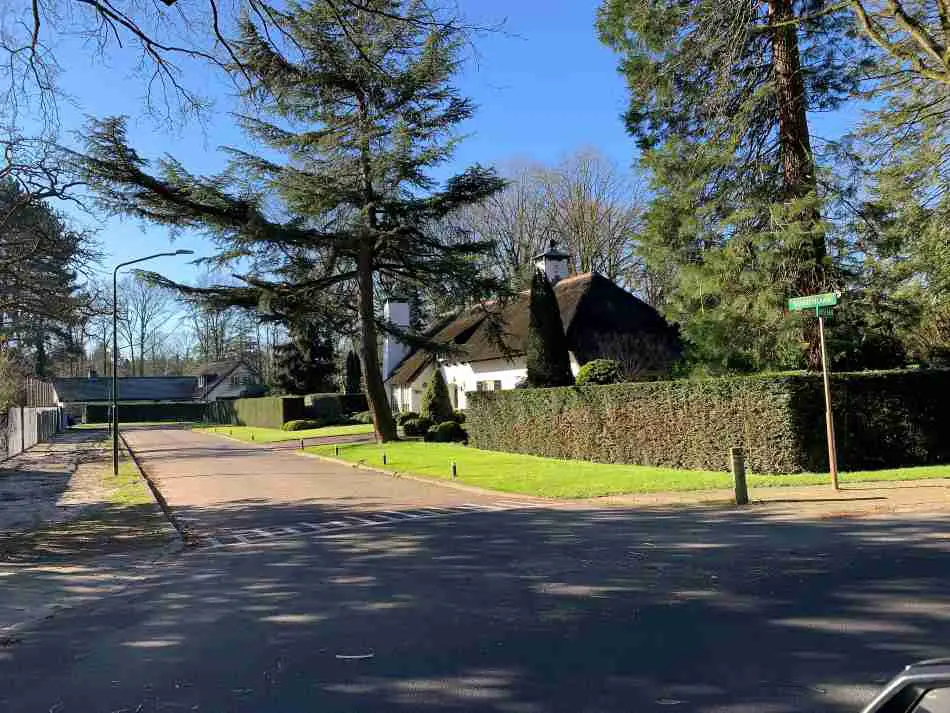 11. Son en Breugel
Son en Breugel is one of those typical villages around Eindhoven with a pleasant mix of tranquility and social cohesion yet close enough to the amenities of Eindhoven. Son en Breugel has excellent access to the highways but does not have a railway station.
Son en Breugel is a good option for those working or studying at the Technical University Eindhoven, but ASML and the High Tech Campus can easily be reached by car. Unfortunately, public transportation is not excellent, so you must have an e-bike to get to the Eindhoven center quickly.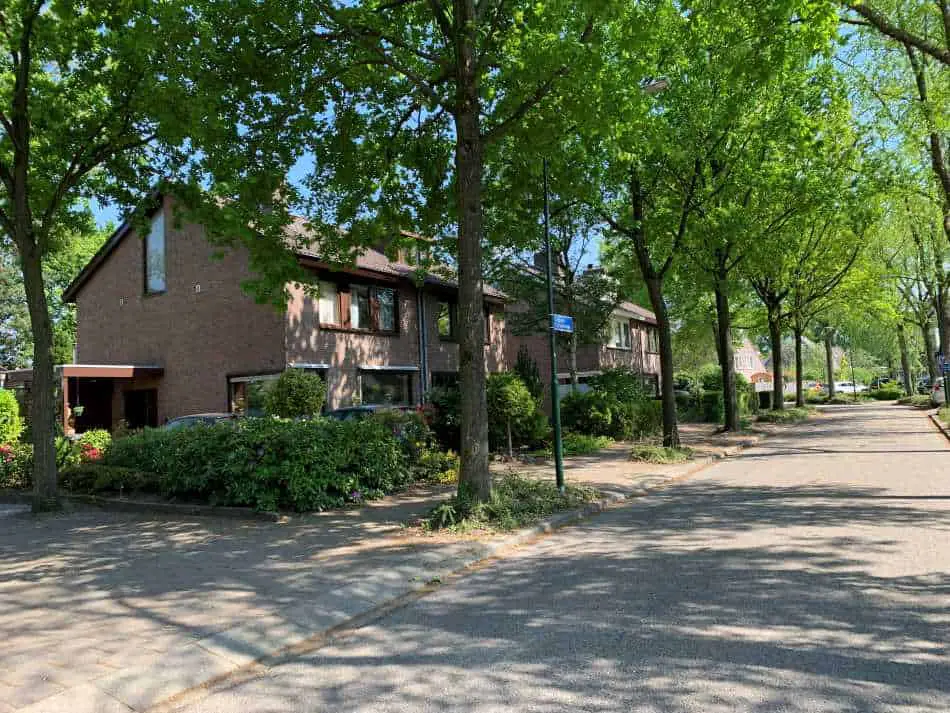 What Are Bad Neighborhoods In Eindhoven?
Eindhoven has specific neighborhoods where you don't want to live. Eindhoven is not a very diverse city, but you better avoid some bad areas in Eindhoven.
Some bad neighborhoods in Eindhoven are:
Hanevoet
Vaartbroek
Oud-Woensel
Oud-Tongelre
You do not want to live in these four neighborhoods in Eindhoven.
Is Eindhoven Safe?
The Netherlands is a relatively safe country compared to other Western European countries. However, the dark blue towns on the map below indicate more criminality.
Eindhoven is one of the safer cities in The Netherlands, although it is not immune to criminality, being the fifth-largest Dutch city.
Like any other town, watch out for pickpocketing and avoid some notorious neighborhoods in Eindhoven.
Eindhoven is safe at night, provided you know which areas in Eindhoven to avoid.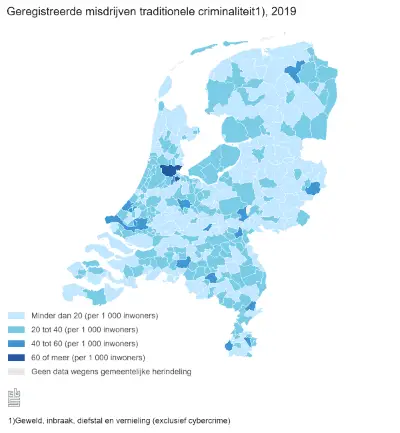 Bike theft is a severe problem in The Netherlands, especially in major cities. A large part of the crime rate in the Netherlands is due to the theft of bikes. Approximately 0.5 million bicycles are estimated to be stolen annually out of the 18 million bikes in total. The more expensive e-bikes are most popular among thieves, and you should lock your e-bike securely if you are not using it.
Watch out for pickpocketing in bigger cities. Protecting your wallet carefully in a big city like Eindhoven is a matter of common sense. It is common sense to avoid some bad neighborhoods in Eindhoven (see above) in the evenings and at night.
Living in Eindhoven Vs. Living In Other Dutch Cities
Eindhoven is scoring consistently high in rankings about attractive places in The Netherlands for expats to live and work.
Eindhoven scores higher among expats than other Dutch cities. The benefits of smaller cities are more appreciated. Smaller cities like Eindhoven offer more space, social cohesion, and tranquility.
For example, Eindhoven ranked second in a Quality of Life Index published by Numbeo, higher than any other Dutch city.
ECA has recently also selected Eindhoven as one of the most livable cities in Europe, ranking higher than many other Dutch cities. Foreign workers can quickly adapt to cities like Eindhoven, with its excellent transportation links, high standards of health care, and long-term political stability in The Netherlands.
Last but not least, Eindhoven was also included in the top 20 of the world's best small cities because Eindhoven offers an outstanding balance between social and cultural diversity and quaintness. Although Eindhoven may not be the prettiest place in the world, it makes up for in opportunity what it lacks in beauty. Eindhoven offers an economy based on innovation, with tremendous support for start-ups and the creative industry.
How To Get A Good First Impression Of Eindhoven?
Check out this YouTube video, the best video about Eindhoven there is.
Best Neighborhoods In Other Dutch Cities
Check out the links below if you want to live in another Dutch city. First, however, you must steel yourself for a significant commute with many traffic jams to reach your job in the Eindhoven region.