Thousands of expats move to Rotterdam to work for international companies or organizations yearly. I live close to Rotterdam and come there often because my daughter lives in Rotterdam. So we invited a group of her friends who all live in Rotterdam to discuss which neighborhoods in Rotterdam would be the best neighborhoods for expats.
Schiebroek
Hilligersberg
Oude Noorden
Crooswijk
Kralingen
Prinsenland
City Center
Kop van Zuid
Katendrecht
Delfshaven
Blijdorp
Rotterdam is the second-largest city in The Netherlands with approximately 630.000 inhabitants, among which ± 30.000 expats. There are about 70 neighborhoods in Rotterdam, making it hard for expats to choose which area in Rotterdam they want to live in.
You will soon feel at home in Rotterdam if you find the right neighborhood. Read on to find out what you should look for and avoid while house hunting in Rotterdam.
If you are still unsure if you want to move to The Netherlands, you may be interested in reading 11 pros and cons of living in The Netherlands first.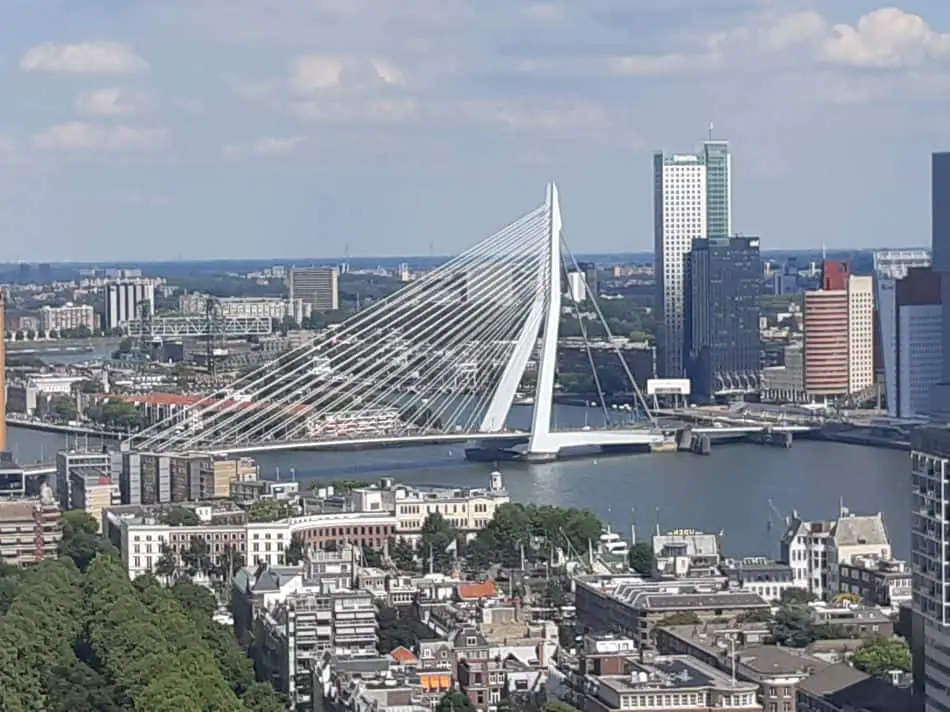 Rotterdam is unlike any other Dutch city. The difference between Rotterdam's modern city center and the older charming neighborhoods surrounding the city center is a contrast not seen in any other Dutch city.
Rotterdam is a different city because the center of Rotterdam was destroyed during the Second World War. However, Rotterdam used the opportunity to introduce modern and innovative engineering and architecture when rebuilding its center.
The Erasmus Bridge and the Markhal are beautiful examples of this innovative architecture. The combination of this modern creative, forward-looking city center with the charming other neighborhood makes Rotterdam a wonderful city.
Where To Live In Rotterdam?
Consider the following seven factors to decide where to live in Rotterdam.
Do you want your children to attend an international school?
Do you need easy access to the highways?
Realize that Rotterdam has an excellent public transportation system
Think about distances in Rotterdam in terms of biking distances
Check out the waiting lists for parking permits in your neighborhood
How close is this neighborhood to Rotterdam Airport?
Consider living outside Rotterdam and commuting to Rotterdam.
1. Do You Want Your Children To Attend An International School?
There are several international schools in Rotterdam which you can find on the map above.
Be aware that the Netherlands does not have a bus system that transports children to and from school campuses. A school bus system is unnecessary because public transportation in The Netherlands is excellent.
If you want your children to attend international schools in the city center of Rotterdam, you may consider living close to one of the many train or metro lines that cross the city center.
Alternatively, you may want to select the option of Dutch families. Dutch children hop on their bikes and ride to school, making managing school life convenient for them and their parents. Unsurprisingly, the area and neighborhoods close to the international schools in Rotterdam are popular areas for expat families to live in Rotterdam.
2. Do You Need Easy Access To The Highways?
Easy access to the highways may be necessary for some expats. However, traffic around Rotterdam can be horrendous, and you need to be aware of this when selecting a neighborhood in Rotterdam.
The traffic problem is one reason the areas above the A20 highway are popular with expat families. These neighborhoods all have excellent access to the A20 highway.
Don't despair if you rather live in a fancy modern apartment in De Kop van Zuid and enjoy the view of the fantastic skyline of Rotterdam. You can still do that because Rotterdam's public transportation is superb and will bring you and your children where you need to be fast.
3. Consider Rotterdam's Excellent Public Transportation System.
Rotterdam has an excellent public transportation system, probably the best of any Dutch city. For example, Rotterdam has a metro network that is much more extensive than Amsterdam's metro network, and Amsterdam is the only other Dutch city with a metro.
In addition, trams will bring you to every possible neighborhood inside Rotterdam, where the metro cannot get you.
The high-speed metro to The Hague, called Randstad Rail, is also fantastic, and trains from Rotterdam Central Railway Station will bring you everywhere in The Netherlands where you need to be.
Last but not least, a new metro line now connects Rotterdam with the beach of Hoek van Holland, one of the best beaches in The Netherlands. That is a fantastic extension of an already great public transportation system.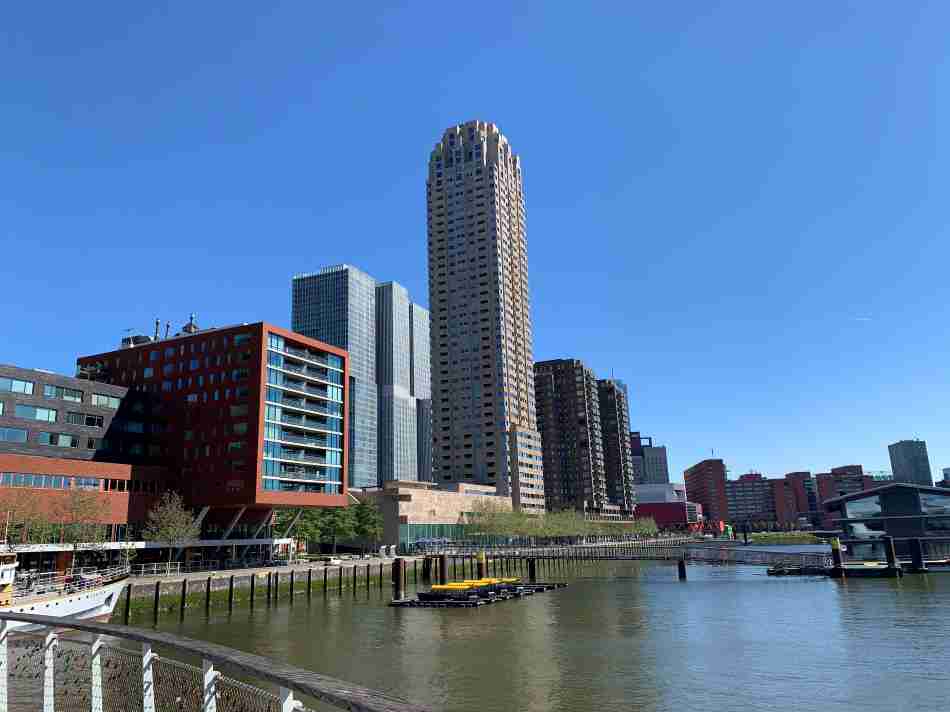 4. Think About Distances In Rotterdam In Terms Of Biking Distance
Even though Rotterdam's public transportation system is superb, biking is even more convenient. Traffic in Rotterdam can be horrendous, and parking in and around the city center of Rotterdam is incredibly expensive. So, do like the Dutch, and get yourself a bike as soon as you arrive in Rotterdam.
For example, don't expect many parking spots near supermarkets in Rotterdam. Instead, you may want to get used to grocery shopping by bike or at-home delivery. There is a reason there are more bikes (20 mln) than inhabitants (17,2 mln) in The Netherlands.
5. Check Out The Waiting Lists For Parking Permits
You will need a parking permit in virtually every neighborhood in Rotterdam. The waiting list for a parking permit in Rotterdam is at least 4-8 weeks. That is not as long as the waiting lists for parking permits in Amsterdam, but still rather long if you intend to stay for a year in Rotterdam.
So don't forget to keep parking space in your mind while house hunting. The modern apartment blocks in Kop van Zuid often have a private parking garage which would solve the parking problem for you.
6. How Close Is This Neighborhood To Rotterdam Airport?
If you want to live in the excellent neighborhoods north of the A20, Hilligersberg, and Schiebroek, you must check if you are bothered by the planes departing and landing at Rotterdam Airport.
Usually, western winds are blowing in The Netherlands, causing planes to leave in the direction of the west, and then you will not be bothered by the noise in these Rotterdam neighborhoods. On the other hand, the landing planes are less noisy but will come over the northern parts of these neighborhoods.
Therefore, spend some time in these neighborhoods to find out how much you are bothered by the noise of the planes. Rotterdam Airport is not a very busy airport like Schiphol Amsterdam, but you should check this out.
7. Consider living outside Rotterdam
Consider living outside Rotterdam with your family in the neighborhood of an international school and commuting to your work in Rotterdam by public transportation. It takes about 30 minutes to commute from the center of The Hague to the center of Rotterdam if you use the fantastic Randstad Rail.
There are much more international schools around The Hague (see below), and commutes in The Netherlands by public transportation are undoubtedly doable.
Map Of 11 Best Neighborhoods in Rotterdam
Below you will find a map with the ten best neighborhoods of Rotterdam.
What Are The 11 Best Neighborhoods in Rotterdam?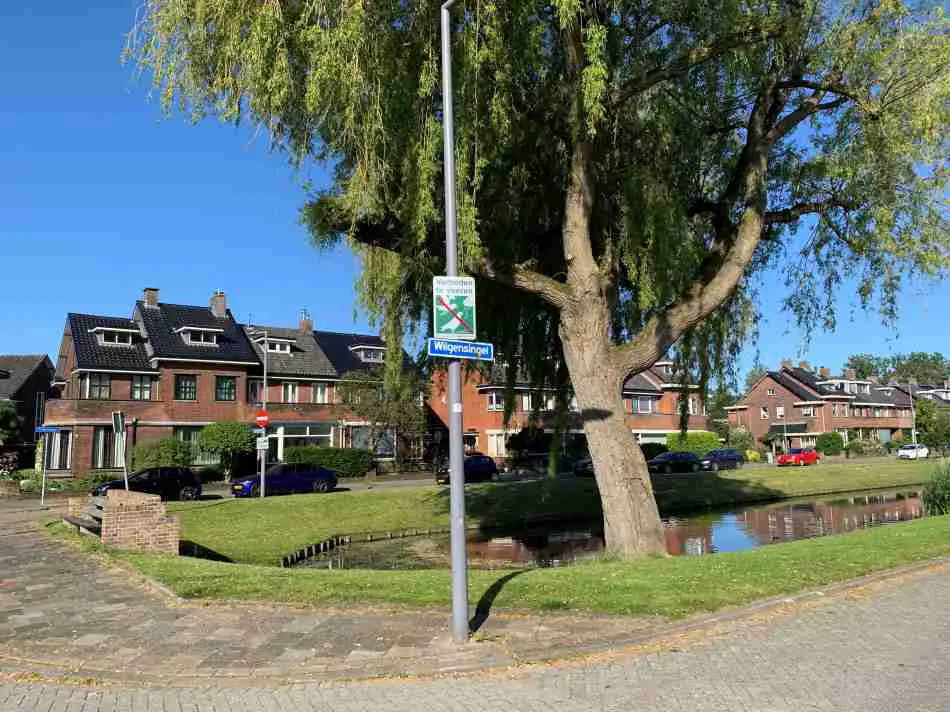 1. Schiebroek
Schiebroek is a lovely green suburb surrounded by parks and recreational areas. The northern part of Schiebroek is the most attractive, with plenty of single-family homes and relatively close to an international school. In the southern part of Schiebroek, there are more apartment blocks.
Schiebroek is more affordable than neighboring Hilligersberg. Public transportation in Schiebroek is excellent, with two metro stations of the RandstadRail. Within 10 minutes, you will arrive in the center of Rotterdam.
The disadvantage of Schiebroek is that it is just below Rotterdam Airport, and you need to find out how that works for you. Parking is relatively easy.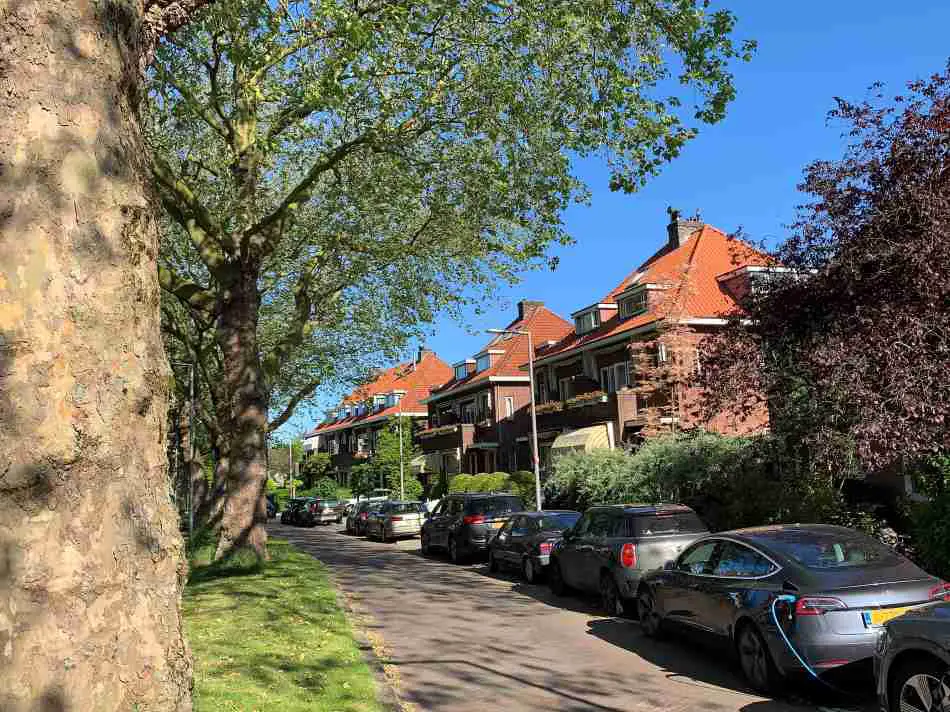 2. Hilligersberg
Hilligersberg is a stately neighborhood with a monumental yet residential atmosphere. Hilligersberg is a lovely green neighborhood between several gorgeous little lakes and the river Rotte and Rotterdam's most beautiful area.
The location of Hilligersberg allows easy access to the highway, and public transportation is excellent, with two metro stations of the Randstadrail for rapid transit to Rotterdam Center or The Hague. In addition, the Nord Anglia International School is located in the northern part of Hilligersberg.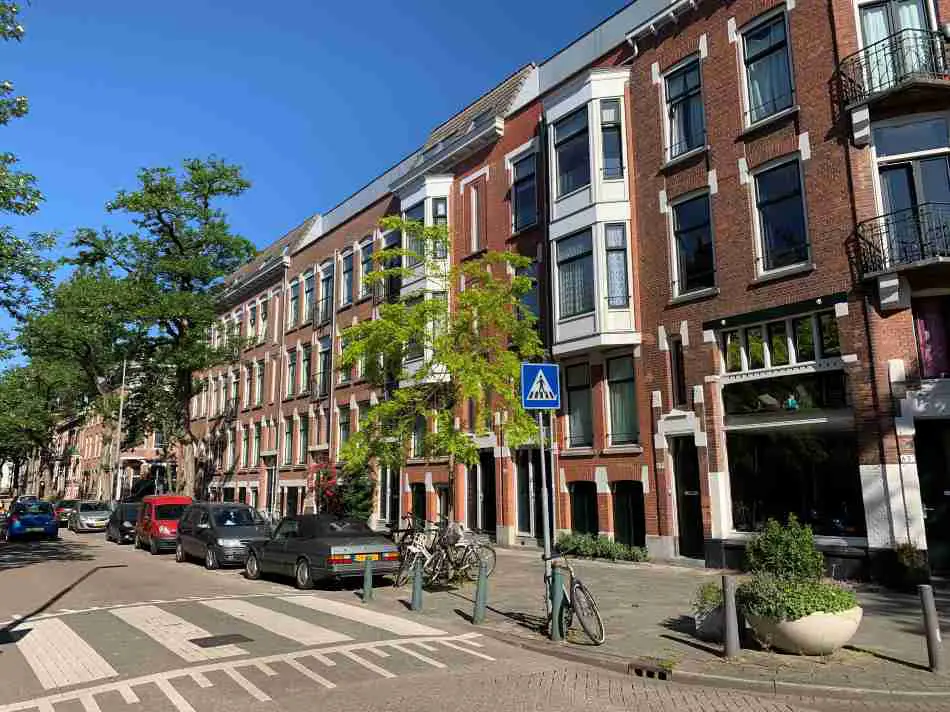 3. Oude Noorden
Het Oude Noorden is an inner-city neighborhood north of Rotterdam, bordering the A20 highway. Het Oude Noorden was not destroyed during the Second World War, and its distinctive pre-war atmosphere is still present. Het Oude Noorden is one of the most compact neighborhoods in Rotterdam.
Het Oude Noorden has been upgraded tremendously in the last few decades because of massive restorations, almost always in the original style, making it a charming neighborhood.
Housing prices and rents in het Oude Noorden are rapidly rising due to its increasing popularity but are still reasonable compared to other areas in Rotterdam.
The southern part of het Oude Noorden, called Provenierswijk, is located between the Rotterdam International Secondary School and the Central Railway Station. Unsurprisingly, this residential area is popular with expat families to live in.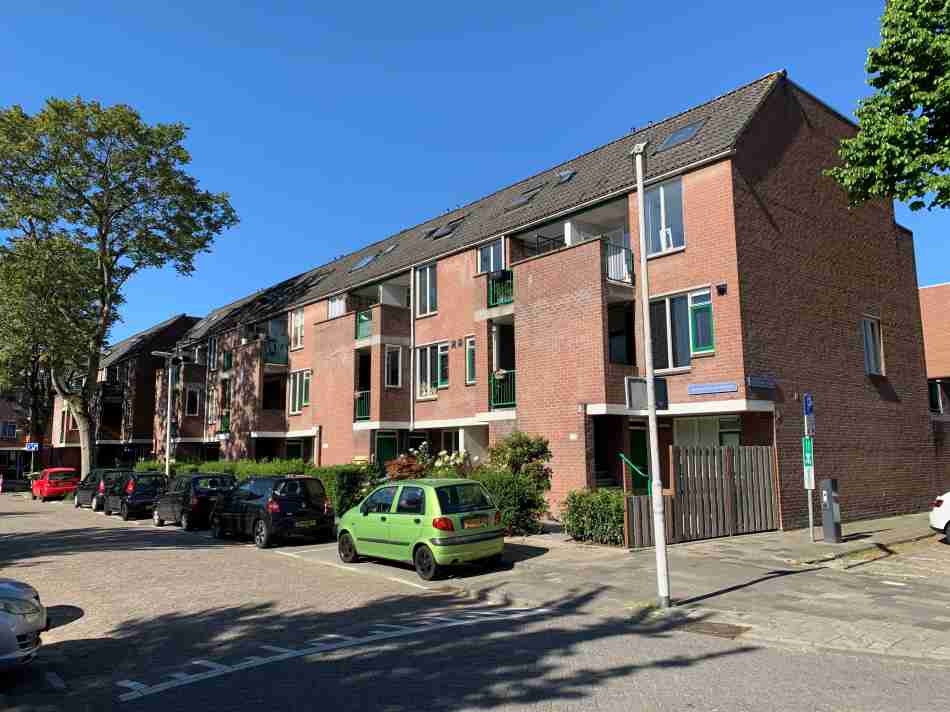 4. Crooswijk
Crooswijk was not destroyed during the Second World War, yet it has a more modern-looking architecture and atmosphere. It is also one of the more compact inner-city-like neighborhoods of Rotterdam.
In some way, Crooswijk used to be the quintessential heart of Rotterdam, built in the second part of the 19th century and as hard-core Rotterdam as possible.
For expats, the advantage of Crooswijk is its location between the city center of Rotterdam and the A20 highway, making it a reasonable compromise. The best part of Crooswijk is Nieuw-Crooswijk in the northern part of this neighborhood. Nieuw-Crooswijk is rapidly becoming more popular with young families.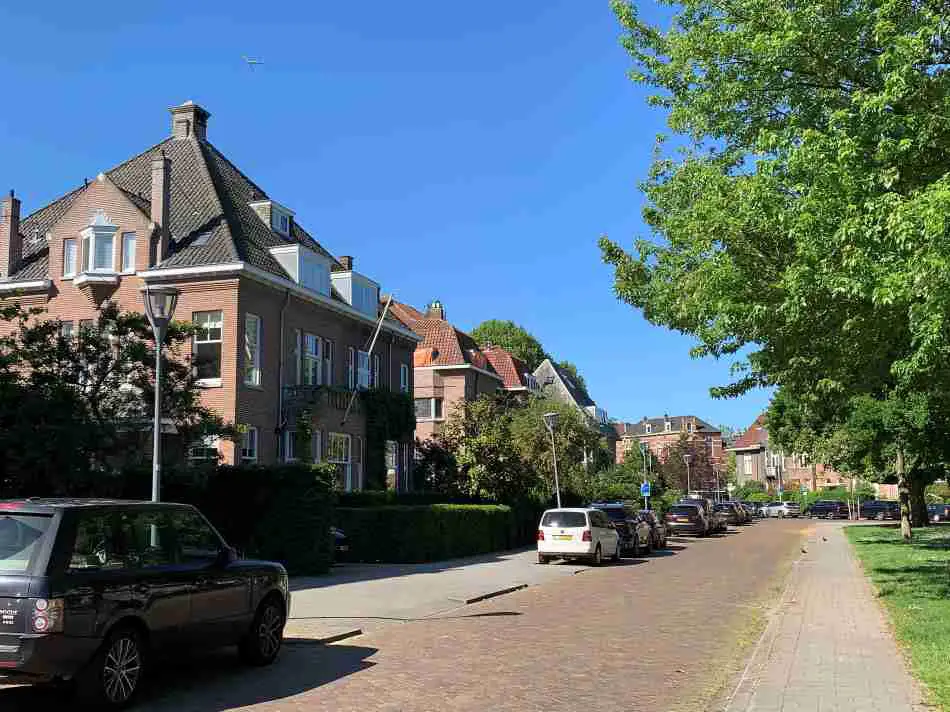 5. Kralingen
Locals regard Kralingen as one of the best neighborhoods in Rotterdam. Some parts of Kralingen are fantastic, but you have to find the part of Kralingen that is right for you. The good news is that the lesser parts of Kralingen are still much better than many other neighborhoods in Rotterdam.
Kralingen is a quiet green neighborhood that is very well-suited for families. Many expat students also live in Kralingen because the campus of Rotterdam University is in the eastern part of Kralingen.
That gives a friendly international vibe to Kralingen. The area around the lake and park are the best part of Kralingen. In addition, Kralingen has excellent access to the highways.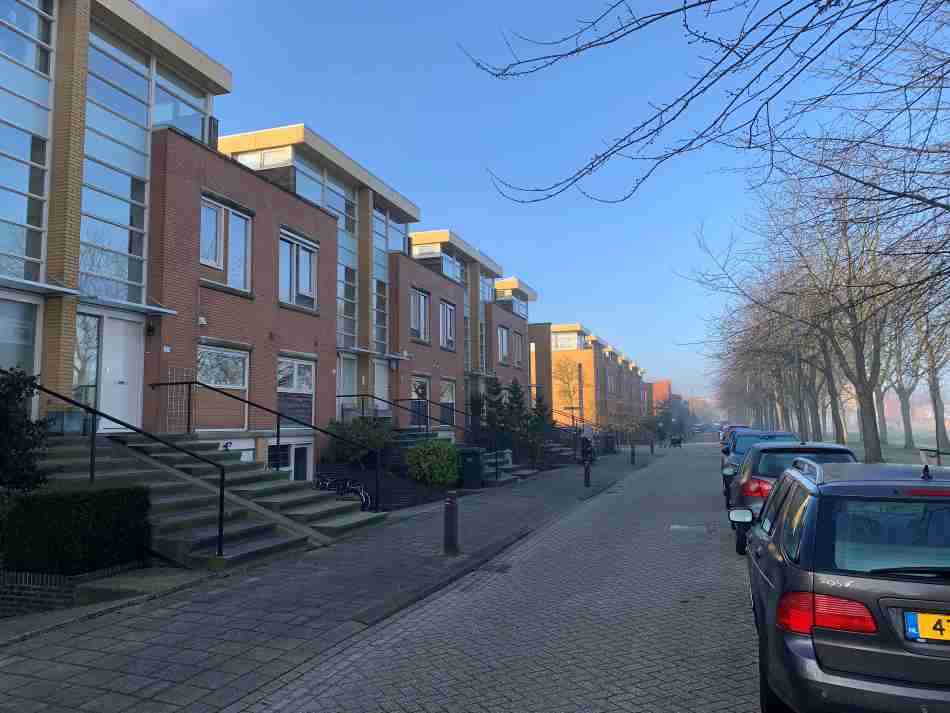 6. Prinsenland
Prinsenland is a wide, green, relatively modern neighborhood just east of the A16 highway. Prinsenland is ideally located for expats working or studying at the Erasmus University Rotterdam because the university campus, Woudenstein, is within 10-15 minutes of biking distance. Furthermore, access to the A16 highway is fantastic, and the center of Rotterdam can easily be reached by metro.
Prinsenland is unlike many other Rotterdam neighborhoods built only 20-50 years ago. This neighborhood has a vast park with amenities for the youngest, teenagers, and families. Prinsenland offers a mix of single-family homes and low- and high-rise apartment buildings with relatively affordable housing prices.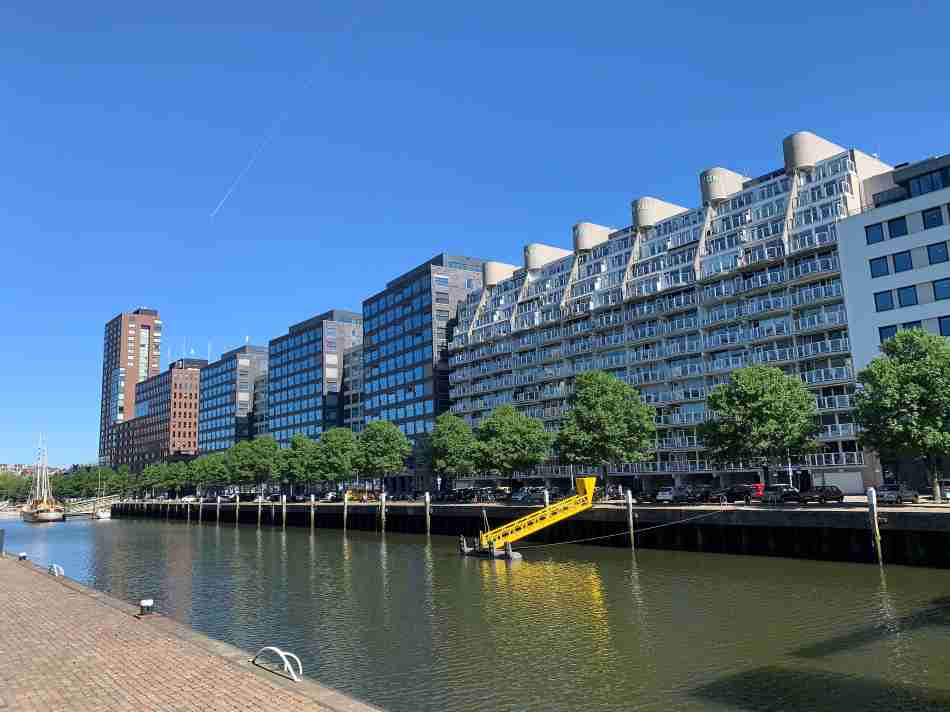 7. City Center
The City Center is the most cosmopolitan part of Rotterdam. And you may be able to find that apartment with a beautiful view of the Erasmus Bridge and the skyline of Kop van Zuid. The center of Rotterdam is a fantastic place to live for young single expats and expat couples, but it will be expensive.
However, you will live where the action is, with plenty of bars, restaurants, terraces, shopping areas, and cinemas around the corner.
The city center of Rotterdam is unlike any other center of Dutch cities but a wonderful place to live. However, parking in the city center will be a disaster unless you find an apartment with a private parking space.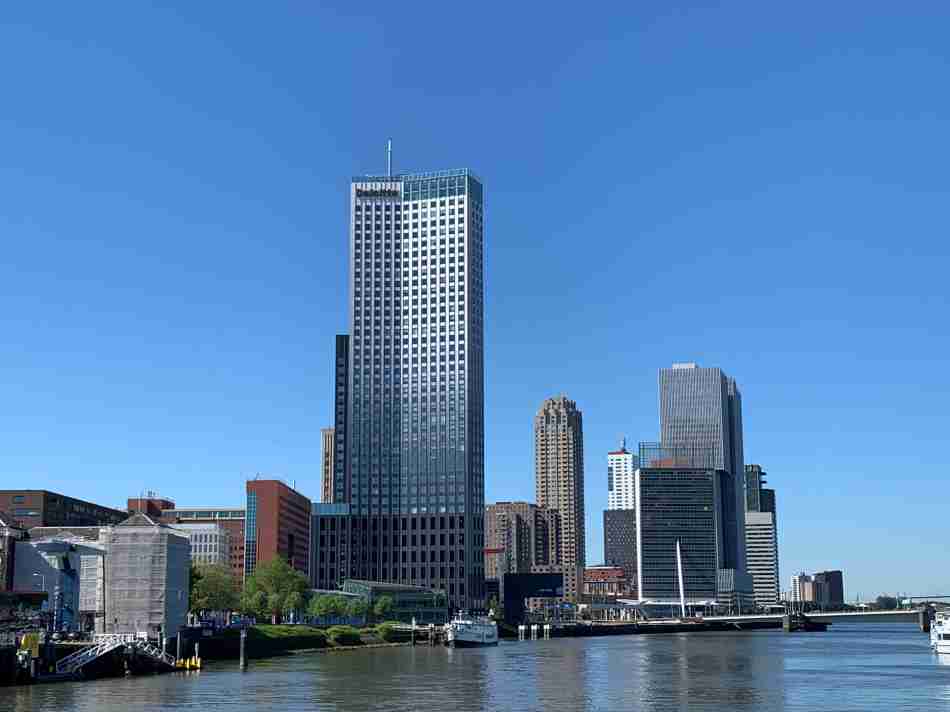 8. Kop Van Zuid
The Kop van Zuid is located just south of the Meuse, opposite the city center. The Kop van Zuid is a neighborhood with an exciting mixture of newly built skyscrapers with historic buildings like Hotel New York.
The combination of modern apartments with plenty of restaurants, bars, and theaters makes the Kop van Zuid an attractive neighborhood for many young couples or single expats.
Housing in Kop van Zuid is among the most expensive in Rotterdam. The view over the skyline of Rotterdam is fantastic. You will be in the center of Rotterdam in less than 5 minutes with the Randstadrail or biking over the Erasmus bridge. Access to the highways is less good.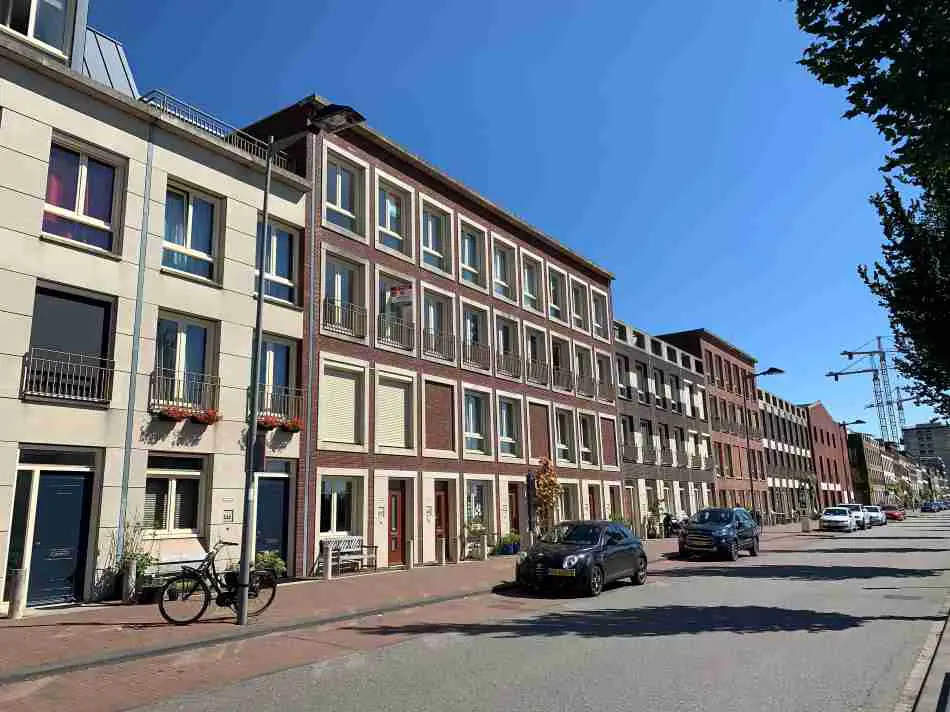 9. Katendrecht
Katendrecht used to be a less reputable neighborhood of Rotterdam, but Katendrecht is following the playbook of Kop van Zuid, and many renovations have upgraded this neighborhood.
As a result, Katendracht is rapidly becoming one of the hottest neighborhoods in Rotterdam, and it is still less expensive than Kop van Zuid.
The best parts of Katendrecht are on the waterfronts, and the bridge for pedestrians and bikers to the Kop van Zuid provides easy access to the bars and restaurants. The disadvantage of Katendrecht is that you must cross the lesser Rotterdam neighborhoods to reach Katendrecht.
Public transportation in Katendrecht is also less good, and highway access will not be easy. Therefore, you will need your bike if you live in Katendrecht.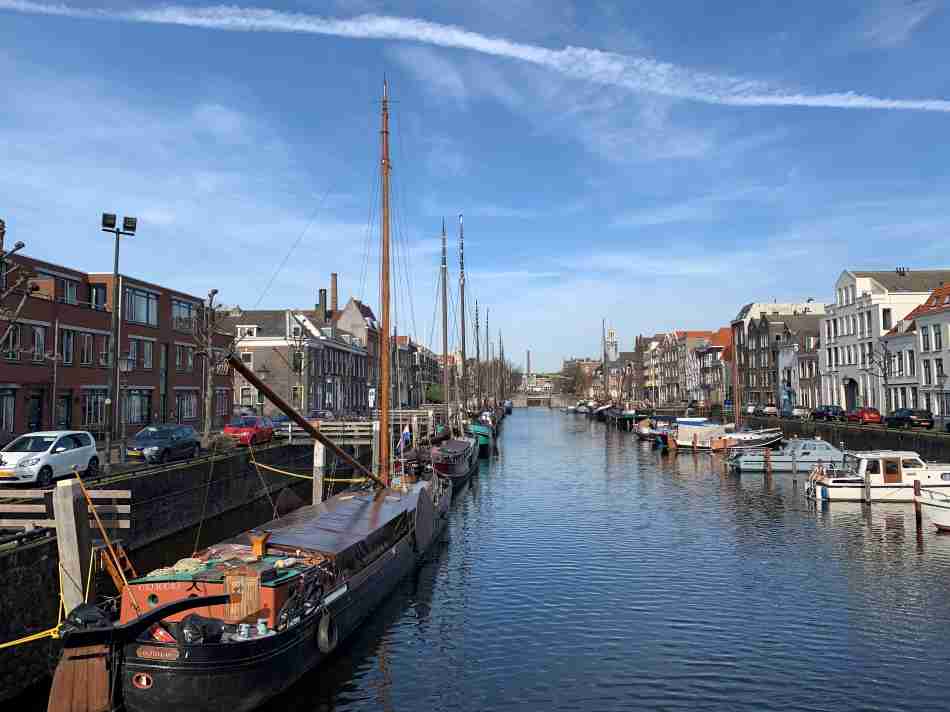 10. Delfshaven
Delfshaven earned its place in the history books as the harbor where the Pilgrim fathers embarked to sail to Southampton and the Mayflower on their way to the New World. Nowadays, Delfshaven is a quiet inner-city residential area that is still reasonably affordable.
Many renovations have upgraded Delfshaven in the last few decades. My daughter lives in Delfshaven in a beautifully renovated apartment for reasonable rent.
Delfshaven is a vibrant melting pot of many nationalities living together around the historic harbor with plenty of restaurants and bars. Delfshaven's metro station allows you to reach the city center rapidly, but access to the highways is not easy.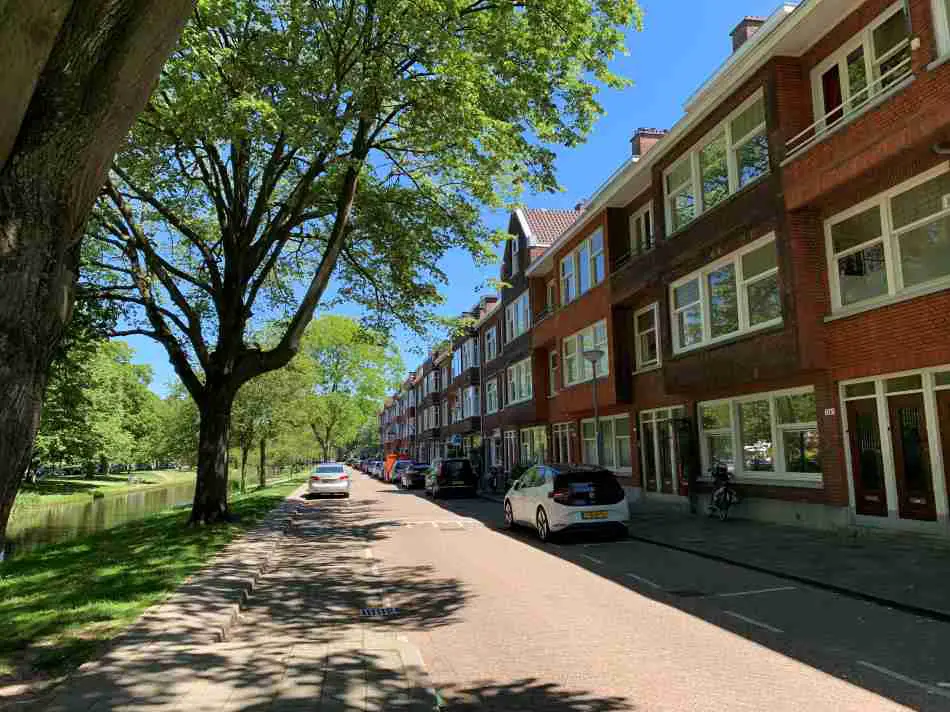 11. Blijdorp
Blijdorp is a neighborhood characterized by stately canals and quiet streets. Blijdorp has improved dramatically through renovation, almost always in the original characteristic style.
Blijdorp is a peaceful green neighborhood with beautiful parks and is home to the city zoo called Blijdorp (surprise, surprise).
The Rotterdam International Secondary School is located in the southern part of Blijdorp, making Blijdorp an attractive residential area for expat families.
The kids will be able to bike or walk to school. Public transportation in Blijdorp is fantastic because it has a metro station of the Randstadrail, and the Central Railway Station is within walking distance.
Is Living In Rotterdam Expensive?
At the end of Q2-2022, the average house price in the Netherlands was € 448.000, with an increase of 10,6% in the last 12 months. The housing mania in The Netherlands is cooling down a little even though houses are sold on average in 33 days. Furthermore, 80% of all houses are sold 5-10% above the asking price. The housing market in The Netherlands is still very much overheated, and more cooling down is required.
Understandably, virtually all expats in The Netherlands are complaining about the high prices of houses. Accommodation in cities like Rotterdam is rapidly becoming rather expensive. A 2021 study of house prices by NRC Handelsblad showed that housing prices in The Netherlands increased, on average, by 36% between 2017-2021.
However, another study showed that average house prices in Rotterdam were much lower than in The Hague or Amsterdam and equal to Eindhoven, a much smaller city.
The most expensive neighborhood in Rotterdam was Hilligersberg. The cheapest neighborhood in Rotterdam was Charlois, an area you better avoid.
The increase in house prices in Rotterdam was the highest in the country. In some neighborhoods, price increases in Rotterdam were more than 50% in the last four years.
Part of the reason for this increase is that housing prices in Rotterdam were lower than in other Dutch cities, and prices in Rotterdam are merely catching up with housing prices in other cities.
| Dutch City | Average house prices in the cheapest and most expensive neighborhoods |
| --- | --- |
| Amsterdam | € 260.000 – € 1.125.000 |
| The Hague | € 205.000 – € 865.000 |
| Rotterdam | € 195.000 – € 470.000 |
| Utrecht | € 335.000 – € 570.000 |
| Eindhoven | € 270.000 – € 445.000 |
None of the better neighborhoods in Rotterdam are cheap, although Rotterdam is still cheap compared to other Dutch cities where the insanity of house prices is even worse.
The Netherlands is crowded, and quality housing is in short supply. Therefore, you will have to pay for quality housing in a good neighborhood. If you need cheaper accommodation, you may need to live outside Rotterdam and commute to work using the excellent public transportation system.
| Neighborhood | Expensive |
| --- | --- |
| Schiebroek | ++ |
| Hilligersberg | +++ |
| Oude Noorden | ++ |
| Crooswijk | ++ |
| Kralingen | +++ |
| Prinsenland | + |
| City Center | +++ |
| Kop van Zuid | +++ |
| Katendrecht | ++ |
| Delfshaven | + |
| Blijdorp | ++ |
What Is The Best Way To House Hunt In Rotterdam?
The best website in The Netherlands to look for housing is Funda, and I strongly advise you to use this website to orientate yourself to the Dutch housing market.
Check out this Funda link below with an overview of all houses for sale in and around Rotterdam.
You should check the Funda link below if you are looking for all available rental properties in and around Rotterdam.
Where Not To Live In Rotterdam?
There are specific neighborhoods in Rotterdam that you don't want to live in and want to avoid at night. Rotterdam is a very diverse city with some areas to avoid.
The worst neighborhoods in Rotterdam where you should not want to live
Hillesluis
Tarwewijk
Feyenoord
Is Rotterdam A Safe City?
The Netherlands is a relatively safe country compared to other Western European countries. However, it is also true that most of the crimes in The Netherlands are in larger cities like Rotterdam. The city's dark blue on the map below indicates more traditional criminality. Fortunately, Rotterdam is less dark than Amsterdam, meaning less crime in Rotterdam than in Amsterdam.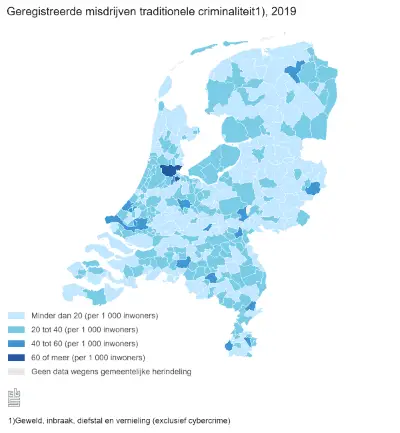 Bike theft is a severe problem in The Netherlands, especially in major cities. A large part of the crime rate in the Netherlands is due to the theft of bikes. Approximately 0,5 million bikes are stolen annually out of the 18 million in total.
The more expensive e-bikes are most popular among thieves, and you should lock your e-bike securely if you are not using it.
Watch for pickpocketing in bigger cities like Amsterdam, Rotterdam, and The Hague. Protecting your wallet carefully in a big city like Rotterdam is a matter of common sense. Likewise, avoiding some neighborhoods in Rotterdam in the evenings and at night is common sense.
Expat Ranking Of Rotterdam / Amsterdam / The Hague
The expat city ranking 2019 compared living in Rotterdam vs. living in other Dutch cities directly through the eyes of expats.
Rotterdam ranked above average (32nd place out of 82 cities), higher than Amsterdam (48th place out of 82 cities), but lower than The Hague (9th place out of 82 cities). Expats were pleased with the public transportation system in Rotterdam, considering it the best in The Netherlands. The work-life balance in Rotterdam was also much appreciated.
All three Dutch cities scored poorly on climate quality in The Netherlands. No surprise here because we realize that our weather is not always as good as we hope.
How To Get A Good Impression Of Rotterdam?
If you want a good first impression of Rotterdam, I recommend watching this Youtube video, Rotterdam, my Hometown. The video has already been watched more than 650.000 times. It shows the distinctive mix between the old and the new in Rotterdam.
Best Neighborhoods In Other Dutch Cities